Ah... here comes my peaceful time,
W
hile she shops with DesiDime..!
Woohoo...! 
This is how the persons accompany my shopping spree got rejoiced 
when they heard about the one n only DesiDime.com.
You know, I love to surf shops more. No matter I buy or not, I simply enjoy window shopping looking for the best deals, simply forgetting my meals. Usually before I want to buy anything, be it a tiny earring, I don't pick it that easily without looking into more than one shop to know their price and also not without a bargain. But ever since my lazybones restricted me to stay at home, I got introduced to this online shopping. Well, now from books to wallet to dress materials to dangling jewelry and even furniture, I started liking to buy them online. Its that easy, you know. Shopping is just a click away. And I am happy till date that I haven't had a moment to regret with their service. But the thing I resent was I had to visit more than one site to know about the products and their best offers. Even though it was bit time consuming, I still had to do it cos I wanted the best in everything, even the price range.
Until one day when Ritesh aka Rats, my one of a kind blog buddy, introduced this site which lists down the best deals on variety of products from various online stores to choose from... 'Oh.. its just another review', I wondered, what's so big deal about this site people are talking so high of.. hmm.. out of curiosity I clicked the link and I realized I  was lucky and thrilled to land there and found immensely useful and time saving. Click this to know what he said about the site.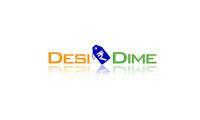 A little Intro to those who wonder what is this DesiDime I am talking about?
*Guys.. I must say... you're lagging behind...*
Recently, there is this website which is creating waves in the online market. A completely free and user friendly online shopping forum created, 'by the users, for the users and to the users', especially to provide them a platform to make the best shopping decisions. It is a fastest growing online community that allows you to discuss with other shoppers who have similar taste of yours. And it is nothing but a one-stop solution for all your shopping needs.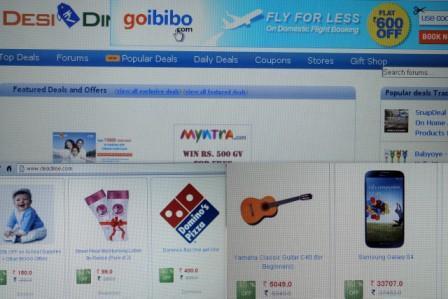 Just like I thought at first, even now you may think the same - what made me talk about this community this much, after all it is just another shopping site. Well, no.. it is not 'just another' instead there's so much in it.
Read more.. I bet you'll agree with me when you visit their page just once.
DesiDime team do a lot of research and list out the best deal of products from various genuine online markets - lets choose from flipkart to homeshop to snapdeal to myntra to Goibibo to firstcry to.. etc etc.. (

If someone else do all the survey and research on the products we want to buy and that too for free of cost, what else can we ask for?

) Here's an option to pick your store.

Best offers through out the year. (

Who doesn't want to purchase when a sale is on, huh, and that too almost all day? With such inviting offers... wow... what a reason to shop...!

)

Choose from the

 Daily Deals.

Availability of the price comparison from different stores for each n every product they list, that helps us to buy the best of the best. Be it a hi-fi gadgets or as simple as a fountain pen, you'll get it for the best price. (

we wont be getting this comparison in any other online store sites or not in your local stores, I bet. Perfecto..!

)

Discount coupons (

Ah.. now don't tell me that you're not interested in getting discount coupons? C'mon grab it, you can even buy your holiday trip. What are you waiting for? Voila..!

)

List of the Popular Deals from each stores. (

Forget about shopping with Google's help and visit this site to know what's the best selling product of the season

)



Check out for all your shopping needs under one roof. From household things to Gizmos to stationary to jewelry to baby products to what not.. The list goes on n on n on.. Phew.. I am tired listing them out..  I'm hungry and its time to nibble... hah.. they have Pizzas too (

yum.. yumm.. mom.. mumm..

) for the offer you cant even imagine. Well, as they say - it is the offer you simply can't refuse.

Easy to access - t

ime saving and worth your money spent. Even you can discuss, review and also find new friends in their forum.

 (

Best shopping experience in your finger tip.

) Stop wondering.. just click DesiDime.

No traffic.. no buzz.. no queues.. no blues. Just sit, relax and pick the best deals around. The best way to enjoy your purchase with Premium Deals.

Wait... Who will give you money just like that without even asking you a question? But Desidime gifts you Rs.50 simply for registering in their site, where you can win exciting gifts too. Be in trend and learn how to earn your dimes. (

still waiting, huh? Go.. Run.. Register.. get your dime and start your best shopping experience today

) Its like a cake-walk. Bingo..!



Finally and selflessly (?!), to give a peace of mind to the person who accompanies and handles my shopping spree. So that they will let me shop more in their happy mood.... (

ah, what an idea Rat ji...!

) :p :p
Well, now you know my rating for this site, obviously - 10 on 10. I can suggest you to shop through this fabulous DesiDime without any hesitation or delay.
Be smart. Save money. Buy best. Visit DesiDime.
Hey, what are you still doing here? Din't check out the site yet? Uff.. I was asking you from the beginning to go n visit, nah... Sigh..! If you're not gonna listen to me, don't blame me later that I haven't warned you for you're going to lose your savings little by little. So Run.. Lo! Run...!
Happy Shopping with DesiDime!