So it's finally DECEMBER...yay!!!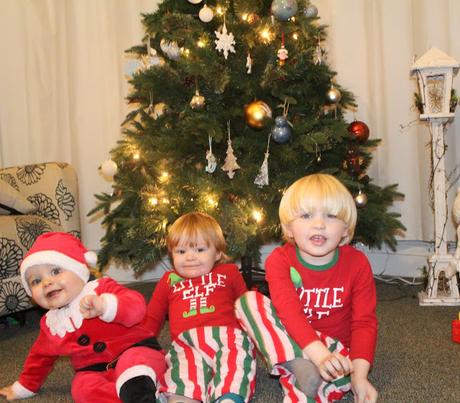 Which means that Christmas fun is in full swing in this household...we've been to Christmas fayres, Christmas parades and in the coming weeks we have our annual visit to the Polar Express, a visit to see Santa in the caves, afternoon tea with Santa and - hopefully - an afternoon at the local Pantomime.
But of course the main event of December is visiting Father Christmas himself - although the kids will see Santa at the various events we're going to, I still like to take them to see a proper Santa at a traditional Grotto where they can sit on his knee and tell him what they'd like this year...I like things traditional, and to be honest the Santa's you see at Christmas events just don't really cut it for me...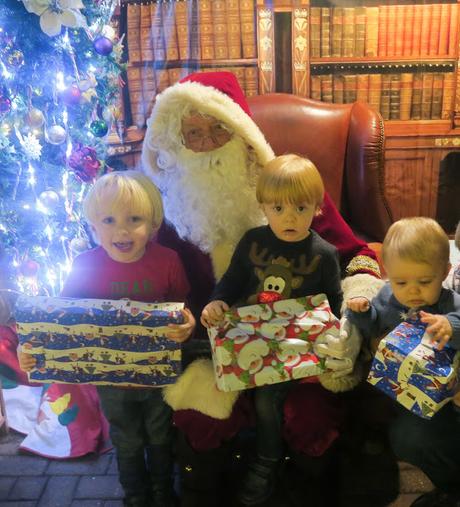 This year we tried a new Grotto, which was recommended to us by fellow Devonian Kate of Family Fever...we went along to Otter Nurseries in Ottery St Mary - the grotto experience was great, we saw singing reindeer, sang Christmas songs with the elves, walked around the North Pole, and even made some Reindeer Food in Santa's kitchen before going in to visit the big man...
I have to admit, I was nervous about how our Santa visit would go this year...Noah cried his eyes out last year and so with TWO babies to take along this year, it was touch and go...Santa looked a little nervous when we walked in! But to our surprise and delight...Noah was ALL OVER the Santa experience this year! He happily sat himself on Santa's lap and there wasn't a tear in sight...he was thrilled! And Sailor was just as happy to meet Santa too...I only wish the grotto had given the option to have a proper photo taken as I find it difficult to get decent ones in the dark lighting, but we did OK I think!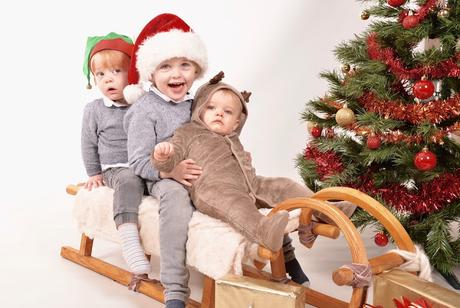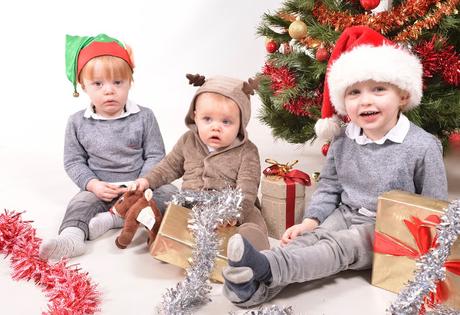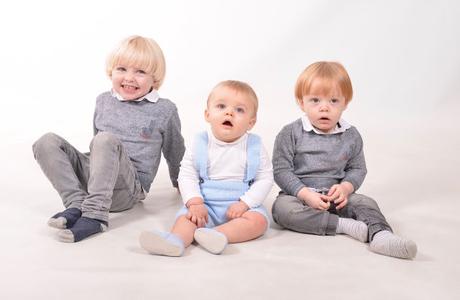 As for how the boys are getting on this month, Tyne & Noah are either the very best of friends or they're killing each other ... there is no in between at the moment!
They sit next to each other in the car and spend most of their time fighting...hitting each other, stealing whatever the other has, kicking each other and so on...I spend all car journeys saying "STOP IT RIGHT NOW!" repeatedly...
But sometimes they do play together...and when they do, it's very sweet to watch! I managed to snap the below image during one of these moments, they were playing dress up and trying on my glasses...(always fun!)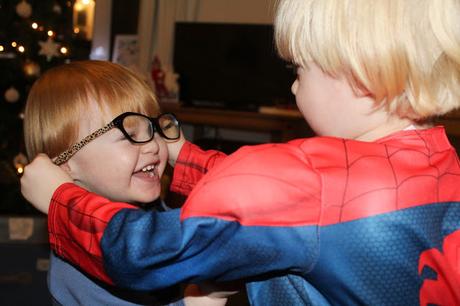 As for Sailor and his big brothers, Noah and Sailor are still really close - infact Noah still seems to think that Sailor is his own baby and tries to do everything for him
...Tyne and Sailor are also very close, and Tyne makes a lot of time for his littlest brother.
Unfortunately for Sailor he does spend most of time being sat on...as demonstrated below: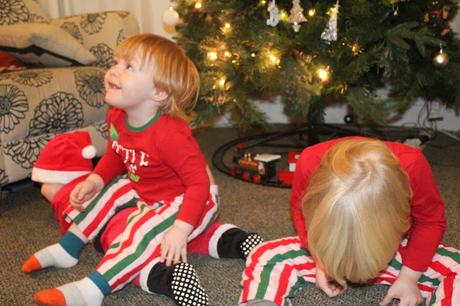 I've tried to get some photos of the 3 of them by the tree but it is proving to be pretty impossible at the moment to keep three very active toddlers still for long enough to take a photograph in focus!!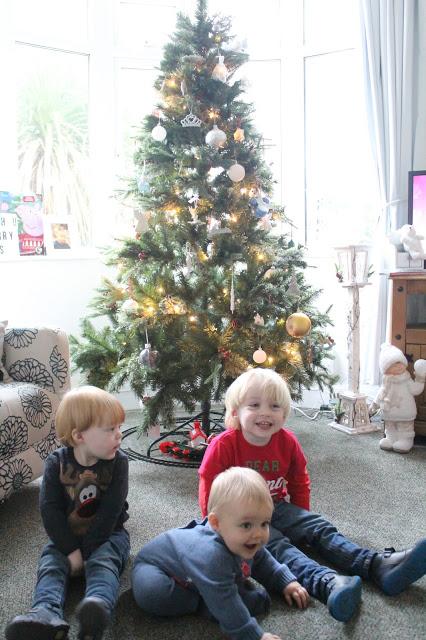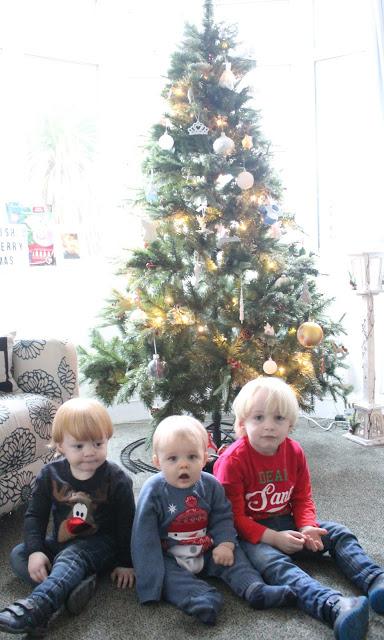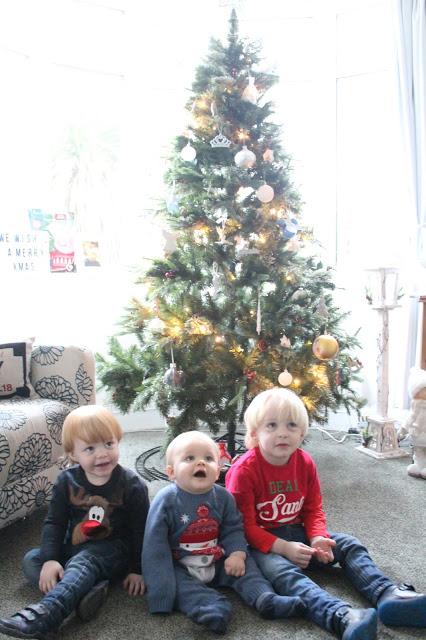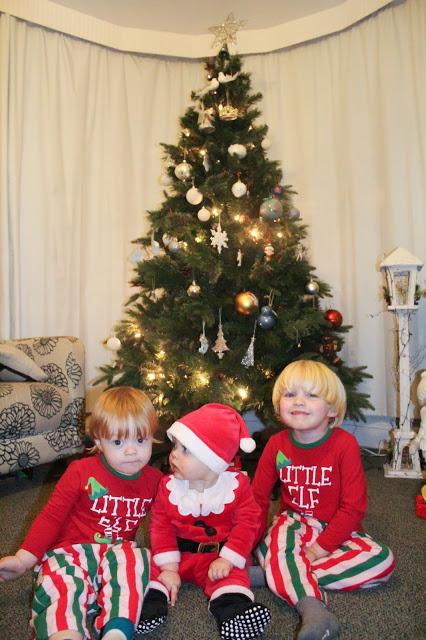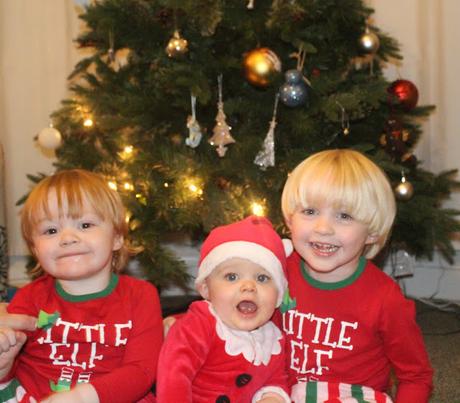 If you enjoy my blog, please consider following me on Bloglovin'