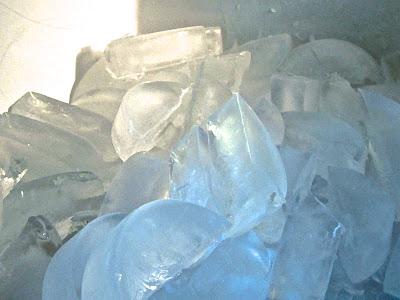 I extracted a few valuable lessons during our unintentional week off of the grid. Now that I'm sitting in my cool house with a frosty glass of iced tea and some very happy fat cats, I can clearly reflect on the past week.
I had people say, "How did you do it? I would have never survived that long." Well, actually, you wouldn't have died from lack of ice, but you might have been strangled by your spouse or trampled by your irritated children at some point.
Seriously, although it was a blur, it really wasn'tthat bad. I am bit wiser from the entire experience, too. 
1. It's hard to run an Internet business without power. I tried it for two days, but my hand-crafted quality levels went way down when I started sweating all over the counter. Perfect time for a forced stay-cation.
2. Panera isn't very good. After dumping all of my fridge contents and accepting the fact that we were eating out for three meals a day, I realized that there aren't that many decent, healthy, affordable places to eat. I don't do fast food restaurants and most other sit-down places are too expensive for multiple meals. I'm sure Panera's increased traffic from the storm will be followed by a sharp decline for a month or two. I know I won't be back for a while.
3. People love to rally when there's a community crisis. It's refreshing to see neighbors shift into altruistic mode during times of need to assist each other with tree limbs, ice purchases and reassuring chatter about the latest BGE truck sighting. I had many friends reach out to offer their homes for sleeping or re-charging, but I also had a surprisingly large number of people offer me a shower. Now I am known to skip showers after the gym in an effort to save time, but typically showering is not a problem when the power is out. 
4. Generators are really noisy. Yes, I am one of those non-generator users and we aren't really fond of the other side. I know that it's nice to have a light and fan or maybe your refrigerator, but not at the expense of your poor neighbor whose bedroom window is 10 feet from your droning generator. I know there are some exceptions here, but generally it doesn't add up to spend $30 a day on gas to save a gallon of milk, some frozen chicken and irritate the heck out of your neighbors. Just rough it like the rest of us.
5. My kids loved it. Well, "love" might be a strong word, but after the power was restored the kids were surprisingly dissappointed that mom and dad were back to business. While off the grid, we were forced to spend more time doing things with the kids out of the house. We enjoyed time with cousins, Red Zone, too much time in Panera and the library. Air conditioned errands were the highlight of our day.
6. Ice is underrated and dry ice is overrated. You don't realize how much you appreciate a proper ice cube until you don't have any ice. Warm water and an 87 degree house are not complementary. I honestly think I missed ice more than anything last week. It was music to my ears to hear the clinks of my ice maker generating those first few cubes once the power was restored. Our $50 in dry ice lasted a disappointing 24 hours and didn't save a lick of food. We would have been better off using it for entertainment.
What did you learn during the outage? I realize this could get ugly.