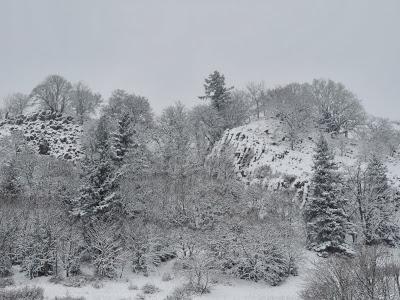 Who would have dreamed Eugene would be hit like this with snow and freezing weather? Not me - I moved out of the cold to avoid it! That's what I told Brady the other day, and he said, "No you didn't." So much for my dramatic proclamation. I had to admit the truth - I moved out of the cold, snowy winters because I fell madly in love with him! Best decision of my life. BUT! I really don't like cold, snowy weather. I told my mom I was ready for rain, and she reminded me I hate rain, too. I'll take rain over this frozen mess any day! Eugene just isn't made for snow and freezing temperatures. And for that matter, neither am I. I am always cold, even in the summer. However, even though we've had our share of frozen pipes and have had to carry several buckets of water from our bathtub to the horses a few times, we have enjoyed the time off from school, and we've had lots of fun! Brady made the kids a wooden sled a few years ago, and it has come in right handy! It got more use in the past week than I ever thought it would. (Thank goodness we didn't use it for a horse bridge to practice our Trail Riding on like we almost did over the summer...!) And overall, I have to say we are so blessed not to be in even worse conditions! There's nothing I love more than having my babies home with me, and they've truly been having a wonderful time.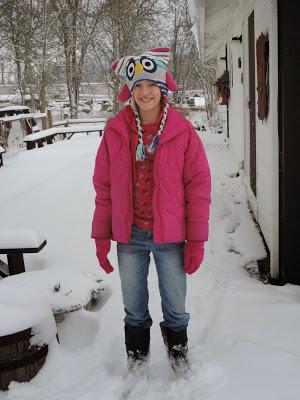 This was the predicted "two inches." More like eight! Brailey explained to me that the snow was very light, and not heavy. She heard if from the Weatherman. I'm so thankful it was light, because we haven't lost our power. I'd rather be without water than without power. Apparently the heavy snow is what causes power problems.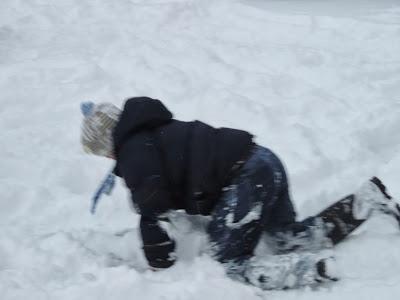 As you can see, Britt has had a marvelous time playing in the snow! His body has been bright red with cold several times. Brrrrrrrrrrr!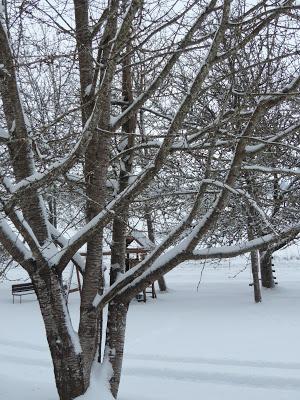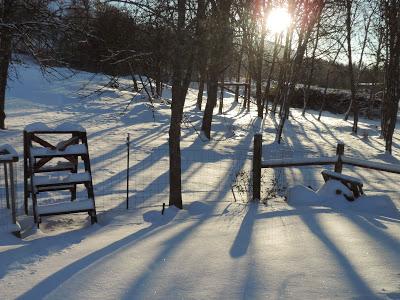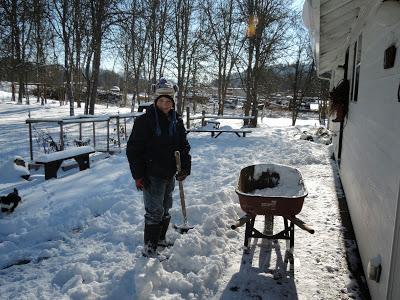 Using the wheelbarrow to move snow to his snow fort.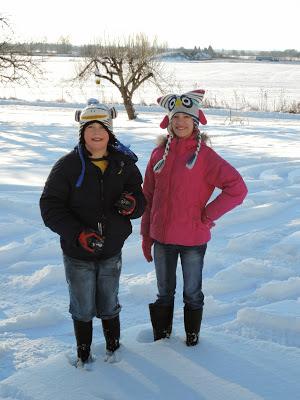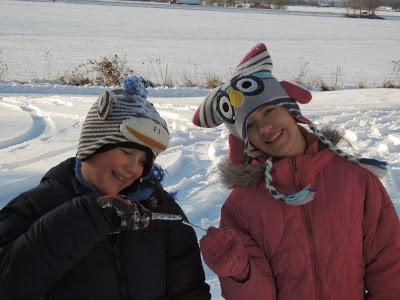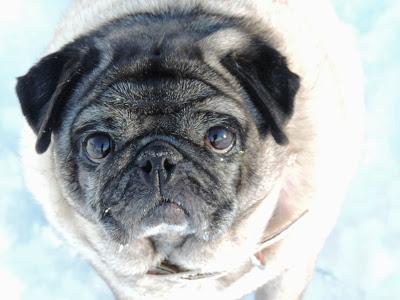 Rozzy-girl with snow on her bottom lip. She is like me - can't take the cold!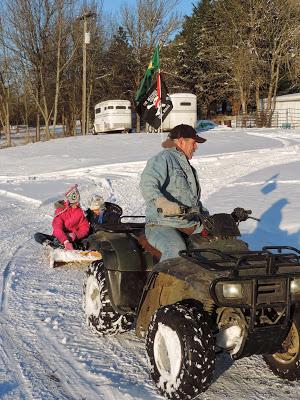 Sledding fun!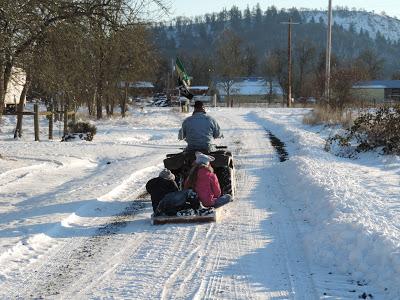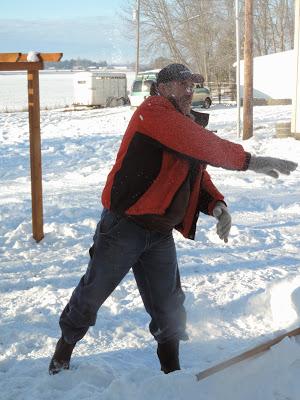 Britt was dying to have a snow ball fight with someone. After he helped Brady with the frozen pipes one day, all day long, Brady took the time to have a little battle with him. Britt was thrilled!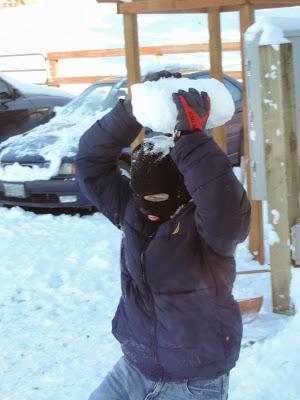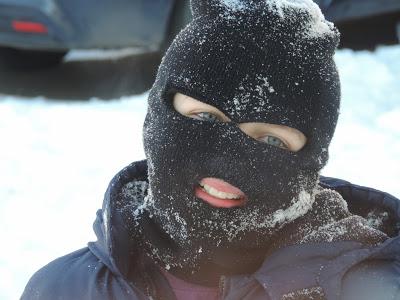 Britt got this ski mask at the flea market in Galt when we were there over Thanksgiving. Who knew it would come in so handy? Or should I say, "SNOW handy...!"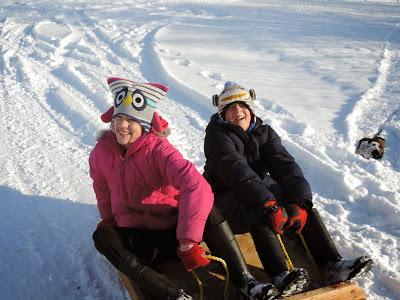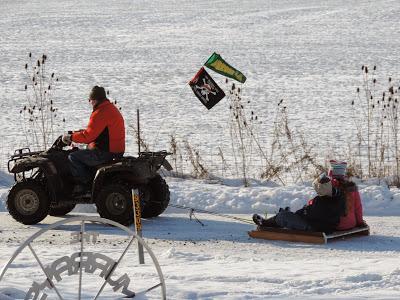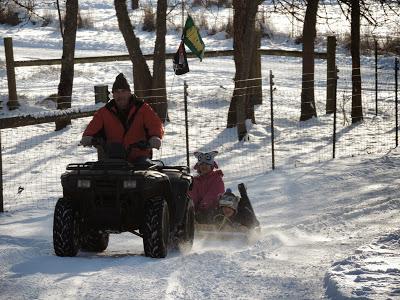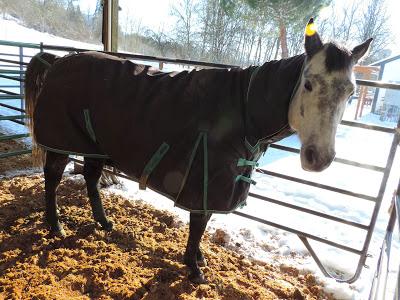 Sadie in her "Dracula" blanket from my mom. Thank goodness we had this for her - she has definitely needed it! Although I don't think she had ever had a blanket on before this. She wasn't sure about it when I put it on her. I think she likes it, now. I laugh every time I see her face poking out of it - so cute!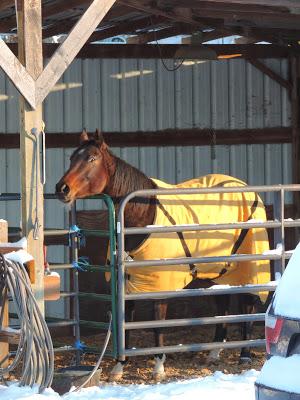 Boom-Boom all snuggled up. He was so happy to have a blanket put on, he actually stuck his head in it before I could even get it on him. He's from Canada, so I guess he remembers what snow and cold weather are all about. He's happy as a clam in his blankie! See him watching me? I took this through the window - he watches us in the house.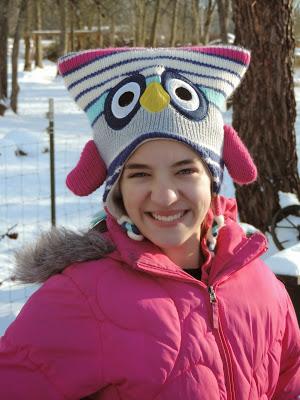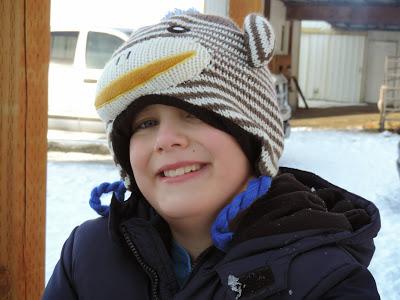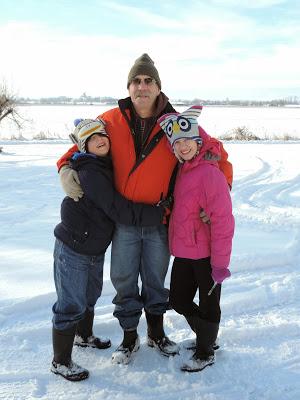 Big Daddy and his B's.