Whenever I'm being asked by clients, readers, or friends regarding what brush set do I recommend that's worth the investment but still will not dig a hole in their pocket, there's currently one brand I have in mind, ZOEVA. I'm glad that this brand especially their brushes are made available via Luxola.com. You can read more about Luxola and some tips on shopping in their online shop on my Zoeva Haul post. I've reviewed the Zoeva Luxury Cream Lipstick in Floral Crown here, and now I'm here to share my thoughts on my Zoeva Rose Golden Luxury Set.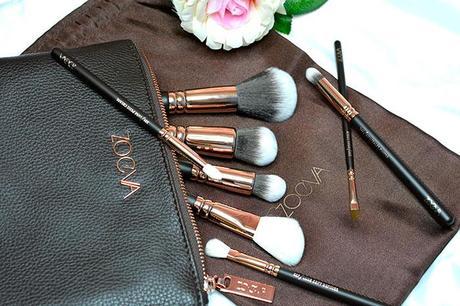 Zoeva Rose Golden Luxury Set – P3,696.50 (Buy the set here)
Product Description from Luxola:
"Inspired by the dazzling explosion of pink and gold, the Rose Golden Luxury Set is downright divine. Stored in a sleek, classy clutch, the luxurious brush collection comes with eight essential handcrafted brushes for your everyday makeup routine. The kit comes with both, high quality natural hair and synthetic taklon bristles, so it can be used with cream and powder based products."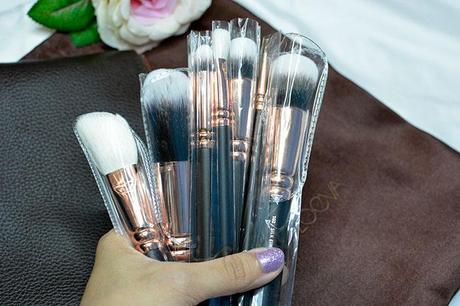 Each brushes is wrapped in plastic and face brushes bristles protector (I don't know the term for that plastic covering haha aside from brush guards?) including the handles. They are all in a separate plastic pouch and placed inside the faux leather pouch. The set also comes with a dust bag. (Shout out to the commenter on my Zoeva Haul video for this info! :D)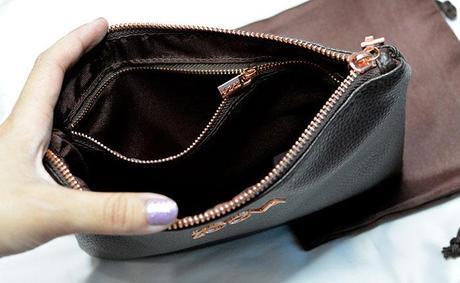 The brown faux leather pouch (24 x 18 cm) with rose gold zipper closures and brown inner linings is so gorgeous! You can actually use it as a clutch bag and it's about the size of an iPad mini. It has an inner pocket in zipper closure as well.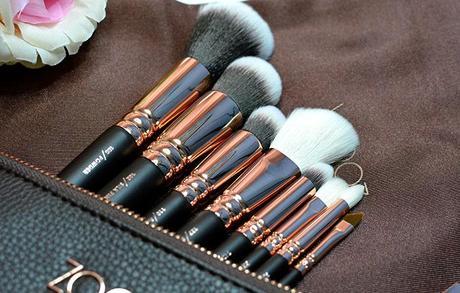 Zoeva Rose Golden Luxury Set includes 8 brushes – (4) Face brushes and (4) Eye brushes:
106 / Powder
102 / Silk Finish
110 / Face Shape
127 / Luxe Sheer Cheek
142 / Concealer Buffer
227 / Luxe Soft Definer
231 / Luxe Petit Crease
317 / Wing Liner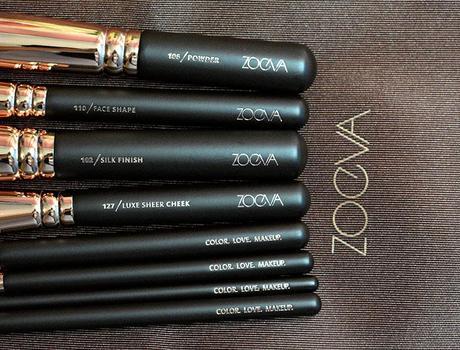 Totally gorgeous in their rose golden ferrules and matte handles in Pantone Black 5C (bronzyish for me). Each handle has nicely engraved Zoeva logo, Color. Love. Makeup. (Zoeva tagline), brush number, and name. I find it very helpful especially to those who are new to makeup brushes as they can easily identify what each brush is intended for.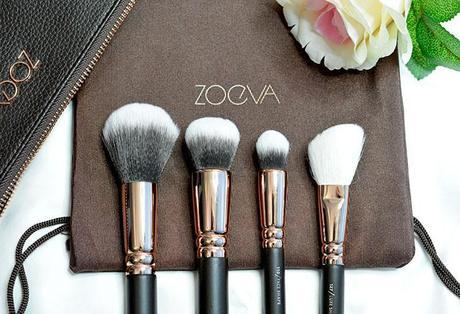 FACE BRUSHES:
106 / Powder
I honestly reach out for this than my F30 Large Powder Sigma brush. The size is just right for the face of my clients and gets enough powder. It also spreads the powder really well on the face plus it's heavenly soft.
102 / Silk Finish
Is currently my most favorite brush ever! I've actually forgotten my beauty blenders because of this brush. It works really well with liquid or cream foundations. I use this brush for my clients in applying their foundation and it gives that nice silky finish!
110 / Face Shape
I use this brush for hard to reach areas of the face like sides of the nose, under-eye area and for areas that needs more coverage. It's very much like a smaller version of the silk finish brush.
127 / Luxe Sheer Cheek
My current fave for blushes. It creates a flawless blush look on the cheeks, blends the color really nicely, and it's super duper soft! This brush is made of goat's hair if I'm not mistaken, making it perfect for powder blushes, bronzers, contour powders, and highlighting powders.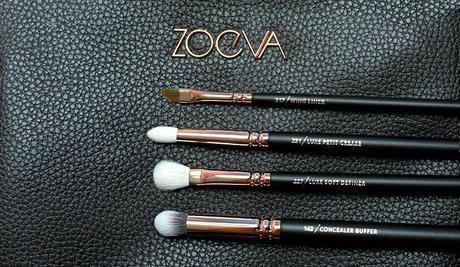 EYE BRUSHES:
217 / Wing Liner
It's super thin and perfect for creating that cat eye effect. I also use it for a more defined brows together with my Anastasia Beverly Hills Dip Brow pomade.
231 / Luxe Petit Crease
I use this for the lower lash line and smudging eye liners. The tip is not that pointed though, so if you want to create a thinner line using eyeshadow powder, this might not work but for thicker effect or for a nice line on the crease, it'll be very helpful.
227 / Luxe Soft Definer
I don't have any MAC brushes but a lot of my friends and co-makeup artists told me that it's a great dupe for MAC 217 or MAC 224 brushes. I love using this for blending my eyeshadows.
142 / Concealer Buffer
Another favorite of mine for concealer application to my clients. It creates a seamless look and nice coverage for concealing dark under-eyes. I also use this if I need to conceal pimples and dark spots on the face. There's almost no need to buff the edges.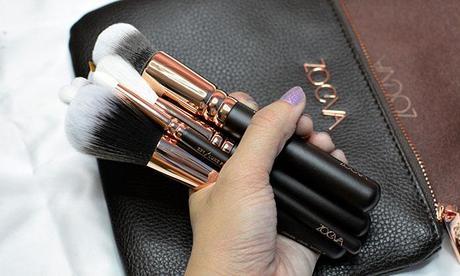 As for the length of each brushes, it's more or less one hand span which makes them perfect for personal use. For my clients, I really prefer long-handled brushes but because these brushes are great for makeup application, I currently have them in makeup setup for my gigs.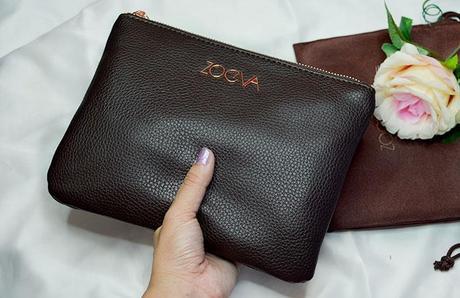 Overall, as you can see on the title of this post, I am totally in love with these brushes. They are not as expensive as those high-end brushes but they are incredible on makeup application plus the fact that they look gorgeous and everyone would love these pretty babies on their vanity table. I've actually waitlisted myself for Zoeva Complete Set. It's a set of 15 brushes (face and eyes) for only P3,357.50! I'm planning to use it for my clients so I can keep my rose gold brushes for personal use then I will get the rose gold eye set brushes to complete my rose gold luxury set.
By the way you can still take advantage of my coupon code BLX-GENZEL to purchase from Luxola and get 30% OFF discount until December 15th. Discount is not applicable for non-discountable brands, please check their FAQs for the list. FYI: I don't get commissions through the code.
Have you tried any Zoeva brushes or brush set? Share your thoughts in the comments!
If you have any other questions regarding the Zoeva Rose Gold brushes, just let me know. I might missed something in this post.

TIA!