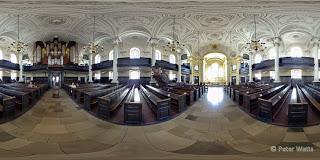 St Martin in the Fields is a famous church in London, found on the north east corner of Trafalgar Square. The current church was designed by James Gibbs in the early 18th century. At the time it was built, the church stood in a field part way between the City of Westminster and the City of London. In 2006 a Roman grave was found on the site, indicating that the site had been used as a religious place of worship for hundreds of years.
This interactive, 360 panorama shows the interior of the church. It was taken by Peter Watts in September 2013.
Panorama of St Martin in the Fields Church supplied by Panoramic Earth
Today, St Martin in the Fields is a popular concert venue, with classical concerts and organ recitals often being held in the church itself. Beneath the church, in the Crypt Cafe, jazz concerts are often held. Being right next to Trafalgar Square, the church is also a popular tourist attraction. It is also the parish church of Buckingham Palace, Number 10 (Downing Street) and the Admiralty.