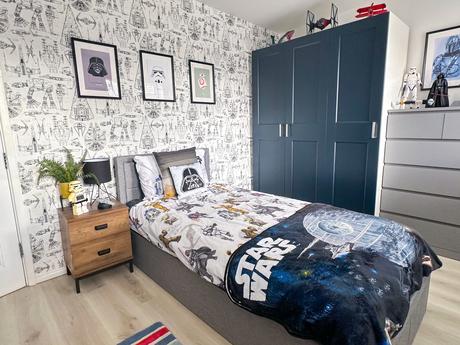 Recently we decided to give our eldest Son Ethan a bedroom makeover. He'd had the same style room for a few years and we felt he needed more storage space and a bit of a more slightly grown up decor theme. He's massively into Star Wars just like his Dad is and so we decided to go with a bit of a Star Wars theme in his bedroom. 
The first thing that we changed was his bed. Before, he had a mid sleeper bed which we had wanted to change to a lower bed so that we could sit on it together and it would be easier to change. We opted for a grey ottoman single bed from Amazon, which we're really happy with. We wanted to get an ottoman bed for the extra storage and it's been perfect for storing big teddies, blankets, bedding and other big things that we don't need access to that often.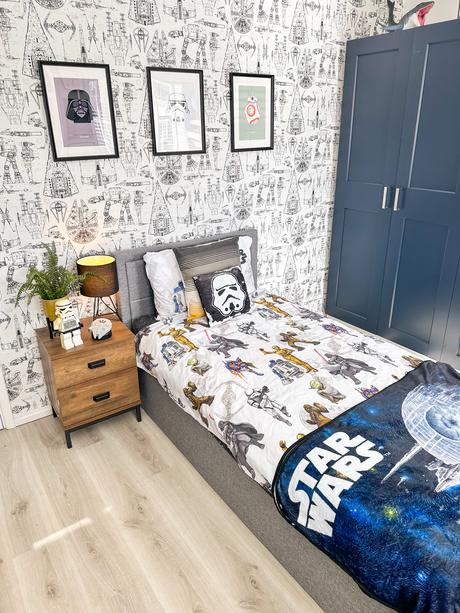 We also decided to do a feature wall in Ethan's room and we found an awesome peel and stick Star Wars wallpaper on Amazon. It wasn't cheap, but it was the one that we loved the most, plus as we were only doing one wall, we thought it would be worth it. Adam said it was a bit tricky to line it up, but having never done wallpaper before, I think he did an amazing job and I absolutely love how it looks and we feel it has given the room a bit of character and helped with the theming.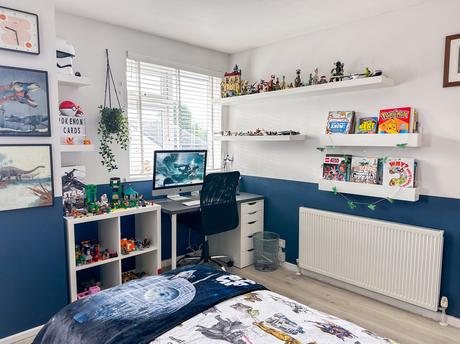 We also decided to do a navy color block to the rest of the room to add a bit of color - we absolutely love it and think the color is perfect!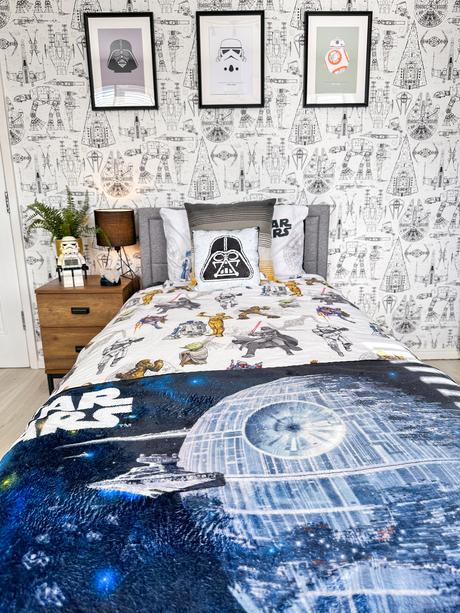 We bought his Star Wars duvet set from Dunelm as well as his bedside table, which we actually got cheaper in store as we got lucky finding and buying it as an ex display cabinet that was in perfect condition. The blanket on the end of his bed is one we picked up from our family trip to Disneyland Paris.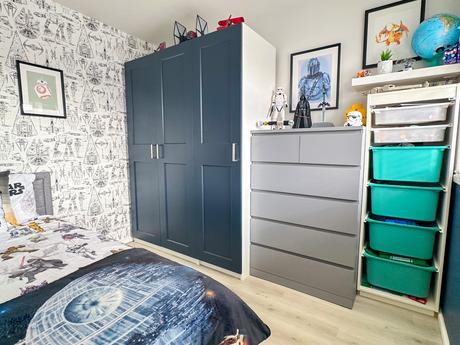 We knew that we wanted to go for an IKEA PAX wardrobe for Ethan's bedroom as we have a PAX wardrobe in our own bedroom as well as in Logan's and we love how much storage they offer, the different design options and the quality of the wardrobes. We went with navy blue GRIMO doors and I absolutely love the color of them, I'm so glad we chose them!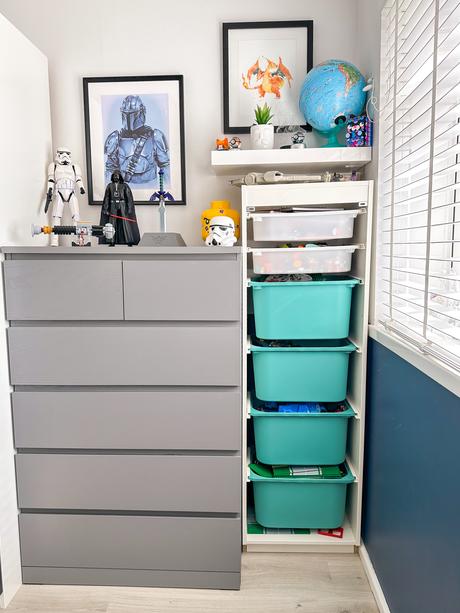 We also bought Ethan a gray MALM chest of drawers as we have had them before ourselves and know how much they can hold! For his mixed LEGO storage we have the IKEA Trofast system and having tried many storage options over the years for LEGO, we think this is one of the best ways to store LEGO!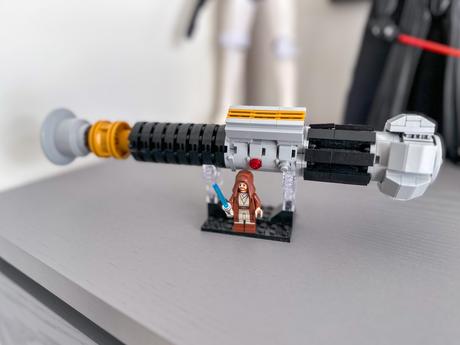 Ethan has one of his Dad's custom lego lightsabers proudly on display in his room also. He chose a LEGO Obi Wan lightsaber after helping his Dad on his stand at a comic con.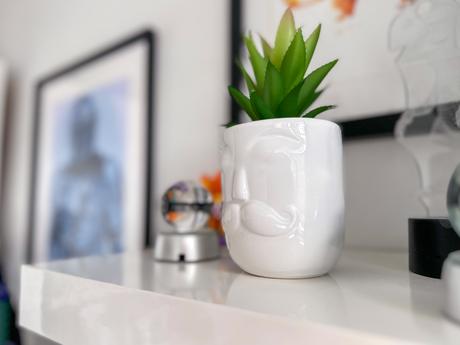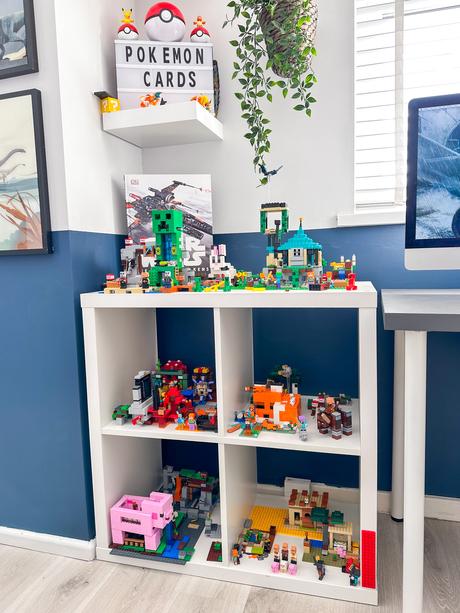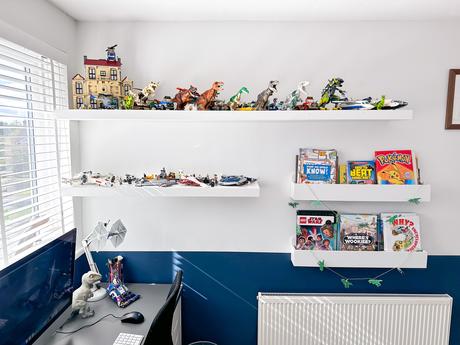 Ethan has a LOT of LEGO and so we have an IKEA Kallax unit in his room for all of his Minecraft LEGO which he likes playing with with his brother. And then we've got 2 IKEA shelves above his desk to store his built LEGO sets on so that they don't get broken or mixed in with the tubs.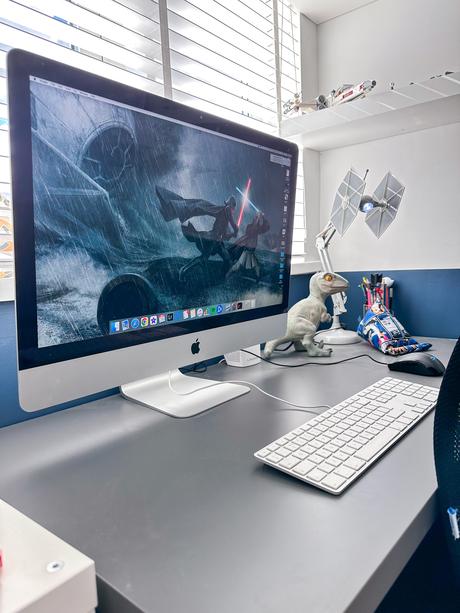 I upgraded my iMac this year and rather than sell my old one I gave it to Ethan. He doesn't use it for gaming as he prefers his Nintendo Switch at the moment, but he uses a computer for school work sometimes and I know in the future it's something he'll use more and more often, so it made sense for us to give it to him for that.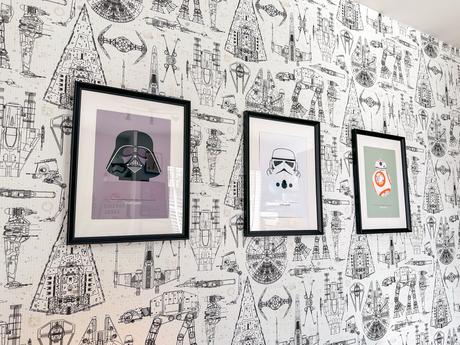 We bought the Star Wars posters on his wall from a website called archivefilmposters.com and love them! We got them in A4 size and then bought slightly larger frames from IKEA with a white framed insert.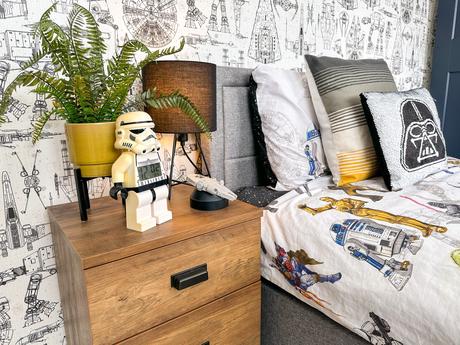 And that is Ethan's new room finished! We're so pleased with it, as is he! It feels a lot more grown up without being too grown up. We think it's more suited to his current interests and it's been great to have gained a lot more storage space with the new furniture. 


Video room tour: 



Thank you for reading.   Alex xo