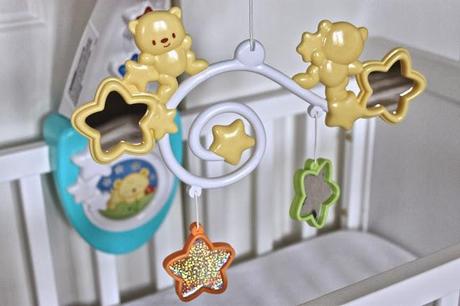 In my opinion, there's a lot to like about the Fisher-Price Starlight Cot Mobile. To begin with, it has a rather beautiful collection of 

mirrored and holographic sparkling stars and teddy bears that hang down and turn around for babies to reach up to. The mirrored stars add to the magic as they catch the light during the day.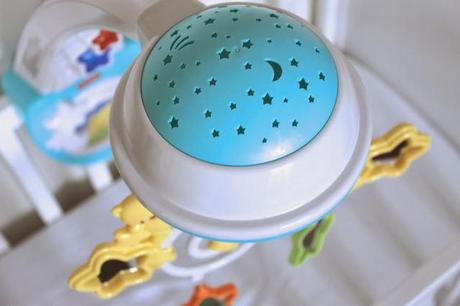 For us, the most magical feature of the Starlight is the overhead starlight show. When switched on in the dark, lights beam up from the top projecting stars, the moon and even a shooting star onto the ceiling! The light show not only looks absolutely fantastic it also helps to stimulate babies visual skills.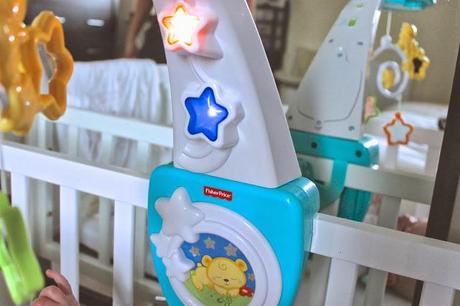 There are even two star shaped lights on the arm of the mobile that slowly turn on and off, watching them actually made me feel rather sleepy. They also add to the enchanting 'starlight' theme of this particular mobile.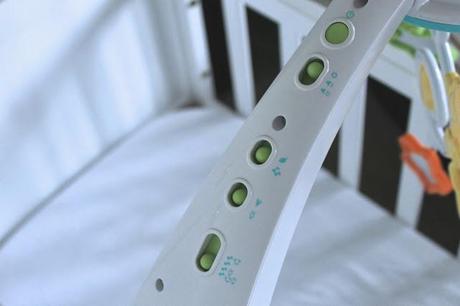 The controls are located on the back of the arm, away from baby, and are very clearly marked, with lots of different options. The beautiful music combinations will even play up to 20 minutes! This for me, is such an attraction as a parent as as much as I like the wind up mobiles and their more traditional sounds, it really doesn't take long for the music on them to unwind and I often find myself running back to the cot within what feels like a few minutes just to wind it up again. So, 20 minutes of music with the Starlight is such a fantastic feature.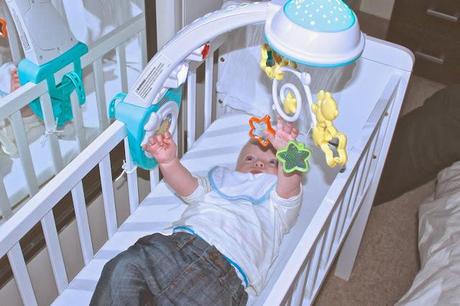 Right now, we've fixed it onto Ethans crib as that is where he is currently sleeping before he moves up into his own room and into his much larger cot. The Starlight will be following him when this happens and I fully trust that it will provide comfort to him when he does move into his own bedroom.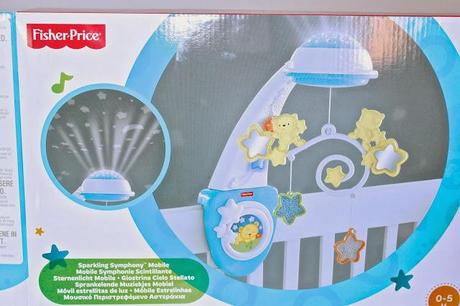 The Starlight Cot Mobile is from Fisher Price (which personally is one of my favorite baby/children's brands, because of the quality and designs of their products) and it is available from Amazon for £27.99 here. 
+ If you don't already please consider following me on GFC or on Bloglovin, Thanks :) +