My friend, with whom I shared so many girlhood conversations, has died, at the too young age of 59.
We met when we were twelve. Her family had just moved to my neighborhood, and she lived between my house and the all-girls school where she and I were among the "new girls" that year. We became the walking to school friends that I wrote about in my last post. I would stop by her house sometimes after school for awhile before heading home.
Here we are in our school uniforms: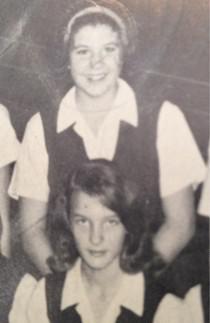 I met her mother and the toddler brother of whom she was so proud. I remember a day when she showed me a tuft of fur she had saved from her dog "Rex", who had died not too long before. Even at that tender age, an age when we are often too wrapped up in out own little worlds to notice to much about others', I could tell how much love she carried in her heart.
We discovered we both had a love for art and music. It was in the world of music and singing that we really came together. I envied her her high clear soprano, I was a lowly alto, but even so, we often competed for the same solos in the various choruses in which we sang. She usually got the Soprano solo, and I would sing the lower harmony.
Our class graduated in 1970. I don't know how it came to be, but around our junior year, we began calling ourselves the "Babes of 1970", and that name has stuck for the last forty-two years.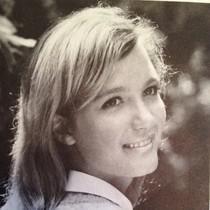 After graduation, we went out separate ways. We had children, married, divorced, remarried. But we always were "the Babes." I have seen Suanne every ten years at class reunions, but, with the help of the new technologies that keep us all connected, email, and social networking, have been able to enjoy her friendship, and that of most of us "Babes" on a daily basis.
Yesterday I scrolled back through three years of "conversations" with Suanne on Facebook. I saw her comments to others, including other "Babes". All were filled with love. Love for her friends, her husband, her children, of whom she was so proud, and her lovely grandchildren.
It was through this medium that I learned she had written and illustrated a children's book*, and I am proud to be the owner of an autographed copy.
I also learned things about her life I had not known when we were growing up, after I encouraged her to write a "25 things about me" note, which she graciously shared with her friends and family. One of her children asked her to illustrate it on paper, because, "face book will not last forever". I hope she did that.
I have written again and again, of the endurance and importance of childhood friendships. When we are children we do not know what we will become, nor how much we love each other. But the experiences we share as children are what bind us. When I met Suanne for the first time after thirty years in 2000, I knew her mostly by the sound of her laughter. Like water flowing over pebbles in a stream. The sweet soprano of her voice so much the same as it had been when we sang together at seventeen.
She seemed to find her joy as an adult. It was in her art, music, and especially her family. As I reread all those posts on Facebook, that joy was always at the surface. She had married her true love, and was living a life surrounded by beauty. Even as she wrote of the trials of her final illness, she was optimistic.
Last Friday after treatment
, she wrote one day,
one of the techs asked, "do you meditate during treatment?"Surprised by her query due to my daily struggle for calm, I replied, "no. I sing".
Lord Byron could have been describing Suanne when he wrote this poem, so I'll let him describe my friend.
She walks in beauty, like the night
Of cloudless climes and starry skies,
And all that's best of dark and bright
Meets in her aspect and her eyes;
Thus mellow'd to that tender light
Which Heaven to gaudy day denies.
One shade the more, one ray the less,
Had half impair'd the nameless grace
Which waves in every raven tress
Or softly lightens o'er her face,
Where thoughts serenely sweet express
How pure, how dear their dwelling-place.
And on that cheek and o'er that brow
So soft, so calm, yet eloquent,
The smiles that win, the tints that glow,
But tell of days in goodness spent,—
A mind at peace with all below,
A heart whose love is innocent.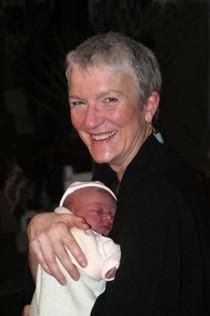 * http://www.kopaldart.com/SKK_Illustrations.html
- Posted using BlogPress from my iPad
Location:Omaha