With the school summer holidays in full swing, I thought it would be nice to sit down and share a few ideas I've had for things to do with children during the six-week break. 
I am the sort of parent who just has to have some sort of plan when it comes to having the boys home from school during the week to keep us all sane, so I've been writing down ideas in a notebook as they've popped into my head and have come up with a summer bucket list and 40 things to do with kids during the summer holidays. 
A lot of these are free to do or very inexpensive to do, so I hope you'll find a few things to add to your summer bucket list no matter your budget.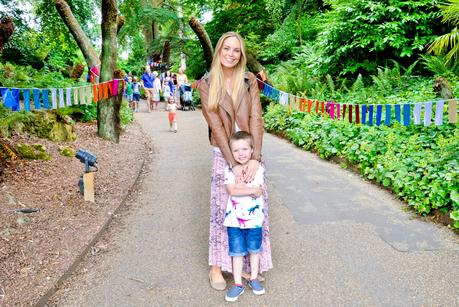 1. Make a summer holiday scrapbook to document all fo the fun you're having over the summer holidays or to tick off things on your summer bucket list.
2. Visit the library and borrow some new books.
3. Ask your children to donate a few toys that are no longer played with as much or have been outgrown, to a charity shop and let them have a pound or so to choose something pre-loved whilst there.
4. Go for a picnic at the park or the lake, or even set one up in your back garden.
5. Collect rocks and paint them in whatever design your child wishes.
6. Visit your local farm.
7. Head to the beach when the weather is nice.
8. Go the cinema - you can often visit the cinema with your children for a fraction of the normal price, just look out for 'junior' or 'child' showings.
9. Visit some caves.
10. Get the paddling pool out in the back garden and let the children play with water balloons.
11. Have a movie afternoon - draw the curtains, get in the popcorn and snuggle under a blanket.
12. Create your own art frames, let your children choose a colouring page online of one of their favorite characters then print it off for them to colour, once it's finished you could frame their picture using a cheap IKEA picture frame and hang it on their wall or place it on a shelf.
13. Create with play-doh.
14. Play board games together.
15. Make cupcakes - even if you're not a great baker you could try the shop-bought cupcake kits.
16. Go bowling or if it's working out too pricey, set up your own bowling using toilet rolls and a ball at home.
17. Come up with and write a story together.
18. Utilise your memberships - if you're a National Trust member or member of something else, make the most of your membership and plan a day out with your children.
19. Visit the lake and feed the ducks.
20. Visit a new park you've not yet been to.
21. Go for a forest walk and follow a new trail.
22. Make pizza together and choose your own toppings.
23. Build something out of LEGO.
24. Let your children dress up and put on a show for you. Have them create their own admission tickets for the audience.
25. Visit a museum - lots of local museums offer free entry.
26. Go to a splash park - a lot of splash parks offer free entry or only charge a few pounds.
27. Visit an aquarium or if the cost is working out too much, the garden center usually has lots of fish to look at and can be a nice play to grab some lunch also.
28. Make homemade slime.
29. Fly a kite.
30. Donate some food, toys, old blankets or money if you can spare it to the animal center and take your children to show them where the donations are going.
31. Cloud-watch and see what different shapes your children can spot.
32. Take a road trip.
33. Visit the zoo.
34. Make friendship bracelets.
35. Get outdoors and spot things in nature that begin with A all the way to Z.
36. Play hide and seek.
37. Make a fort or base at home out of sofa cushions or cardboard boxes.
38. Go swimming.
39. Make story stones.
40. Visit family you may not have seen in a while.
What's a must-do that's on your summer bucket list for this year? I'd love to know what you're getting up to so please do leave a comment down below. :) 


PIN/SAVE THIS: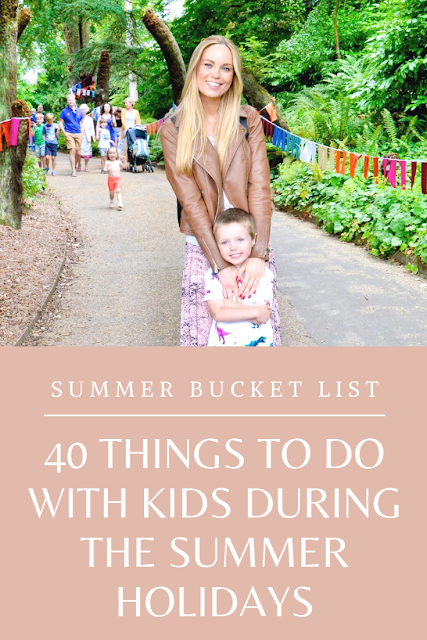 Thank you for reading.   Alex xo