As
previously mentioned
, I've recently ordered some fabric samples online.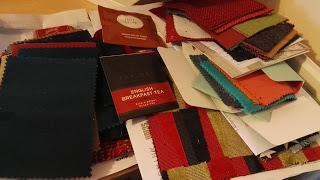 A LOT of samples online.
I'm thinking of sewing them together into a little blanket or some such thing.  One thing I didn't realize is the extra freebies you get with them - alongside all the fabric samples I've also got a little pencil, two tea bags, a hot chocolate sachet, and one of those Lotus caramelised biscuits you sometimes get with coffees in bars (which I love - you can even get a Lotus biscuit spread in some of the supermarkets which is way over the top, but amazing in small doses).  If you ever want some mail to open which isn't the usual bills, order some free fabric samples.
I've got a pretty good Sunday ahead of me today, I'm taking my dad out for a few beers around Beverley (market town to the north of Hull), there's a few decent pubs (and a micropub) there so that should be a fun afternoon.  This morning will be taken up probably with a few chores, I have a huge pile of washed clothes to put away - which is actually sort of relaxing, I'll put something good to listen to on my phone and just steadily work my way through it all.
Hope everyone has a good Sunday!