I just had my first experience with a SUP ( stand up paddle board ). Another couple on our dock took me and Kim out on their boat down to the inlet for a little island time. This island called, Disappearing Island, is really just a gathering place to hang out and socialize with other boaters. Every day at low tide the water is so low the island appears and it is one large sandbar everyone parks their boats up close and enjoys soaking up some sun and fun! At high tide the island slowly disappears and the party is over. There are many activities that happen on the island.  Some people set up volleyball nets, play frisbee, kayak, or just float around on their inflatables.  A lot of people bring their coolers and barbeques along but there is a boat that comes by that sells snacks, refreshments and ice cream, ice and even bait for fishing.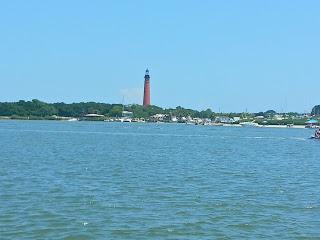 Ponce Inlet Light House, Florida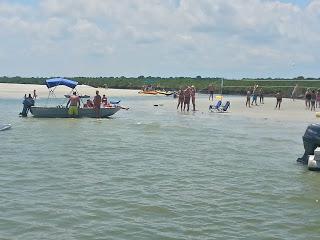 A group playing volleyball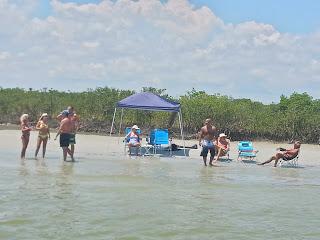 Friends hanging out on the sandy beach near the mangroves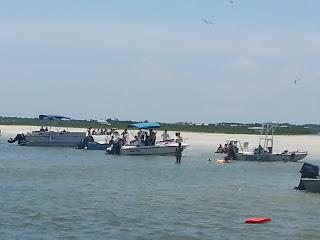 Boaters enjoying the island life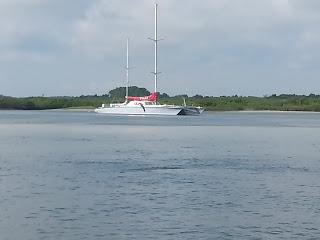 A ketch style catamaran anchored near Ponce Inlet
This is my first time on a SUP.  This one is made by Hobie, and is inflatable.
I enjoyed it very much and hope to get one soon! I am going to check West Marine to see when they are going on sale next!
Once you are on you steady yourself with a wide stance and bend your knees a little it is easy to navigate the waterways, the paddle is concave and you swipe it in deep down the board lengthwise.
I paddled my way through one of the tributaries on the backside of the island and turned around remembering I had to actually paddle against the current. My legs certainly got a workout after that! This is a great way to keep in shape and work into your fitness routine. Plus you can see a lot of cool wildlife as you are coasting by near the mangroves.  Overall I had a great experience and even some thought I was a pro as I passed by them,  they were asking me lots of questions  and I had to tell them I was a newbie. I am glad they were so impressed with my newly learned skills however.
Watch the video below to see how I got started.