Wow! It's Sunday already!
Dora loves her nightly stories with her dad. It's a part of our bedtime routine. It gives me a chance to get some dinner on for us too. Last week, Julie from The Naptime Review shared Story Time with dad.

"Reasons Why Dads Should Read to Their Children:

Variety of voice
Bonding time
Modeling the importance of reading
Creating enjoyable experiences
Gives Mom a break (My favorite reason)"
I am always in need of snack ideas now that Dora is becoming more adventurous with food. Amie from Triple T Mum shares some great, healthy homemade snack box ideas for toddlers.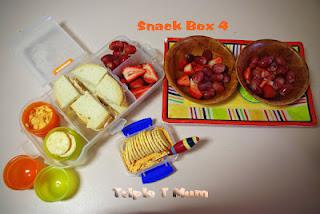 Thanks so much for sharing your posts ladies.
Do you have a favorite blog post to share? We love checking them out so please do.
Also, if you have a blog hop or linky that you'd like us to list on our blog, follow this link and add your button.
Have a great Sunday!
Kaz