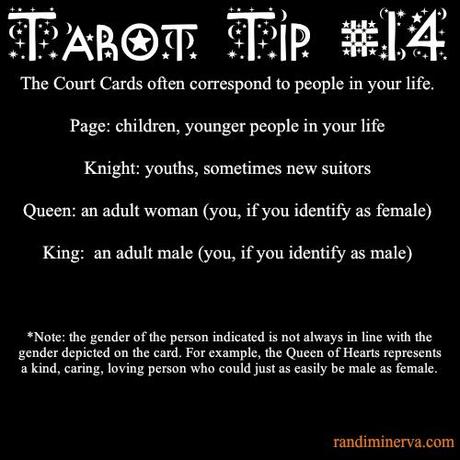 Queen cards: usually, female but not always. Tarot works in archetypes NOT stereotypes. So, keep in mind that people who have feminine energy or work in traditionally feminine jobs (nurse, librarian, hairdresser, stay-at-home-parent) can sometimes be represented by the Queen cards. The reverse is also true – masculine energy people or women in a masculine line of work can be represented by a King card. It all depends on the person's own gender identity and sexual orientation. Inclusiveness applies not only in the real world, but the Tarot world as well.
Miss last week's tip?
Click on the "Tarot Tips" category in the sidebar or follow the pin board.
Questions about the Tarot?
Ask away!
I'll answer your question and if I choose it as part of a Tarot Tip post, I'll credit you and link to your blog/business/Etsy shop!
Ask me on Twitter @RandiMinerva
Or e-mail me your question: [email protected]
Interested in a reading? Order one here.