I recently just got back from a 6 day 5 night trip to Thailand with a bunch of mates from university. It was my first time to Thailand, hence the title Thailand 1.0. Overall the trip was great, with ups and downs. In a few series of Thailand 1.0 posts, I will talk about what I packed, the highlights of my trip in chronological order and also the food I tried.
I researched a little before I started packing, Her Packing List was a great source of packing lists and tips. I was provided with a very brief itinerary of the trip, but didn't research further of the places that I will be going. So my packing list is kinda casual, basic and general.
---
My Packing List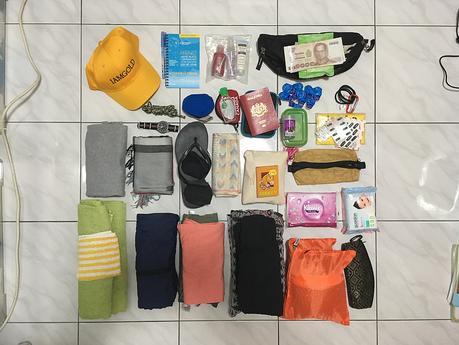 Here's a shot of the items that I packed from my trip! I was aiming for the backpacker / lightweight / minimalistic packing style, so I went with my Mountain Warehouse Walkabout 30 backpack (30 L) and WC's battered Nike pouch.
Clothing
1 face towel – did not use during the trip
1 body towel – did not use during the trip
1 windbreaker
1 scarf – did not use during the trip
4 shirts
2 long pants
1 legging
1 shorts – did not use during the trip
1 set of PJs (1 long sleeve shirt & 1 long pants)
4 underwear
2 bikini tops
1 basic bra
1 sports bra
3 pairs of socks
1 pair of flip flops (only worn in hostels / hotels room)
1 pair of sport shoes
1 pillowcase – did not use during the trip
Miscellaneous
1 cap
1 notebook + pen
Some paracord – did not use during the trip
1 watch
1 foldable bag
Tissues
Wet wipes
Hair ties
Raincoat – did not use during the trip
Medicines (Activated carbon, anti histamine, diarrhoea)
1 pack Donkey card game – did not use during the trip
Some band aids – did not use during the trip
Sanitary pads + tampons (it had to come a day before the trip)
Mints
Passport
Currency
1 water bottle
Toiletries
1 toothbrush
1 travel size toothpaste
1 tongue scrapper
1 travel size floss
1 hand santizer
1 lip balm
1 medicated oil
1 eye drop
1 shower gel
1 used bar soap
1 travel size hair oil
1 travel size sunscreen
1 bug repellent – did not use during the trip
1 mineral salt deodorant
6 pairs daily contact lenses
Electronics
1 fully charged 10400 mAh power bank
1 Malaysian adapter – did not use during the trip
1 lightning cable
1 USB cable – did not use during the trip
1 iPhone
1 earpods – did not use during the trip
Yeap, so that's basically my packing list. Some of the items listed are not in the photo.
My daily attire was a plain tee and a patterned long pants, the kind with elastics waist bands. I didn't use the towels I brought cause I didn't want to have to pack a damp towel in my bag whenever we go to a different place and change accommodations. Our first accommodation didn't provide towels so I used one of my t-shirts as my towel (since it dries quick). Our second and third accommodation provided us towels. Midway through the trip I hand washed some of my clothes, that's how my clothes lasted me 6 days.
Bikini tops work great as a bra substitute. The windbreaker was great during the midnight train rides. A foldable bag is good for going to the shower, you can pack all your clothes and toiletries in it when you go to the bathroom. It works great as a shopping bag too! Mints are a savior during the long bus rides / train rides / plane rides. Especially if you're sleeping. Pop a mint when you wake up so you won't have to worry about stale breath.
If you noticed, I did not pack shampoo and conditioner with me. I intended to use my bar soap as my shampoo. But God that was the worst decision I've made, for 2-3 days my hair was like hay and all I wanted to do was get my hair washed at a saloon. I used the shower gel for my body and I noticed that the hair near my neck, where some of the shower gel got on the hair as well, was softer and not hay-like! And I only realised that the shower gel would work better as shampoo than a bar soap on the second last day. Lol. But well, at least I learnt something. Haha.
You need a universal adapter when you go to Thailand, at least for Malaysians. I didn't bring one, but I brought a fully charged power bank and was able to survive all 6 days with it! I used my phone mainly for the camera, and a some texting. I didn't have mobile data on and my WiFi was only switched on from time to time a day, I guess that's why my iPhone's battery manage to last so long. I also have no idea why I brought my earpods along cause I have no songs on my iPhone, but Soo made use of it.
And that's it for what I packed for my 6 day 5 nights trip to Thailand. More soon.
Best