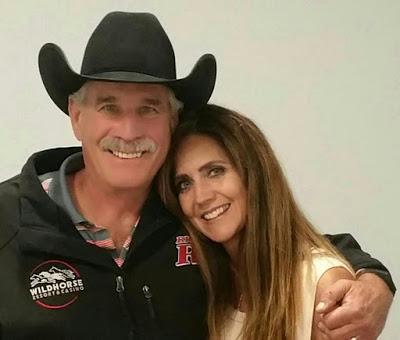 It has been a busy fall for us, but that is actually normal. We had some added excitement a few weeks ago as both Brady and I had our bosses come to town and travel with us through our territory. First, Brady's bosses came up from Texas and he took them all over The Great Northwest, from Eugene to Medford to Portland to Kennewick and back to Portland. Thankfully, the weather was absolutely perfect and they had a successful week of sales calls. I was so happy they stopped by on their way north one morning. I could talk to them all day long! They are seriously class acts. Brady took them by Autzen Stadium, and the they had an amazing time touring the facility. They were able to see the rings and the Heisman trophy and even go out onto the field, where the marching band was practicing and someone volunteered to take their picture. They also enjoyed hitting the Nike Outlet store in Woodburn. One thing about it, traveling with your bosses allows you to get to know them better, and it is actually a bonding experience. Brady is so grateful to his bosses for sharing their knowledge and being so helpful and supportive to him. He loves his new job as a boot rep!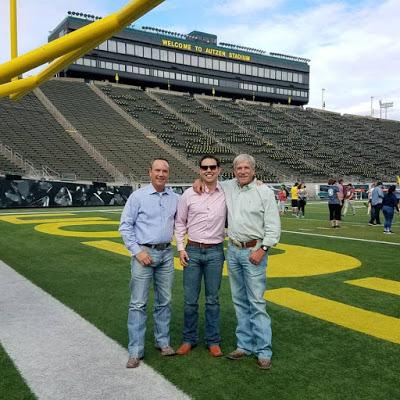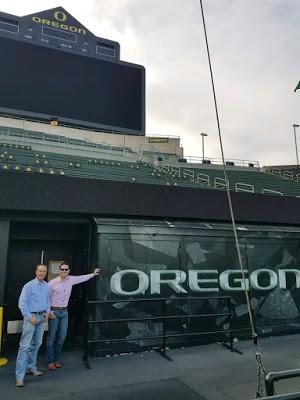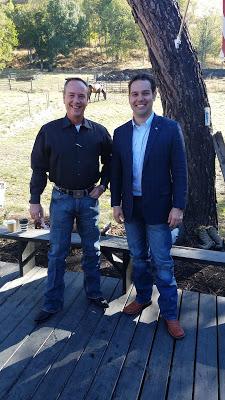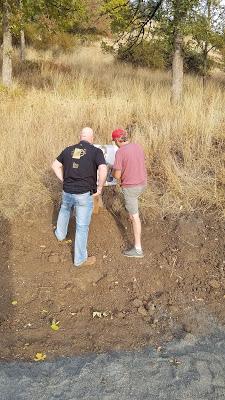 As many of you know, Brady's former boss for Montana Silversmiths is now my boss. He and Brady are great friends, and it was really nice for them to just hang out with each other for a couple of hours on the first afternoon. Brady set up this "shooting range" in our arena, and they had a big time shooting the target. Jade is a military veteran who served in the army, and he is an incredible shot. It was so impressive to see a professional shooter - he hit the target in the same place every single time!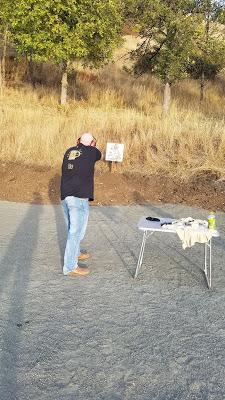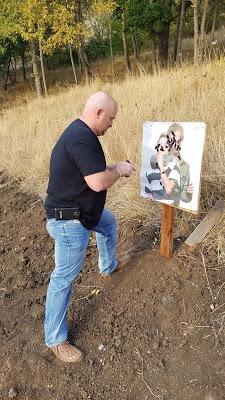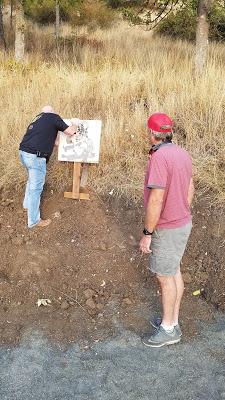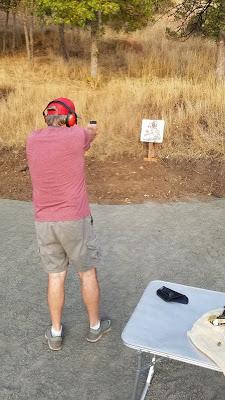 I got a shooting lesson from Jade, and I have to admit shooting the target was fun! I have never had an interest in shooting a gun before or anything to do with guns, really, but I am finally ready to learn how to handle one and to be comfortable with it. And we have the perfect spot to practice on our property, which is a nice bonus.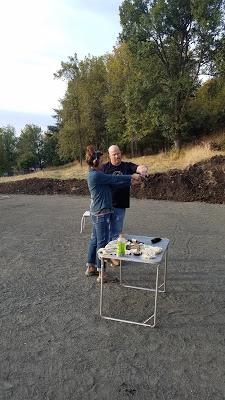 On Tuesday, Jade and I had a big meeting with our Coastal buyer, and we set up a lot of product, as you can see from the pictures. I was so grateful to have Jade to help me with all this stuff. In fact, we had to much stuff, we had to use the floors to set some of it out.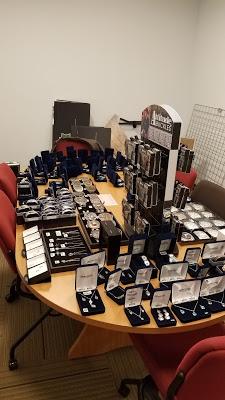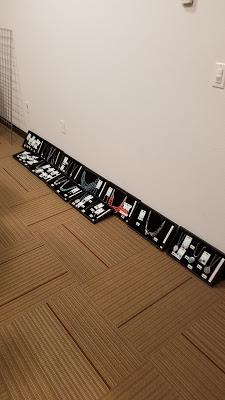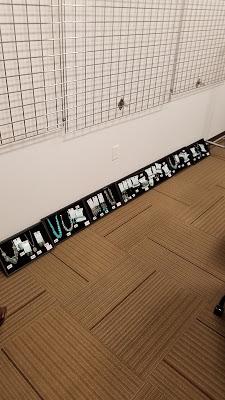 As we were packing up our stuff after the meeting, Jade and I got a great surprise - Brady stopped by on his way out of town! He was arranging his boots inside the store, and after he was done, he came into the meeting room where we were packing our stuff up. It was so fun to see him! Only Brady would think to do such a thing. Both Jade and I were happy to see him, of course. Brady knows how to make people smile, no doubt about it.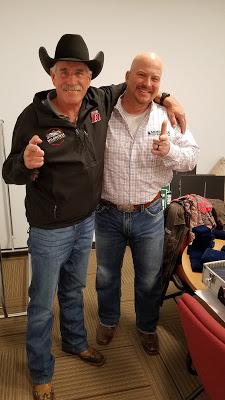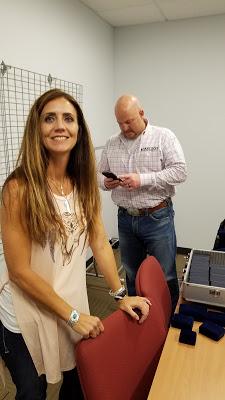 At the end of our week together, which was very successful and fun, Jade and I stopped by Double H Western Wear to get Jade a nice cowboy hat. Jeff is the best hat shaper in the land, and he fixed Jade right up with a great looking American hat. I sent this picture to Brady, and he said he liked Jeff's shirt. Can you guess why? Could be something to do with one of the logos on it...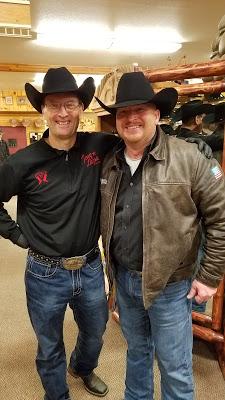 Brady and I feel so lucky to be doing what we do, and we couldn't be more grateful to have the bosses we do. I wanted to post this on National Bosses Day, but I wasn't able to find the time to get it done before now. Sales repping will keep a person hopping! The western sales world is unlike any other, and the people you work with become your friends and family. We are already looking forward to seeing everyone this January in Denver. And may you all have a boss you appreciate - it makes all the difference in the world!