Have you ever seen a cafe that serves a buffet? Or what about a cafe that is as big a supermarket? Well, if you haven't, we just found one. It is located at a prime area surrounded by some luxury hotels, casinos, and is settling inside an entertainment city here in Manila.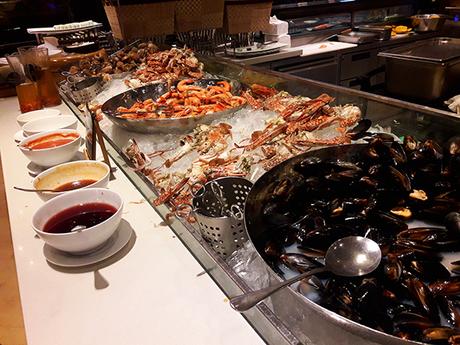 seafood selection
The buffet is named,
The Cafe
, which can be found at the ground floor south gaming area inside the City of Dreams Manila, Paranaque City. If you like seafoods just like this photo above, we are just getting started. 
Not sure if there is always a queue present but here we are waiting for our turn to go inside.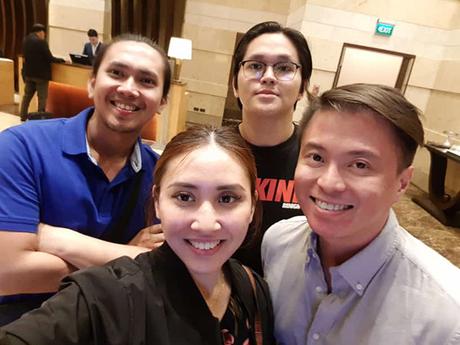 The hungry people (lol)
Their LED screen outside just made us feel more excited as we see some of their unique food offerings available inside which was mouth-watering. If you look closely at this photo below,
Wagyu beef
is indicated.. oysters, lobsters, and I bet those wine-lovers are marking this place already.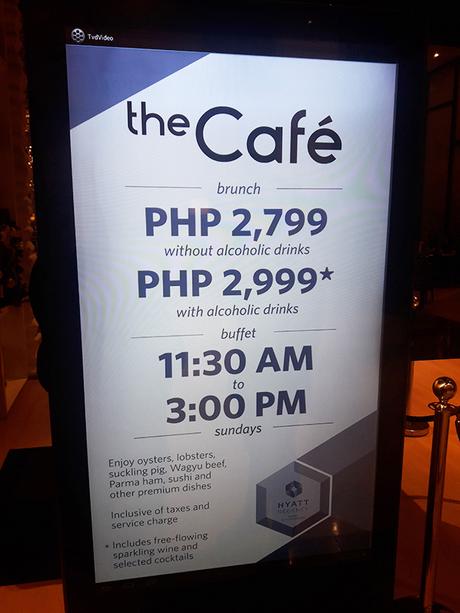 The Cafe rates
After roaming the other areas like visiting their food park-type food court there and inquiring about the VR entertainment, our time came up and was welcomed by the glittering colors inside this luxurious The Cafe buffet.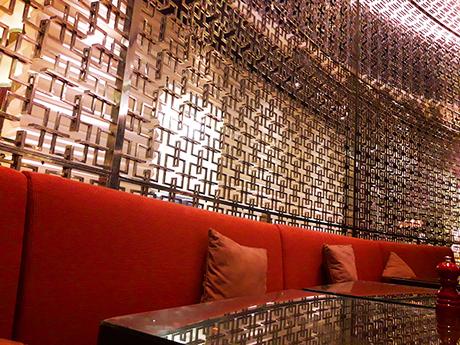 inside The Cafe
I was really looking forward to their food choices to redeem or at least make their rates reasonable. To be honest, it is one of the most expensive buffets I have ever been here in the country so let's see. I don't know if this was intentional but the first section from the entrance was the meat section. It is where all the prime meats can be requested.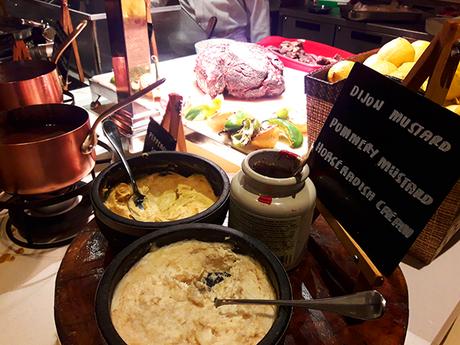 meat section
Of course, fruits and vegetables are in the choices. They even have a section there where they are already peeled and sliced. Now that is customer service for me, plus 1 extra point for them. hehe.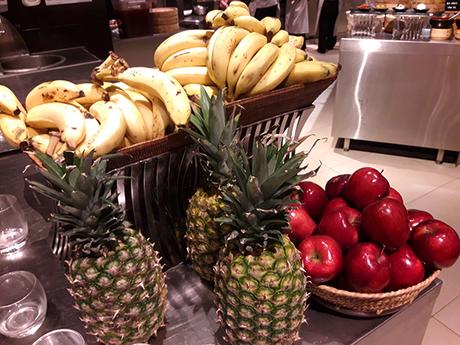 fruit area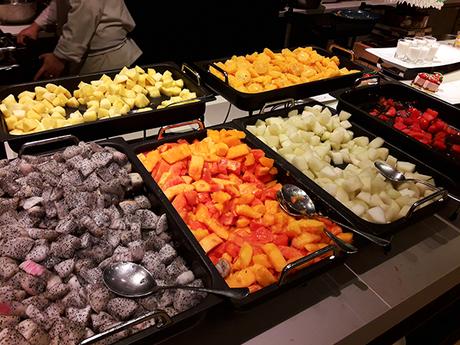 peeled and sliced fruits
I was actually joking to the group that if they have peeled shrimps which are ready to eat, well, that would up their game a notch higher with my expectation VS the price.. And boom, I found this. Haha! The Cafe - 2 points!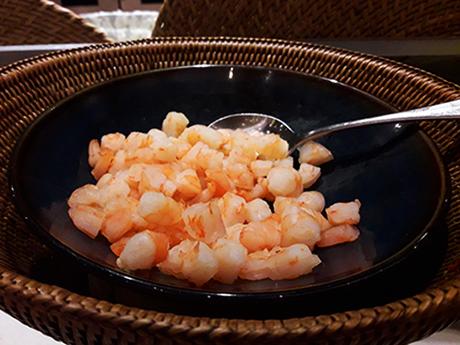 peeled shrimps baby!
If you have read my previous buffet blog posts which were
Four Seasons buffet and hotpot
,
Vikings luxury buffet
and
Yakimix (grill all-you-can)
, you should already have an idea of my favorite area in any buffet which is the photo below, the beverage station! lol! Drinks up!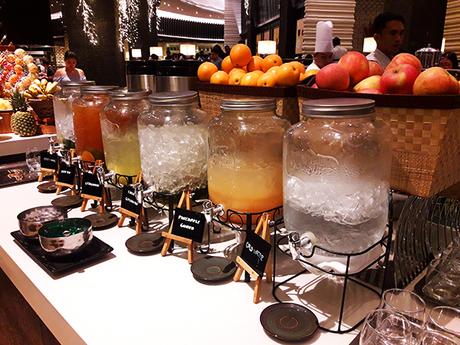 beverage station
They definitely know how to ice their drinks eh? And by the way, you can actually create your own take of any food in here by combining spices and add-ons like these stuff rigt here.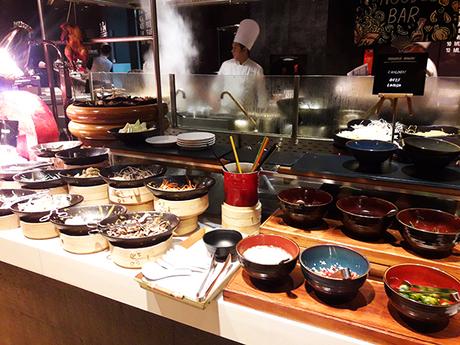 spices and add-ons
And yes, DIY salad is not exempted to that. You can do it here as well.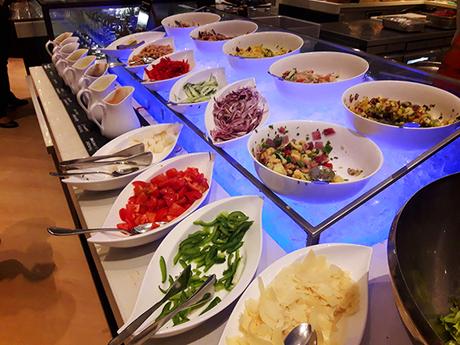 vegetables section
Similar to the other buffets mentioned above, their desserts area is also special as it covers a bigger space compared to the rest of the other food selections. And why not, no one will argue to that as it is everyone's favorite.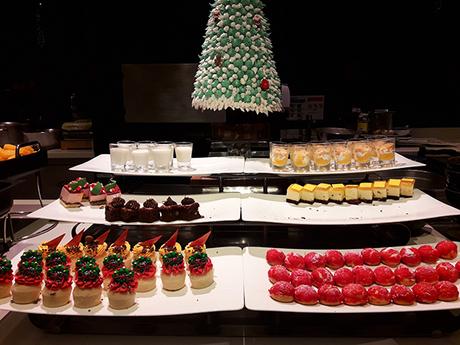 how to resist them 101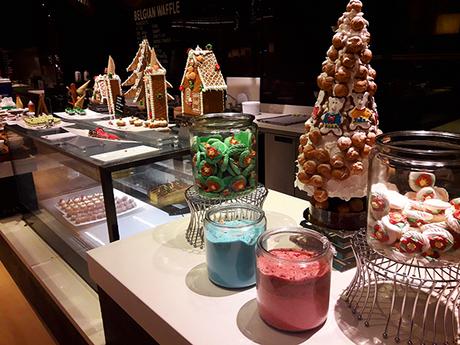 meringue anyone?
The thing in here that separates them from their other competitors is that most of the items here are made a little bit special just like these cute appetizers.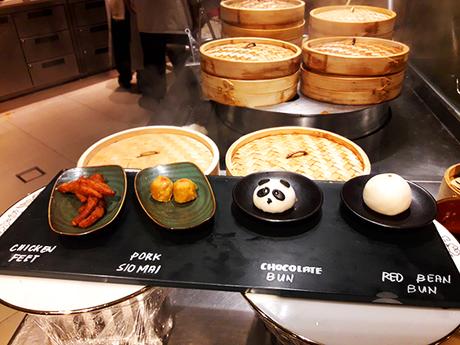 Look at that cute panda choclate bun! Can you even eat that? Haha!
They actually have a nice wide range of food selection in here that includes Filipino dishes like this literally deadly food choices.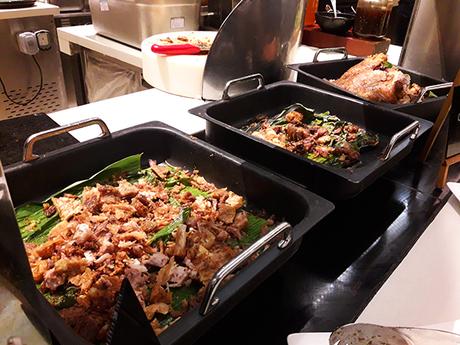 pick your poison ;)
Again, if you have read my previous posts above, I am not a fan of buffets since my stomach cannot take in much in a given period (I get full fast). But this one was different, I actually went back to our table with a
double plate
. As far as I remember, it is my first time doing that in any buffet.
The Cafe 3 points!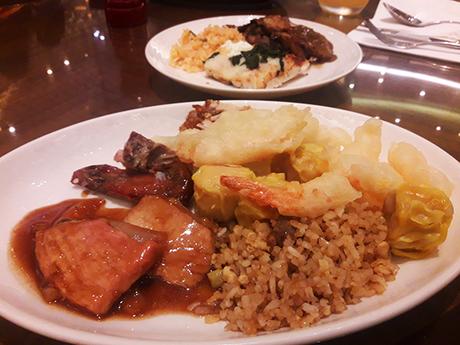 my double plate
It seems that one of the reasons why people like going here again and again is that they actually serve what people here 
really
want to eat. Not taking anything negative to the others but I guess they really studied well to know what to serve and not just add and add to the options where only a few enjoy. And, should I say they produce premium quality food? I am not sure if that is the right word to use  though. I don't eat stake a lot (I always request for a well done one) but I loved their version here. I even went back to get some more lol.
So, aside from the given rates on the 3rd photo given above, the selective promos I know they give (maybe aside from some discounted vouchers on
group buying sites
) are special rates for special occasions such as these.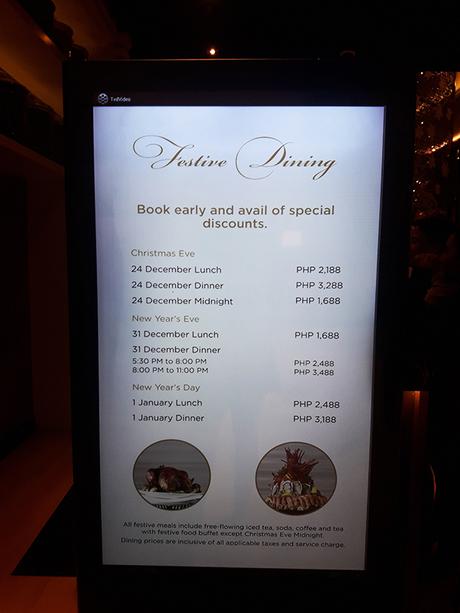 special discounted rates
The best way to know more about them is by calling at their direct hotline (indicated below this post). Anyway, here is the video of our previous visit to this place and I hope you enjoy this mini-tour around the establishment.
Address: 
Ground floor south gaming area inside the City of Dreams Manila
Aseana Boulevard corner Macapagal Avenue Brgy. Tambo, Paranaque City
Operating hours:
 6:00AM to 11:00PM daily
Breakfast - 6:00AM to 11:00PMLunch - 12:00NN to 3:00PMDinner - 5:30PM to 11:00PM

Contact nos.:
8-691-1234 ext 1162
Email:
[email protected]
Web page: 
https://www.cityofdreamsmanila.com/dine/casual/the-cafe