Hey loveys!
WOW!!!!! What a day today has been already!!! Today was a great day because I had the chance to run the Colour Me Rad 5k race today with some AMAZING gal pals of mine!!
My friend Elyse came down to the big city from London, ON yesterday for the race and we got to hang out and go out last night to, where else, but Williams Landing! It was BUMPING and so much fun and we met up with some other friends there. We didn't get home until really late and I was a bit worried that it was going to make today brutal, but it didn't at all!!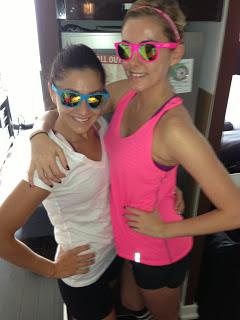 Before the race! :)
We left here around 9. Our race time start was 10:30, I thought that was a great time because it's not SO early but it's not going to ruin the rest of the day either. C came with us as our official race photographer (and thank god he did... wait till you see all the photos!). We got there and met up with
Katy
and
Emily
who happened to park right close to us, so that was nice :). Then I got a call from
Davida
who needed to meet up with us because... and you'll never guess what she did... but she baked us gluten free, dairy free and refined sugar free CUPCAKES!! Omg. So we had to put them in a car. It worked out because we met up with
Michelle
who parked closer to where Davida was so we eventually all met up. The race had a million different places to park so it was a lot more difficult than I'm explaining but whatever :).
It was soooo hot outside. We were making our way towards the race start and I had already started perspiring. Seriously. I had sweat running down my back before the race even started. Eventually we made our way to the start line and got ready to tackle the 5km! We kind of split up the group. The "fast" group was Katy, Emily and Michelle and then us slow pokes (Me, Davida and Elyse lol) were behind by a couple of minutes. It was nice to run with Elyse and Davida and chat the whole time. I loved getting to know Davida who I had only ever communicated with via social media or text message.... she's SO cool. I can't wait to spend more time with her when she FINALLY moves downtown :).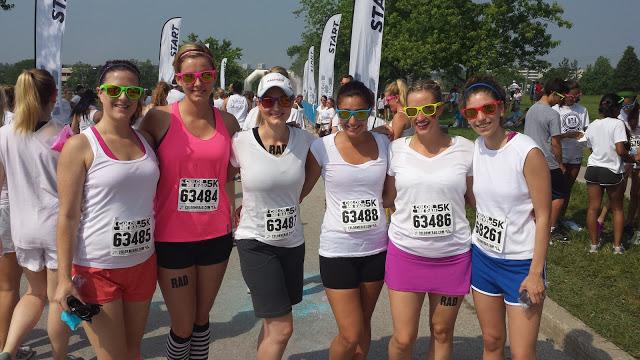 Group photo before the race started, and before we got color bombed!
ANYWAYS - without further adieu... here are the awesome photo's C snapped of the whole event!!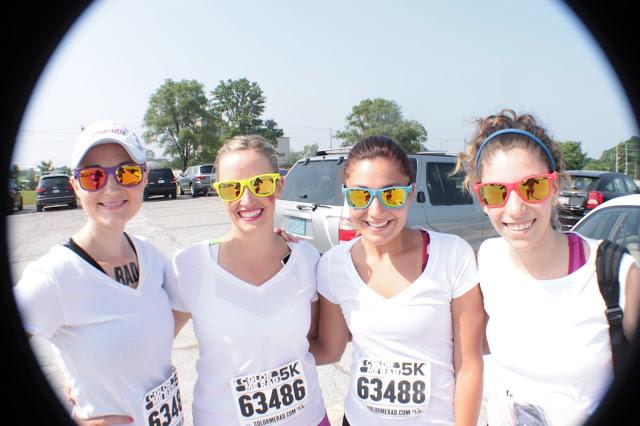 Emily, Katy, Elyse & Davida pre-race!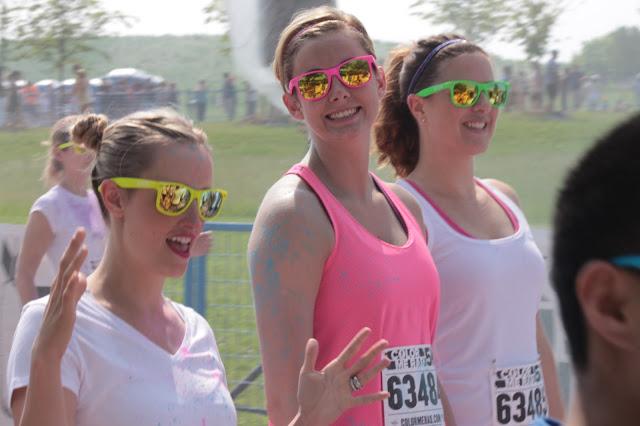 Getting ready to get COLOURFUL!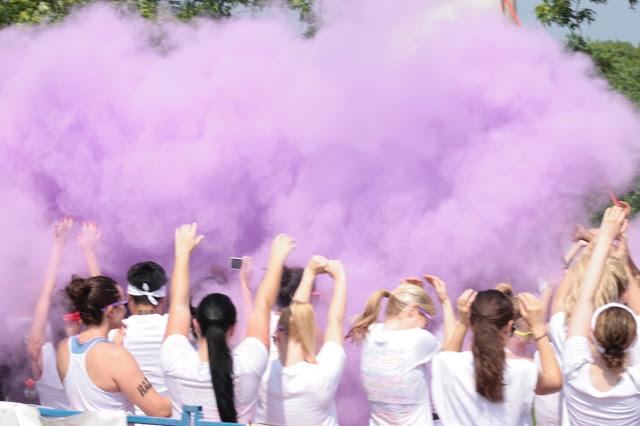 This is what we were looking forward to :)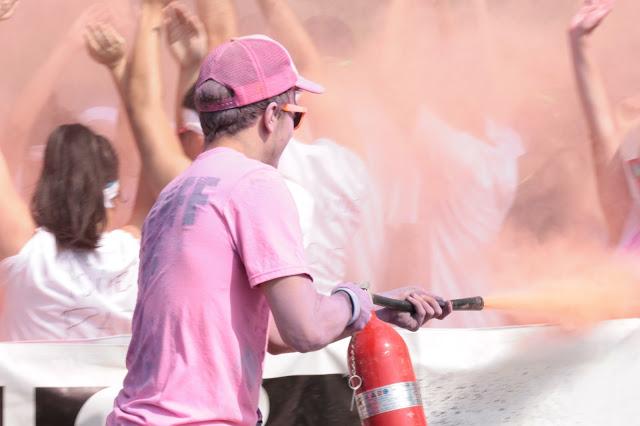 Getting sprayed with color via a fire extinguisher.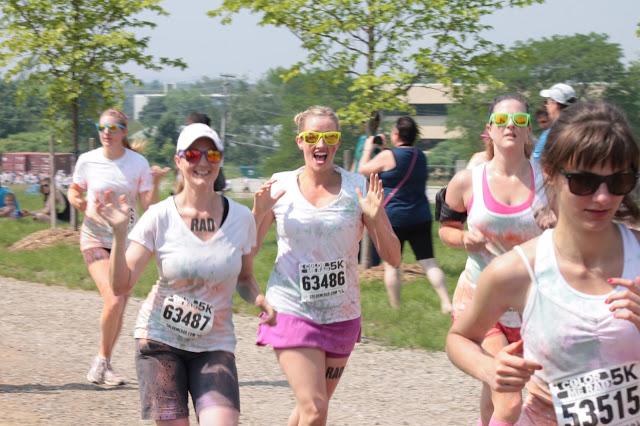 The fast group coming in for the win!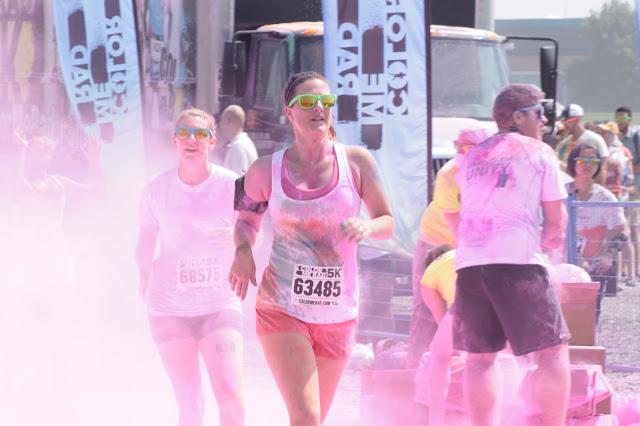 Michelle coming through the cloud of color.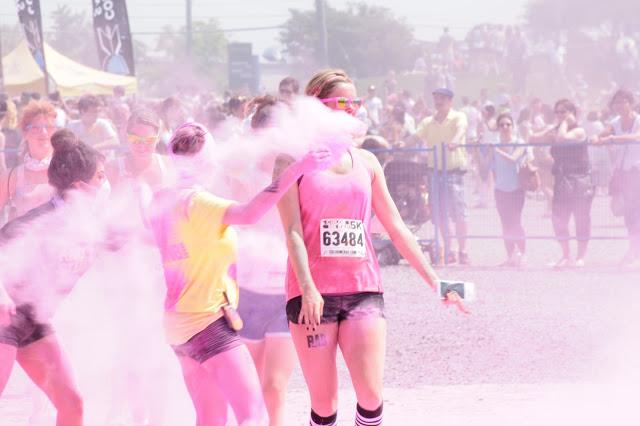 Me. Colour to the face lol.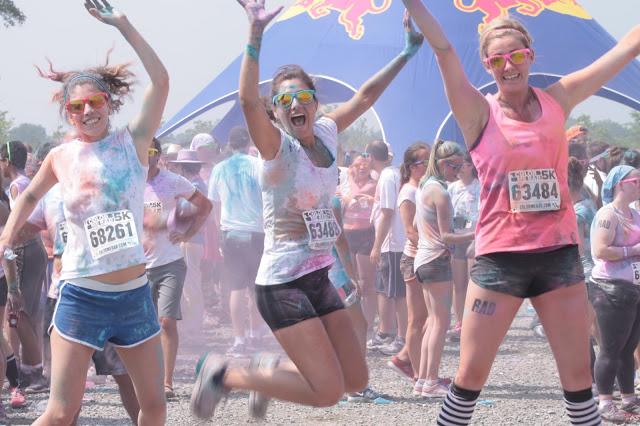 The slow group at the end!!!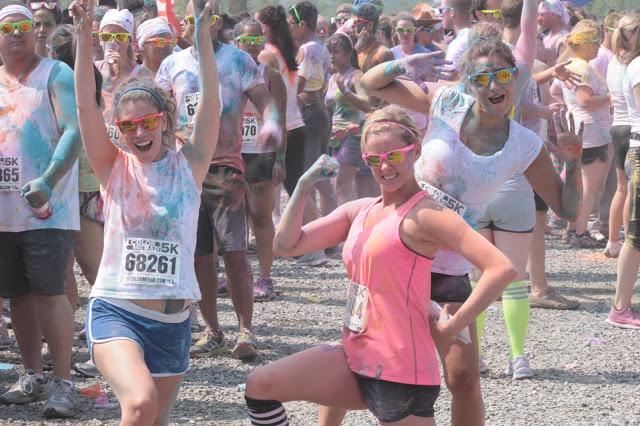 Whats up!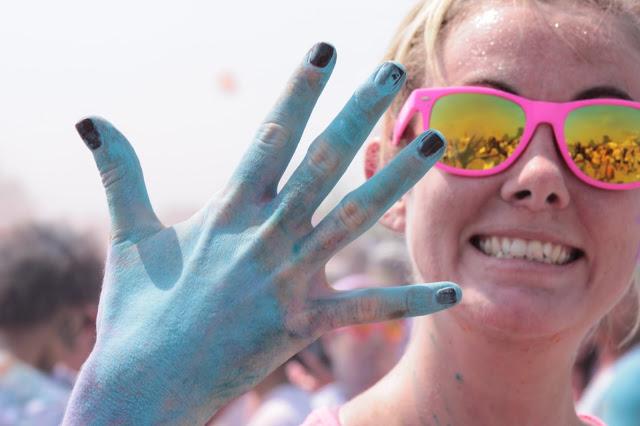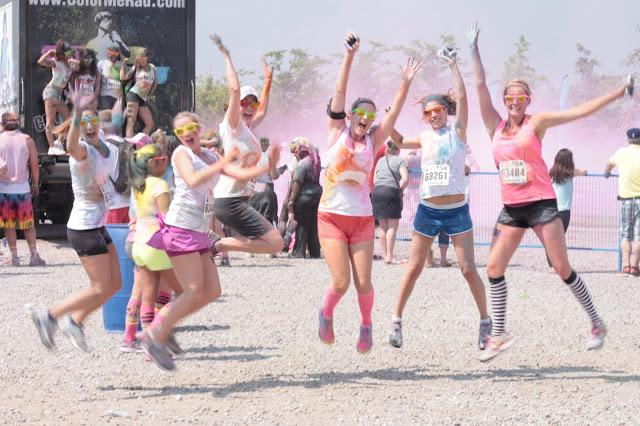 The whole group of us at the end!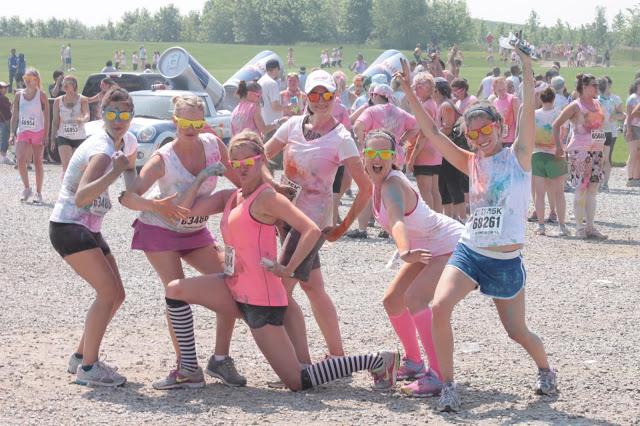 Hot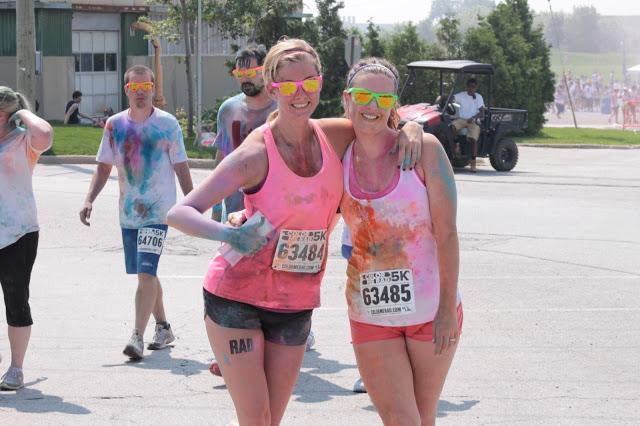 Me and Michelle :)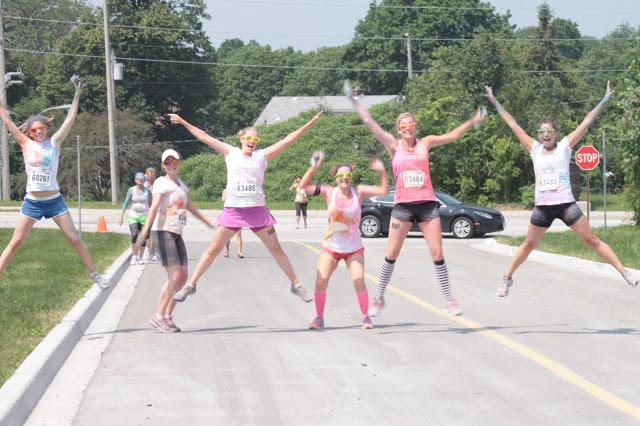 En route back to the car. Perfect photo ops.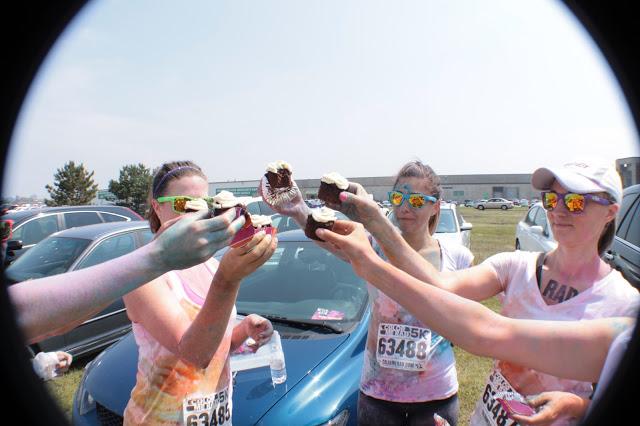 Cupcake cheers to a GREAT race!!
As you can see we had a serious blast. Loved every single minute of it and will definitely be doing more color runs in the future!! I got into the car and Elyse and I took a selfie since I was able to touch stuff without color rubbing off at this point (it was like glued to my skin lol).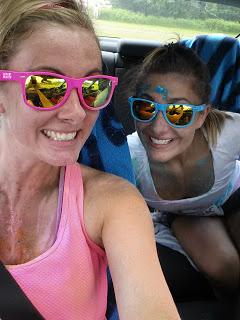 And then realized how colourful my appendages were...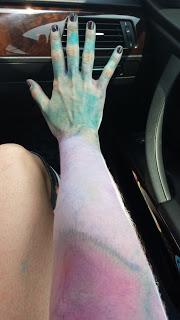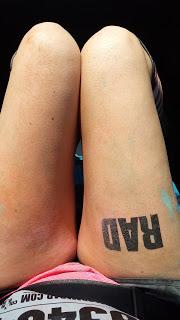 We sat on huge beach towels to get home... thank god Elyse packed them!! What a life saver. As soon as I got home I hit the showers. I was sticky from the corn starch and sweaty as hell since it was so hot out. I will admit that I got some nice color on my arms from the sunshine - which is always a plus!! I also noticed how the blue and purple "colours" stain skin. Thank god Elyse got it off her face. She had blue ALL OVER her face... I think I did that by accident. Oops :).
I'm so excited to do our next color run!!! It was so nice meeting Davida for the first time as well and catching up with the other gals (who I had met before obviously). I was glad to introduce Elyse to the group as well... she was surprised when I told her I had met all the gals through blogging, but hey - that's just another super awesome thing about blogging :)
Q: What was the highlight of your weekend??
Q: Did you race? Which race did you do?
PS - Elyse said she wants to run a full marathon.... so NOW I'm holding her to it because she's an amazing runner and would be amazing at it (she just did her first half in 1:44 - NUTS!!!)