Warning - there are small spoilers ahead. 
Last night was an interesting night for a number of reasons.
1) The second Eurovision song contest semi-final was on (admit it, you love the cheese factor as much as I do
2) I was woken up in the middle of the night by the room shaking as Kent was hit by a mini-earthquake.  We braved our way through it, huddled together in a ball and in the morning went outside soberly to view the horrific aftermath.  One patio chair was knocked over.  Although, thinking about it, I'm fairly sure it's been like that for a good month or so already.
3) I finally got to see The Curious Incident of the Dog in the Nightime, the multi-Olivier Award winning play!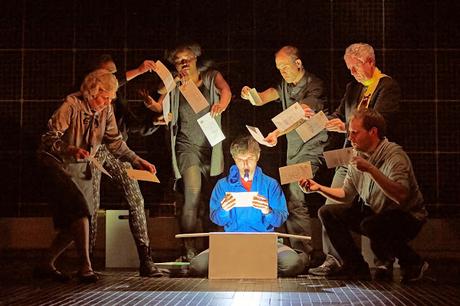 Photo by Brinkhoff Mögenburg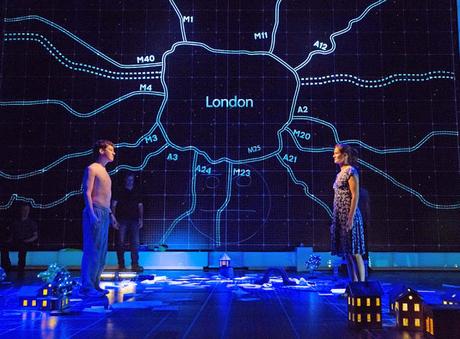 Photo by Brinkhoff Mögenburg
Curious Incident is currently on tour and into its second week of residency at the
Marlowe Theatre
.  I had known it was coming for months, and, having read the book ages ago and heard all the rave reviews about the staging, concepts and creativity of the production, I was really keen to go and see it.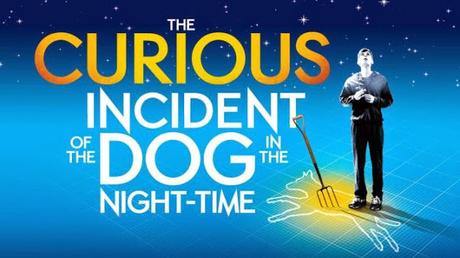 I was also intrigued - in London the play is performed in the round, which isn't physically possible at the Marlowe Theatre, and I had no idea how they were going to translate the play onto a more traditional stage structure.
Apparently with ease!  The grid box is one of the most ingenious stage concepts I think I have ever seen and offered the actors and stage crew boundless opportunities to have fun with lighting and visualising concepts.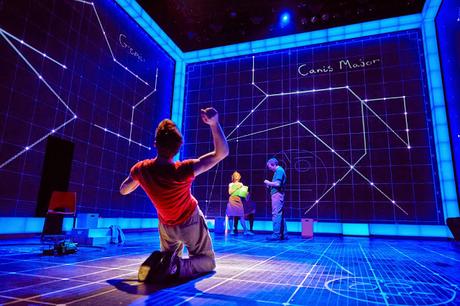 Photo by Brinkhoff Mögenburg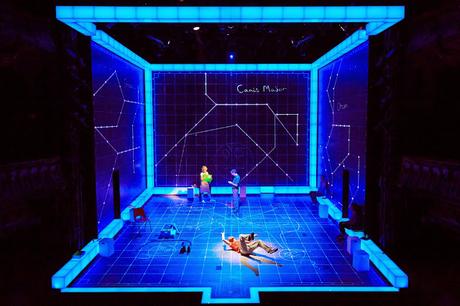 Photo by Brinkhoff Mögenburg
For those of you who have been living under a rock, Curious Incident is the story of Christopher, a 15 year old boy with an extraordinary brain, one which grasps mathematical and scientific constructs with ease, but is ill-equipped to integrate with society, and his quest to solve the mystery of his next door neighbors dead dog that he finds speared with a garden fork in the early hours of the morning; a quest that leads him in an unexpected direction and changes him forever.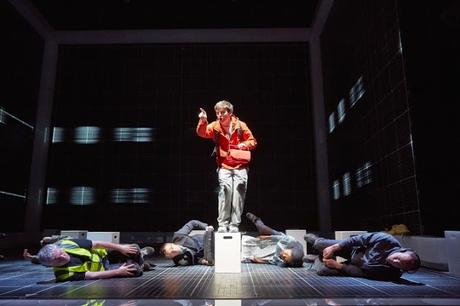 Photo by Brinkhoff Mögenburg
Although never explicitly stated either in the book or in the play, it is insinuated that Christopher is on the autistic spectrum with possible Aspergers Syndrome.  The portrayal of a person with Aspergers, or any form of autism on the stage, is one that needs to be handled sympathetically and this production beautifully demonstrated the balance between academic brilliance and social awkwardness Christopher experiences, and the challenges he has to overcome in everyday life in a world which is not designed to help or be sympathetic to people who struggle in social situations.  The use of sound, lighting and strobe to signify the times when Christopher needs to retreat into himself to cope with the overwhelming sensory overload around him, and the use of mathematics to stabalise and reassure him are beautiful constructs.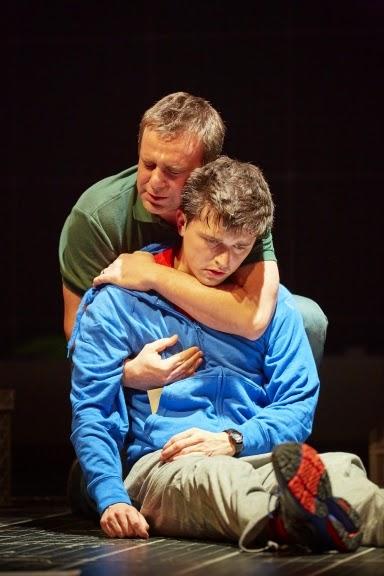 Photo by Brinkhoff Mögenburg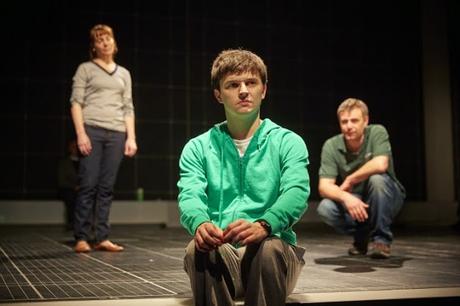 Photo by Brinkhoff Mögenburg
Rather than a first person narrative, the production was presented as a play-within-a-play, with the cast acting out the story that Christopher has written in his book as it is being read out loud by his teacher, and later converted in a play that his school puts on.  The physical movement was particularly effective, with dance elements used when Christopher is imagining himself tumbling through space as an astronaut or trying to navigate the streets of London on his own.  Hardly surprising when a group as well respected as
Frantic Assembly
have choreographed the play!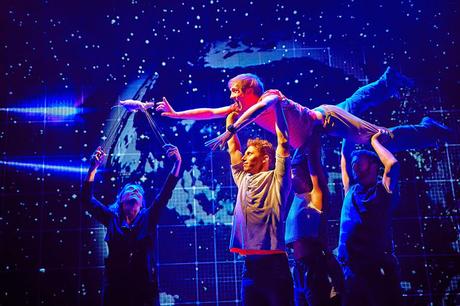 Photo by Brinkhoff Mögenburg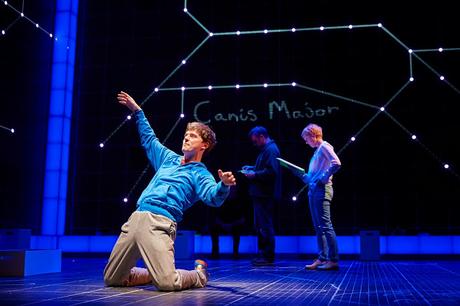 Photo by Brinkhoff Mögenburg
Standout sequences for me were the tube, the building of the railway sequence just before the interval (such a shame one of the letters landed on the line and stopped the train from reaching its destination) and the flight through Christopher's imagination as he describes his wish to be an astronaut.  These sequences in particular stand out as you are seeing the world through the eyes of someone that sees it very differently.  The author of the book, Mark Haddon, has stated that he does not want the book (and by default the play) to be about autism, but about difference, about being an outsider and seeing the world in a surprising and revealing way. 
From an acting perspective, the majority of the performances were exemplary.  Joshua Jenkins, who played Christopher, was simply outstanding.  He conveyed the strength and determination of Christopher's character mingled with the raw emotion of someone struggling to cope in a world not designed to meet their needs.  He was on the stage for the entire performance and did not once let his energy levels drop or slip up with the incredibly difficult scientific and mathematical theories he was explaining that bought order and routine to Christopher's world.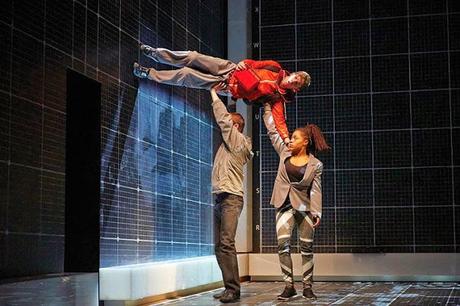 Photo by Brinkhoff Mögenburg
Stuart Laing and Gina Isaac, playing Christopher's parents, were exceptional at delivering the love and frustration they both feel at trying to communicate with a child who doesn't respond in the way that they expect, their desire to protect him from the world and also their coping strategies for compensating for Christopher's particular physical needs, such as the fingertip touch to replace a hug as Christopher violently eschews physical contact.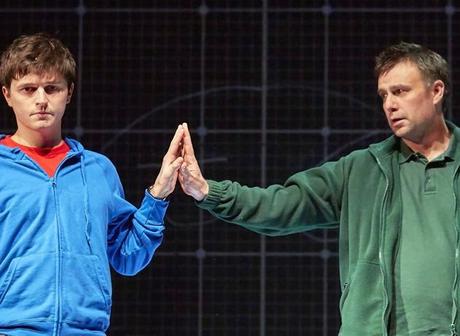 Photo by Brinkhoff Mögenburg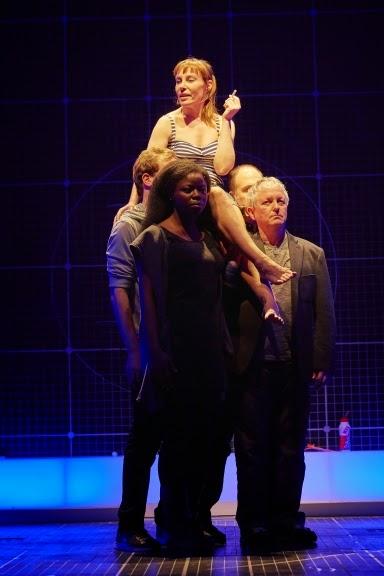 Photo by Brinkhoff Mögenburg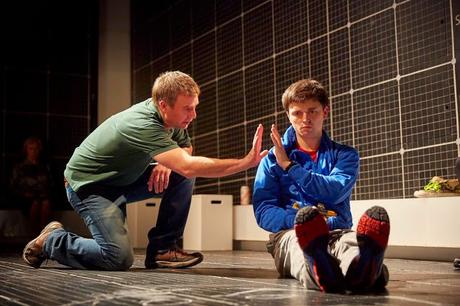 Photo by Brinkhoff Mögenburg
Geraldine Alexander portrays Christopher's teacher, Siobhan, whose calm demeanor and teachings help Christopher make sense of the world around him and provide him with valuable coping strategies when faced with high stress situations.  It is her voice that tells him to follow the red line and tap out the rhythm when Christopher is confronted by the chaos of a big city, who he hears telling him to work through the numbers and try again when he fears he cannot achieve a task. She is his comfort blanket and has a relationship with him that is in stark contrast to his mother, who clearly struggles to cope with Christopher's challenging behavior.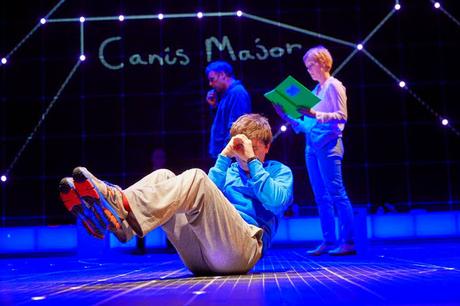 Photo by Brinkhoff Mögenburg
Now the staging.  There is a reason that Curious Incident has won the Olivier Award for Best Sound Design, Best Lighting Design and Best Set Design and it is simply incredible.  The set becomes a vehicle for seeing inside Christopher's mind, for visualising the connections that he makes, the theories that he uses and the stress that it goes under when he is upset.  White cubes glow and become television screens, fish tanks and wheelie suitcases.  Windows open in the wall and props appear.  A table is pulled from the back wall as if out of thin air.  The set glows and moves and becomes a home, a train station, a tube station and a park.  It needs to be seen to be believed. 
I am ridiculously lucky to have the Marlowe Theatre on my doorstep, and I become even more aware of that fact when I get to see touring shows of the calibre of this one.
The UK tour is running until mid-November.  Check it out, and if you get a chance to go and see it, please do.
It will open your eyes to a world you may not have even been aware existed.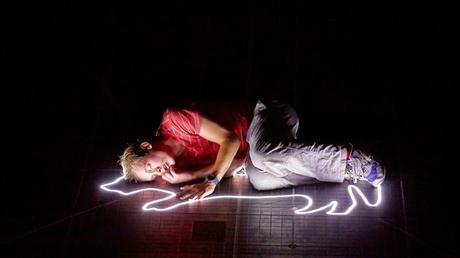 Photo by Brinkhoff Mögenburg
 If you like (or hate!) what you have read, please do let me know in the comments below or slap me with a
cheeky follow,
or say Hi to me on my
Facebook
group or
Twitter
or
Instagram
!