It was Saturday, 6th of July, when I geared up for the 4th IndiBlogger Meet of my life. The 3rd in New Delhi. I attended meets sponsored by HP, Spice and Vodafone in the past, so it was my first non-technical IndiBlogger meet. 
I reached the Hyatt at the Delhi Bhikaji Cama Place at 1.30PM sharp because you just can't miss even one segment of IndiBlogger meets. There were a dozen bloggers standing right outside one of the gates of Hyatt waiting for entering the "holy place." I greeted a few and introduced myself.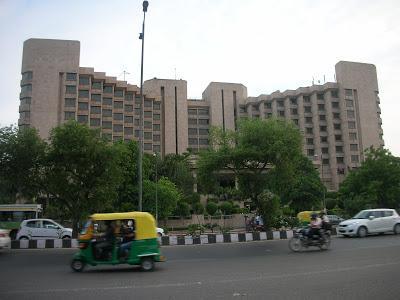 I made some straight away friend in Saransh and Sameep and came to know that its their first meet. I felt like a mentor there. The feeling was funny. 
As the ball room was still yet to open... we had some cookies and a cup of coffee outside the ball room. Those were delicious and exotic.
Once we entered the ball room, there was a great atmosphere inside... Everything was just FreshNHappy... all thanks to Ambipur. Saransh, Sameep and I sat together.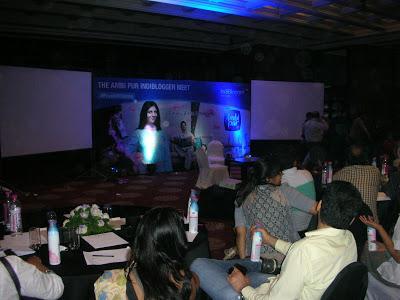 First up, Anoop Johnson showed us the pics mailed to indiblogger by the bloggers. The images were of things that stink and only Ambipur can help get rid of its bad smell. A guy named Jatin Israni took self shots and mailed  to Indiblogger,  he looked very high to Anoop. High as in ecstasy. The winner was of course a pic of "DogShit" captured by a girl, I forgot her name.
The second segment was by Nihaal, he gave us a crash course on headbanging... literally... you must be wondering, what the hell is this headbanging. I wondered too. But after a while, I started enjoying it and was missing my long hairs I used to have 2-3 years ago. When they played the music during the headbanging, I felt like a part of a metal band.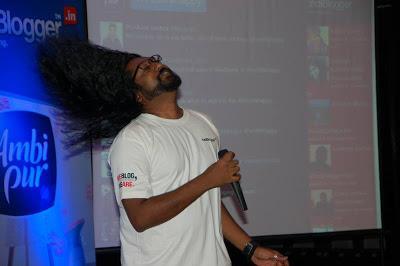 Photo Courtesy: IndiBlogger
After this, there was the intro session, not the usual 30 seconds of fame, but for people, who could never introduce themselves even after 3-4-5 blogger meets. They broke the silence finally. There were many interesting intros and some charming ones as well. And a long one by some Chartered Accountant. 

Some of the intros that I remember were from Gv Sparx, 

a friend of mine from the blogosphere 

who spoke of Akanksha Dureja, another friend and an Indiblogger Meets enthusiast and told us how she misses Indiblogger Meets. That was a beautiful gesture. Another Intro I remember was from Jyotsana Verma, she spoke of her blog which makes organ transplants readily available for the needy, she is really doing a fantastic job as a blogger. Another blogger's intro was longer than his own career as a CA, I am not sure what he was talking about, but I guess he started narrating some real events of his life. It was weird.

Just after the intros, we were asked to do lunch and return within 45 minutes to our seats. The food looked divine; Biryani, Chicken, Pasta, and many more made it look so outlandish, added with desserts. It was lovely and made all of us FreshNHappy. During the lunch, I spoke with Sir Arvind Passey and Arvind Mohan about the former's interview with Mr. Arvind Kejriwal. I also met his wife Mrs. Sangeeta Passey, it was lovely meeting the lady. Sir passey even complemented me, by saying that I look more glamorous in real than in my facebook profile picture. I was like whoa.. but honestly, that is a way of a gentleman making others comfortable around him. Later we discussed about interesting blogging contests with Aditya Bhasin and Ankit Chugh. 

During the lunch, I hand shaken some more people, to remember a few, Himadri, Gv Sparx, Priyanka Dey, Tanya Garg and Anubhuti. Anubhuti was a lovely poet and gave her intro in a poetic way. Well that was it.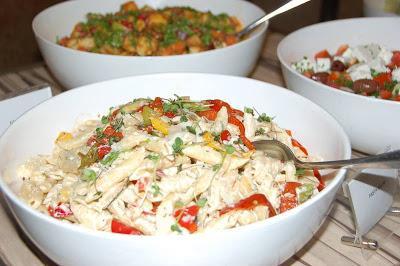 Photo Courtesy: IndiBlogger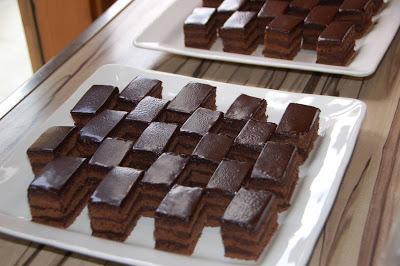 Photo Courtesy: IndiBlogger
Just before I was entering the ball room, I finally got the chance to speak to the craziest people in the world, "The Viral Fever Guys: College Q-tiyapa". I am a big fan of their gags and when I was talking to him. Some dialogues from their "Gangs of Social Media" Gag were revolving in my head, especially this one; "Facebook ka, Twitter ka, LinkedIn ka, sab ka ID banayega tera faizal..." Click here to go through the video on YouTube. It even featured on YouTube's homepage for a week or so.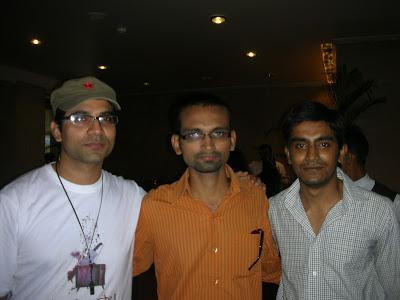 The real craziness started only after the lunch. When I went back to the ball room, I found that the seats are changed and it was hard to find a vacant seat. Anyway, I found Saransh and Sameep and joined them in some of the central areas of the ball room. A lady, from the Ambipur Team grabbed the mic and asked the bloggers about different kinds of bad smell. We were provided an Ambipur Room Freshner, during the time she spoke. I got a "Blossoms and Breeze."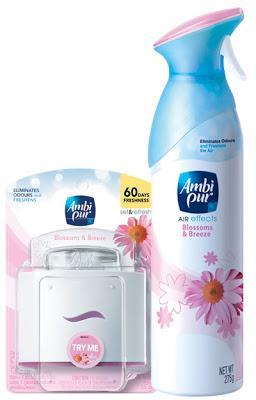 Photo Courtesy: IndiBlogger
Distinguished by different fragrances, we were divided into teams, each team had a different fragrance as a symbol. Ambipur Room Freshner comes in many fragrances, so we had a good number of teams. Even there were two teams within a team. The teams were to perform and make a little act, kind of a commerical for the Ambipur Freshners. Even there were Project Managers for each of the team, my team's Project Manager [yeah.. literally] were Ashish and Jasmeet. 
So our act was a bit illogical, actually it made no sense at all.. :p, our act was to sing a romantic song and change a few words and stuff Ambipur in it.. haha... I know it sounds weird.. So I did the playback singing for Gaurav Agarwalla, Himangi Bhardawaj and Cheena Chopra, who performed on the song I sung; jaadu teri nazar.. Well there were some other segments of our act as well, but its better not to talk about the weird act anymore. I had a little chat about random things and became friends with Jeffrey, Gaurav,  Vikram and Mahima. Mahima was a facebook friend already, but I haven't met her till then. Among other team members I remember were Aditya Nath Jha, Pulkit Juneja, Ashwani Kumar, Rakesh Narang, Rohit Chugh and Vivek Chamolli. 
Speaking of performances, there were some really fantastic ones. The one in which zombies were killed using AmbiPur fresheners. A blogger gave a 'never to forget' expression after turning into a zombie in the act. I loved that act.
Photo Courtesy: IndiBlogger
Another act were smelly cats [the anti hero/heroine] was shot down by AmbiMan [the superhero] was cool. When Ironman, Batman, Superman and even HanuMan failed. AmbiMan did what must be done. This act won.
Anyways, after that, the defining moment came... the one my title is all about. Anoop asked us to define our blogs in a pose, and there was some really interesting poses. It was the best moment of the meet. A lady with arms widespread and head towards the sky [ceiling] was selected as the one with the best pose. Although, I had a similar pose too, but they certainly didn't notice my pose. [And I have no grudges with IndiBlogger Team for this..]But I am really happy that IndiBlogger asked all of us to define our blogs in a pose, it made me love blogging even more. It was so simple yet so tough to express your blog in one body posture. I just loved every single pose. In a way, they all made sense.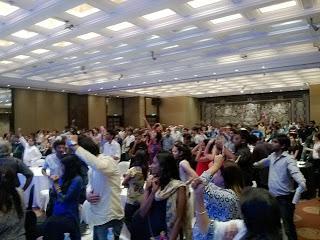 Photo Courtesy: Ankit Chugh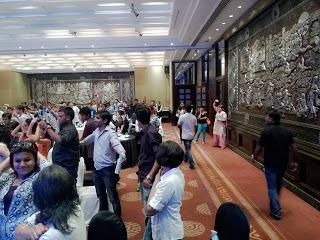 Photo Courtesy: Ankit Chugh
IndiBlogger Meet is one event, where nothing is non-sense. All your crazy ideas are appreciated by the other bloggers. People respect you for the idea you made. Nothing is crap, when you are an artist. 

If you aren't a blogger yet, just be. 

Find your skill and make a blog out of it. 

P.S: I have mentioned so many names in my post, as an expression that it is really nice to go out and socialize. It took me 4 blogger meets [3 in Delhi, 1 in Mumbai] to really come out of my shell and talk to other people. But when I did, I was more than happy, people are nice, they are ready to accept and listen to you. Life is beautiful.