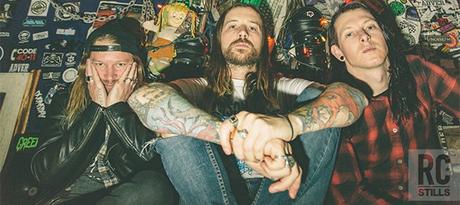 On October 20th The Dead Love started their Canadian tour at The Legendary Horseshoe Tavern to play songs from their sophomore album So Whatever for the crowd. The band embarked on a 7 date tour in Ontario and Quebec where they got to play live for their fans.
We caught up with the boys during Canadian Music Week 2016 and we've been following them closely ever since. What can I tell you about the band that will convince you to listen? The Aussie three-piece has an amazing energy, intense and positive. They can strip it down and be soft and quiet, and then they can turn it all the way up and make you want to jump up and down and bang your head. Think modern grunge with hints of Nirvana, of course. It's punky, it's progressive, it's contagious and you'll want to play them again and again.
Thanks to Clint and the boys for taking the time to answer our questions.
Q. Could you talk to us about the writing and recording process for "So Whatever"?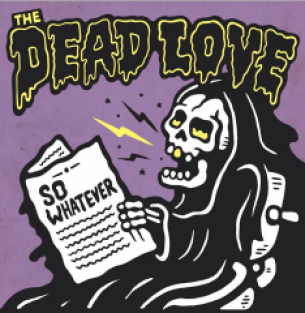 A. We got right back to basics with so whatever, it was more about capturing the sound and vibe as you would live! We did it full DIY at Stevie's studio with very minimal post production, no replacing or tuning it's all as it went in! It's raw and real.
Q. Do you have a favourite track?
A. We all have our babies. For me it's probably Down, Miles it's The End and Summer is Stevie's. But that answer would probably be different tomorrow haha
Q. I love the cover art, who's responsible for that?
A. It's a dude named Sindy Sin from Sydney, he does heaps of amazing work! I'd say he's kinda like Sydney's prolific skull guy! Be sure to check him out all his stuff rules - very fortunate to be a pal that digs the band, he did all the single art for us as well.
Q. You released the Wastelands - Acoustic video 3 months ago, what prompted doing the video? I love this video btw!
A. We always say any good song will break down to an acoustic form and translate, I guess it was just a fun thing to do to showcase it to people and let them hear it in that format. Glad you dig it 🙂
Q. What's your favourite thing about Toronto? What's your favourite thing about Sydney?
A. The amazing nightlife, so many cool bars, beers, fireball, people and poutine. Jumping on the plane to leave for Canada 😉
Q. Who would we find on your playlist?
A. Pretty broad amongst the 3, anything from action Bronson to Billy Talent to Slayer
Q. If you could pick any two bands to go out on tour with, who would you choose and why?
A. In Canada The Lazys because they're our buds from Aus and equally love a few froths! Really digging The Dirty Nil at the moment, that'd be rad!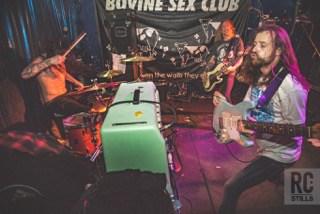 Q. What's your favourite thing to do when you're not making music?
A. Stevie and Miles the 2 pretentious fucks like going to the beach and walking up and down with surfboards they can't ride! I like riding my pink Vespa to go shopping at IKEA and looking at all the fluffy pillows.
Q. Best advice you've ever been given?
A. Don't shit the bed.
Q. Name a band that you think our readers should give a listen.
A. The Wiggles
I'm pretty sure they're kidding but they are Australian, and so are The Wiggles. Last words, go buy the album!
You can check out The Dead Love at these fine locations:
Web - thedeadlove.com
Twitter -@TheDeadLoveBand
Facebook - thedeadloveband
Instagram [email protected]
YouTube - thedeadloveband
Thanks to RC Stills for being a gentleman and providing us with some awesome photos from the October 27th gig at The Bovine.
Love the live show photos? You can check out RC Stills images at these fine locations:
Web - rcstills.com
Twitter -@rcstills
Facebook - rcstills
Instagram [email protected]