Creating the perfect liquid eyeliner flick, landscaping the long-lasting, reddest of lips and creating the perfect base to place them on was all on the agenda at the Emily Rose Vintage make up tutorial last month.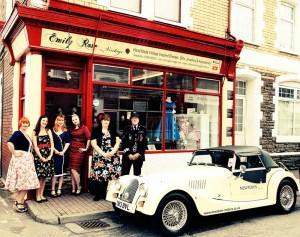 Image: emilyrosevintage.com
Emily Rose Vintage is a vintage clothing and artisan shop situated in Griffithstown and is packed with one of a kind pieces, handmade trinkets and generally little must have gems that you wouldn't find anywhere else.
Myself and a friend went along for the vintage makeup tutorial night and being my first time in the shop I was really impressed and taken in by the look and feel of the place. It is the perfect venue for such an event I feel as it was unlike a shop and particularly in the back changing room area, felt more like a vintage style dressing room at home. Very cosy, comfortable and relaxing.
With two rails of clothes, nicely spaced and easy to browse (all worth a try on may I add!) and jewellery, trinkets, scarves, hats, brooches, hairbands and all the other bits and pieces you can imagine to add vintage glam to any outfit were delicately draped and dressed out. It was more like a personal shopping experience with friends on the evening and despite not knowing the other ladies attending the atmosphere was relaxed, open and fun which I hope is what the staff at Emily Rose aim for as they achieve this down to a tee.
The makeup tutorial took place in the salon at the back of the shop which was decorated with Marilyn Monroe on the walls and two vintage style dressing tables with huge mirrors. Not only that the beautiful dressing tables were filled with tutorial makeup free for participants to use, a much welcomed variety of cupcakes and cups with cloudy lemonade with stripy straws. The little touches always make a difference when attending events like this.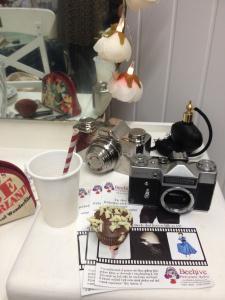 The tutorial itself was hosted by Sophie aka Rusty Cherry who herself looked just about as vintage as it gets. The thing I liked most was that although looking vintage can be daunting she gave it a day to day look which could be achieved by most and the owner of Emily Rose convinced me that anyone can do vintage, they just need to make it their own.
What I really liked about the ladies hosting the evening was how they differed and brought their own personal touches to their individual vintage look as well as offering great advice on re-creating their own looks as well as adapting to suit yourself. Be it toning it down or adding more they really knew their stuff and tailored the evening to individual needs.
The small group of 5 I think was a perfect number for the evening in having enough time to find out more, ask one on one questions, and try out different techniques with the help of Rusty Cherry. It was also a great number for socialising with other attendees as well as having the chance to have a quiet browse around the shop with a cloudy lemonade in hand.
All in all the Emily Rose Vintage Make Up Tutorial was a great evening, very nicely put together and well organised. Unfortunately I was unable to attend the following hair tutorial which took place two weeks later though it is certainly on my to do list and I am really looking forward to it already.
You can't have the vintage look without the hair! Pin curls and Victory Rolls here I come!
You can find out more about Emily Rose Vintage on their website where you can also browse some of their vintage collection or on their Facebook page.