Most of my readers would know, that Dubai is like my second home. Except now, instead of using it as an escape from the dreariness of Riyadh - I have moved here permanently.
Years ago, when my parents first brought me to visit relatives in the stifling heat of Dubai, all I could remember was the glare of the sun and the specks of sand that mangled my hair. Never did I imagine that I would long for the days when my passport would proudly bear the residential visa stamp that would grant me a license to stay.
Just over a month ago, I got a long awaited taste of total liberation that Riyadh denied me. I was able to slide behind the wheel of my rented Chevrolet and tear down the immaculate streets letting destiny guide me through the heavy traffic that caused other drivers to honk angrily. Even their impatience couldn't wipe the grin from my face, they probably took driving for granted, forgetting that there are some women who would give anything for that level of independence.
My first day here was spent re-acquainting myself with the steering wheel and getting my bearings. I had to remind myself that I wasn't here on holiday and not to venture too close to the exciting attractions that would distract me from my mission. That mission was to get my son into a decent school. After a thorough search, it was decided my son would attend a school in the town of Mirdif. Armed with a GPS and an abundance of formal documents, I headed south to a beautifully built school that boasted a traditional clock tower.
A couple of hours later, my son had been assessed and accepted and I was asked to pay the eye watering fee that I came to know was standard for a western education out in the Middle East. As I stared at the invoice in my hand, I couldn't help compare it to the one I had held just a couple of years ago back in Riyadh. It was for half the amount of what had just left my heavily dented bank account.
Walking through the school grounds, we were shown the many features that made the school what it was. Our guide pointed out the large assembly hall and the tiger turf that housed a football pitch as well as a basketball court. I just hoped the education would be as impressive.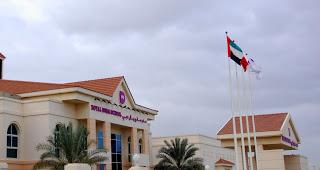 On the way back to the hotel, I was sure to stop off at Uptown Mirdif where I would be able to buy the mandatory school uniform that would set me back a further two hundred pounds. Was that a gasp I just heard from your lips? If it was, then you did way better than me. My jaw almost hit the floor when the sales lady totalled up the purchase. Two shirts, two shorts, one school hat, one PE hat, one PE kit and one book bag couldn't cost that much could it?
The sales lady grinned at me. She took great pleasure in letting me know that I was not just paying for a basic uniform, I was also paying for a swimming bag, trunks, cap and school socks to boot.
Carrying the uniform to the car, I decided that although school uniforms are a necessary evil, the extras that were tucked into my bag were just a way to extract more money from privately paying parents. I mean, why pay for a simple swimming kit when we had one at home?
Back at the hotel, we headed up to the pool to recover from the sweltering heat that was the culprit for my frizzy mop. As the cool water soothed over me, I planned for the week ahead.
To find out what happened with my house hunt, check back next week.
If you are a parent, let me know where you are and what your child's school is like.