THE FITNESS GYPSY GRATITUDE JOURNEY ROUND 2
I saw Esther from Local Adventurer do this a few years ago. I knew that I would do this sometime in the future. I just didn't know when. Lately I have been feel SUPER overwhelmed and my anxiety has been at an all time high. 
I took some prompts from her and others that I thought would be fun to do. Each week I will post here about the prompt. I will also post on the instagram stories as well.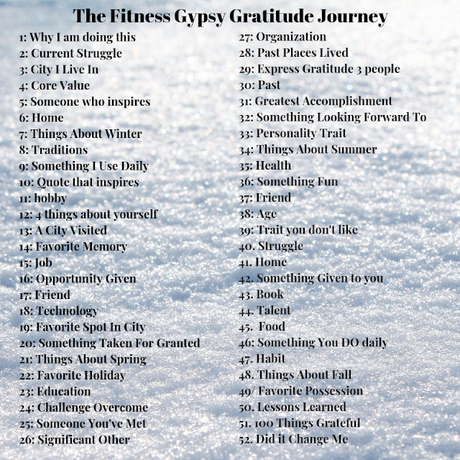 WEEK 1: Why I am doing this AGAIN
My anxiety has been at a high level lately. One of my managers at work asked me to tell him one thing I am grateful for. All I could think of I have a job. I have a house. To me all those seem so lame!
I knew deep down in my heart I had more to be grateful for. It reminded me of this journey and 5 to Thrive from Rachel Hollis.
Why are you doing this challenge? Use the hashtag #thefggratitudejourney