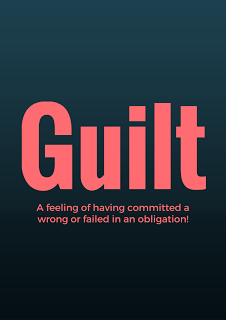 Last night I watched the movie "Dil Dhadakne Do". It's an okay - ish movie about a dysfunctional  family with an over the top Bollywood style climax. But this post is not about the movie. This post is about one of the things the movie talks about. The guilt of success.  
   Ayesha (Priyanka Chopra), the daughter of the family, is a successful business woman. Forbes lists her as one of the ten entrepreneurs to watch out for. Yet at home, she is a docile daughter and a demure daughter-in-law who tolerates her mother-in-laws' subtle taunting silently, feels bad about denying her husband sex when he wants it even if she is too tired and lacks the courage to say what she wants to her parents - to divorce her husband.
   When I tried to discuss this, the politest opinion I got was that her story in the movie was the lamest. It made no sense for a girl of her calibre to be so meek. Well, I can only say that either they are being purposefully naive or they don't know many people.
   Growing up in a household where both the parents worked full time, I have seen my mother's guilt first hand. She was successful in her career, was respected by her colleagues and earned a lot of money but was still wrecked with guilt. She went out of her way to live upto the image of the perfect woman - a fictitious person capable of balancing everything just right! She woke up at 4 am and went to bed at 11 pm, performed the daily puja, made food for us, got us ready for school, fed us, tutored us, washed our dirty clothes, cleaned the house, remembered to pay the bills on time and was our communication link with our relatives.   
   And on top of that, mean little kids as we were, we gave hard times if she missed a parent teacher meeting or didn't take a day off on our birthdays. She obliged to all our demands.   But how ever much she did, it was never enough!
   By the time I understood the enormity of what we were used to taking as granted, it was too late. By then, my mother had accepted it as given too! That it must be she who has to deal with everything because she is getting to pursue a career - an extra thing that her peers didn't have!
   And since I started observing, it was unnerving to see how many people suffered from the same guilt. How many women felt they rightfully deserved the criticism that came their way for not being able to devote full time in home making, for not having enough energy to cook up a six-course meal on the special days! It feels almost like being given an undue advantage that they must prove to be worthy of!
   It is there - in every person who does something outside the set of roles and responsibilities others expect of them, just because they like it. It is there - in every person who decides to indulge in something just for their own selves. It is there - in every man or woman who has made it big compared to the other people they know of! How many people do you know who try to walk the middle ground of keeping everyone happy and as a result achieving none themselves?
   Has it never happened to you? Didn't anyone you know ever make you feel guilty for having the audacity to do something good, for advancing in life? Have you really truly never felt guilty for doing well and living well?
   We are taught to be useful to others, put everyone else first and place self at the last. Sacrifice is a great virtue. Denying yourself of something you like for others' sake is a beautiful thing. Again and again. Until it is imbibed in our hair, skin and bones. And that is why we must doubly give back if we take something that pleases us.
   And that is why Ayesha's character worked for me. A fierce career woman for the world, but a submissive daughter-in-law at home - she reminded me of my mother. She reminded me of the brilliant colleague who couldn't come to the successful launch party of the project she was a crucial part of because it was her parents-in-law's wedding anniversary and she couldn't say no. She reminded me of the manager I so used to adore who refused a leadership role offered to her because she could not tilt the "balance". And most shockingly in her I saw myself, and my husband. We deal with things, we otherwise would not have because we live a privileged life here. We deal with things because we do not want to hurt the ego of the people in our lives.
   Small sacrifices or big ones - to appease the guilt of being successful, of being happy. While it is perfectly alright to make sacrifices for the loved ones, if it makes one happy; being miserable, but still dealing with it however, is not! But is there a cure for this feeling? What are your thoughts?Last night I watched the movie "Dil Dhadakne Do". It's an okay - ish movie about a dysfunctional  family with an over the top Bollywood style climax. But this post is not about the movie. This post is about one of the things the movie talks about. The guilt of success. Love,

© copyright 2014 – All rights reserved
Riot of Random