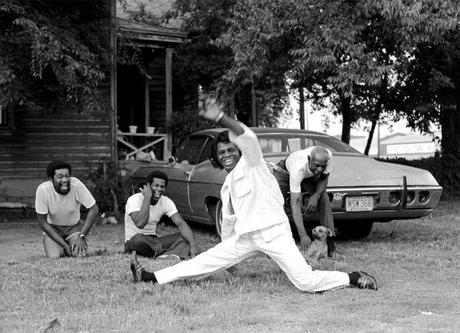 James Brown, the Godfather of Soul, the hardest working man in showbusiness, soul brother number one, founding father of funk and so much more. His musical career spanned an astonishing six decades, he was a major influence on rapping while he's beats…well, he's the most sampled artist. Here's a short version, a few highlights before the quotes, but there's a fascinating Wikipedia entry on his life and career here which is well worth checking out.
He first hit fame in the Fifties as part of a group called the Famous Flames, touring on the "chitlin' circuit" (the opposite of the Borscht Belt); from then on, it was largely an upward arc as he revolutionised music and became one of 20th century music's major influences.
And yet, while he's undeniably a force of nature, he also has the record as the artist with the most singles on the Billboard Hot 100 without ever hitting number one on that chart.
The James Brown tour was one of the best in the business – or certainly the biggest, with an enormous band and a bigger retinue – the James Brown Revue had something like 40 or 50 people in it, all of them busing around the US, doing 330+ shows a year, most of them one-nighters – and most of them featuring the infamous cape routine, when he'd pretend to collapse from the emotion and be escorted from the stage with a cape over his shoulders. I think Elvis copied this too. He died in 2006 of heart failure.
He wasn't joking when he said he had it tough. Born in 1933, as a young child, Brown and his family lived in extreme poverty in South Carolina. His parents separated when he was two, when his mum ran out on his dad for another man. He stayed with his dad (and his father's assorted girlfriends) until he was six, when he was sent to live with an aunt who ran a brothel.
He might have lived with relatives, but he still spend a lot of time on his own, hanging out or on the hustle. He worked hard as a kid, shining shoes, sweeping out stores, selling and trading in old stamps, washing cars and dishes and singing in talent contests. Brown also performed buck dances for change to entertain troops from Camp Gordon at the start of World War II as their convoys traveled over a canal bridge near his aunt's home.
He had an early passion for music, too. Between earning money, Brown taught himself to play a harmonica given to him by his father. He learned to play some guitar from Tampa Red, in addition to learning to play piano and drums from others he met during this time. He formed his first vocal group, the Cremona Trio, when he was just 12. That same year they won local talent shows at Augusta concert halls such as the Lenox and Harlem theaters. He was forced out of school in seventh grade for wearing "insufficient clothes".
When James Brown was sixteen, he was convicted of armed robbery and sent to a juvenile detention center in Toccoa. While in prison, he formed a gospel quartet with fellow cell mates Johnny Terry, "Hucklebuck" Davis and a person named "Shag", and made his own instruments – a comb and paper, a washtub bass, a drum kit made from lard tubs, and what he called "a sort of mandolin [made] out of a wooden box." Due to the latter instrument, Brown was given his first nickname, "Music Box". In 1952, while still in reform school, Brown met future R&B legend Bobby Byrd, who was there playing baseball against the reform school team.
Byrd's family helped Brown secure an early release in 1952 after he'd done three years of his sentence. The authorities agreed to release Brown on the condition that he would get a job and not return to Augusta or Richmond County and also under the condition that he find a decent job and sing for the Lord – as he had promised in his parole letter. After stints as a boxer and baseball pitcher in semi-professional baseball (a career move ended by a leg injury), he finally turned his energy to music.
The rest, as they say, is history. Notable highlights though…
Influenced by having been booted out of school as a youth, his main non-musical activism was in preserving the need for education, particularly among black youths, who consisted of large school dropout rates in the mid-1960s. As a result of this, Brown wrote "Don't Be a Drop-Out", which was released in 1966 under the "James Brown and The Famous Flames" billing – though the actual recording featured none of its members with the exception of Brown (not to be confused with Dolly Parton's song the same year, "Don't Drop Out". Royalties from the song were given to charity, he was rewarded by President Johnson, and he always advocated, in songs and in speeches, the importance of education in school. When he was older, he'd occasionally go back to his childhood neighbourhood in Augusta and give out money and other things to those in need. A week before he died he visited an orphanage and gave out toys and turkeys.
Civil Rights. Brown and his band first participated in benefit concerts for civil rights groups starting in 1965, performing for organizations such as the SCLC. In 1968, Brown recorded two socially conscious songs, "America Is My Home" and "Say It Loud – I'm Black and I'm Proud". The former song, in which Brown performed a rap, advocated patriotism, pointing out that America was one of the few countries where "you can start as a shoeshine boy and shake hands with the President" and exhorting listeners to "stop pitying yoursel[ves] and get up and fight." This coincided with Brown's participation in performing in front of troops during the Vietnam War.
"Say It Loud" was written in response to pressure from black activists for Brown to take a bigger stance on their issues. The song was inspired by television coverage of black on black crime as well as concurrent issues concerning the riots that occurred following the assassination of Martin Luther King, Jr.. Brown wrote the words and asked his bandleader at the time, Alfred "Pee Wee" Ellis, to compose the music. The song's lyrics helped to make it an anthem to the civil rights movement. Some critics[who?] later stated that the song had gotten through to black youths better than some civil rights leaders' speeches. Throughout the remainder of his career and after his death, Brown was credited by some of his admirers for "destroying the word Negro from the vocabulary and making it cool to call yourself 'Black'." Brown performed "Say It Loud" only sporadically after 1969, later stating in his 1986 autobiography:
"The song is obsolete now… But it was necessary to teach pride then, and I think the song did a lot of good for a lot of people… People called 'Black and Proud' militant and angry – maybe because of the line about dying on your feet instead of living on your knees. But really, if you listen to it, it sounds like a children's song. That's why I had children in it, so children who heard it could grow up feeling pride… The song cost me a lot of my crossover audience. The racial makeup at my concerts was mostly black after that. I don't regret it, though, even if it was misunderstood."
His personal life wasn't always settled. Gruelling schedule, always on tour. For the first 25 years of his professional career, he had a drug-free policy for his entire entourage and band. A few people were fired for going against his word, especially those who used drugs and alcohol. Noting of this policy, some of the original members of Brown's 1970s band, The J.B.'s including the Collins brothers, Catfish and Bootsy, intentionally got high on acid during a 1971 concert gig, causing Brown to fire them after the show because he had suspected them to be on drugs all along, according to Bootsy Collins. Towards the mid-Seventies though, he was allegedly using them himself anyway. In the mid Eighties he got into an angel dust storm with then-wife Adrienne Rodriguez. There were a few arrests for domestic violence.
Still though, an amazing performer. An amazing musician, poet, lyricist, dancer. A serious talent, in a man's world. Here are some quotes. They're not necessarily all amazing, but what is amazing is the context and background of some of the things he said. (ps – If you like this, do please share, and read some of my other "The Guy Quote" posts here. )
Die on your feet don't live on your knees.

I've outdone anyone you can name – Mozart, Beethoven, Bach, Strauss. Irving Berlin, he wrote 1,001 tunes. I wrote 5,500.

Hair is the first thing. And teeth the second. Hair and teeth. A man got those two things he's got it all.
When I'm on stage, I'm trying to do one thing: bring people joy. Just like church does. People don't go to church to find trouble, they go there to lose it.

… I'm not going to be joining ZZ Top. You know they can't play my stuff. It's too complicated.

The one thing that can solve most of our problems is dancing.
I don't really care what people think, … I just do my own thing. … I like being loud and letting people know I'm there.

Retire for what? What would I do? I made my name as a person that is helping. I'm like Moses in the music business.

I'm twice as old, but I feel good.
I got a wife who likes expensive things, so she takes all the cash.

I taught them everything they know, but not everything I know.

Sometimes you struggle so hard to feed your family one way, you forget to feed them the other way, with spiritual nourishment. Everybody needs that.
It doesn't matter how you travel it, it's the same road. It doesn't get any easier when you get bigger, it gets harder. And it will kill you if you let it.

I used to play one job and have 125 pair of shoes on the floor. What was I doing? I couldn't wear but one pair.

My expectations of other people, I double them on myself.
Now, we own a publishing house that's way up in the billions of dollars and gets bigger and bigger. That's probably the only thing that makes me look like Bill Gates!

Sometimes I feel like I'm a preacher as well, 'cause I can really get into an audience.

The hardest thing about being James Brown is I have to live. I don't have no down time.
I did the thing with bonds, which was about 30 million dollars, and didn't get none of the money on them.

They had a chance to see me look good and perform and be so neat again. A lot of young people felt shaken, 'cause there I was, 70 years old, looking half as young as they did!

I only got seventh-grade education, but I have a doctorate in funk, and I like to put that to good use.
Michael Jackson has a very good heart. He was crying when he was giving me the award, 'cause his mind went back over the early days.

I started Michael [Jackson] years ago. I saw him in Gary, Indiana, and we'd have him on the talent shows. He kind of emulated me, and did the best he could.

My son don't have to say it loud, I'm black and I'm proud. He don't have to be called those crazy names.
They had a chance to see me look good and perform and be so neat again. A lot of young people felt shaken, 'cause there I was, 70 years old, looking half as young as they did!

I just thank God for all of the blessings.

I used to think like Moses. That knocked me down for a couple years and put me in prison. Then I start thinking like Job. Job waited and became the wealthiest and richest man ever 'cause he believed in God.
I want to say to you, help yourself, so you can help someone else.

I've been held responsible for taxes I know nothing about.

You can take care of yourself, and God helps those who help themselves.
I had to tell about my colonic, which expresses the fact why I'm so neat today as opposed to a few years ago. I never knew that the weight made that much difference.
I named my new son James Joseph Brown II. I think he's going to be a lot better than I was.

I think the best thing about being James Brown is looking at my little son. Hopefully I can make my son a role model to a lot of people.

I think what I came through is great, but my son can take it to another level, not having to fight racism. His mother's a Norwegian and I'm mixed up four or five times, so he can face the world.
I was stillborn. The midwives laid me aside, thought I was really gone. I laid there about an hour, and they picked me back up and tried again, 'cause my body was still warm. The Good Lord brought me back.

I'd like to cut down on the work a little bit.

I'm kidding about having only a few dollars. I might have a few dollars more.
My expectations of other people, I double them on myself.

Thank God for the journey.

The hardest thing about being James Brown is I have to live. I don't have no down time.
When God took it, he accepted it; when he brought it back, he accepted it. That's what's happening with me.

You can't teach others if you are living the same way.

If you like this, do please share, and read some of my other "The Guy Quote" posts here.
And here's a documentary about him:

If you like this, do please share, and read some of my other "The Guy Quote" posts here.
51.529956
-0.221059