And just like that, another month is over. Where did May disappear to? And why was half of May wet and soggy? I'm sure May has always generally been quite summery, unless I'm remembering wrong?
This month, despite the crazy weather (which saw us outfit change the boys three times before 10.00am on one of the days), has been good in terms of being able to finally get outdoors again and honestly the fresh-air and the open spaces have just felt amazing. I've always been a fan of the outdoors, but have been especially more so since becoming a parent and realising how not-aways fun it is to be stuck indoors trying to keep young children entertained all day alone. It's been a busy old month and one that has honestly sort of just flashed right by, especially so in the last couple of weeks. But then I've been so busy with different things both personal and work-wise here on my blog and on my YouTube channel. I've been uploading videos more regularly and I've been trying to ensure I am posting regularly here on my blog too and then work-emails have really been keeping me busy. And it's great and I feel so fortunate that the hard work is paying off, but boy does keeping busy mean that the time seems to suddenly speed up faster than you ever thought possible.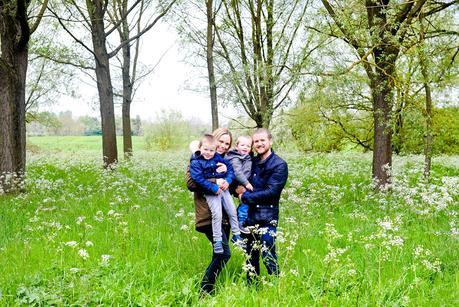 Right now, we're currently away on a family road trip to France and Belgium, so I've scheduled this post to go up automatically for me just so that I don't forget. We're working with Eurotunnel and it's such an exciting collaboration for us because we've never done anything like it before. I'm a bit nervous about how a road trip will go with the boys at their ages (1 and 4) and how Adam will find the driving on the other side of the road, but I'm also super excited to go and start our adventure and just explore and visit new places that we haven't seen before. I'll be blogging about our trip when we're back and I'll of course be posting regular social media updates, so I'll keep you posted. 
We took this months photo doing a bit of a random family walk. Adam found a new park area/lake to walk around that was local to us and so we had fun just exploring and letting the boys run together. I suggested we take a quick family picture as just an 'in case' we didn't manage to get something else, as I knew that we were going to be away. But the photo ended up being not too bad - we're all looking at the camera and all smiling, despite the fact that this was a one-take picture. 
June will be a fun month for us - we've got a few birthdays to celebrate in the family and of course, on the very last day of the month our youngest little boy Logan, will be turning two.. (two!!! - it feels like it was just two minutes ago that I was pregnant with him, overdue and impatiently waiting to meet him!). I feel a bit emotional sitting here now typing this, thinking that he'll be two. Part of me wants him to stay as my baby forever - perhaps that's because I'm not sure if he will be our last. Although, in all honestly, two or twenty two, he'll always be my baby - they both will. 
Anyway, I hope your month has been good to you whatever you've got up to. And I hope that June will good to us all (with lots more sunny days too!).. Alex x
The Me and Mine Project
Please do link up any pictures you have from this month of you with your family with us. If you don't have a blog you can link up using the hashtag #MeAndMineProject (@meandmineproject) 

on Instagram if you're on there or via our Facebook page. Please also do go and check out the other co-hosts 

Lucy - Dear Beautiful, Katie - Mummy Daddy Me, Fritha - Tigerlilly Quinn, Jenny - Lets Talk Mommy,  Lucy - Capture By Lucy and Charlotte - Our Life As We See It.
Save
Save
Save
Save
Save
Save
Save
Save