Read
Part IPart II
here.
Jha was pulled out of his reverie from a soft knock on the door. Looking up he found a man in a security guard's uniform. He looked in his mid-forties and was sporting an impressive moustache. He had his hat under his left arm and the right arm rested on his chest.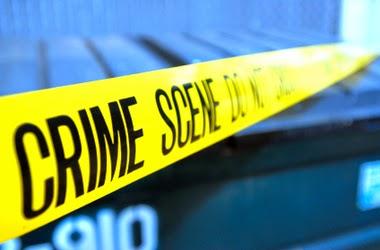 "Good morning sir. I am Arun Srivastava. I am the security in-charge here."
"Oh yes. I was waiting for you. I assume you have heard everything."
"Yes. The person on-duty told me that you were looking for me."
"Good. I have few questions to ask you. Shall we go down to your office?"
Jha locked up the apartment and went down to sit at the dingy office of Arun Srivastava.
Jha could tell that Arun looked nervous even though he was trying to look normal. He kept crushing his fingers in his palms and biting his nails alternatingly. Jha kept quite till the time Arun could draw another chair and sit in front of him. It was only after Arun was finally settled that Jha spoke.
"How long have you been working here Mr Srivastava?"
"Since the last three years sir. Previously I used to only supervise the shift roaster of the guards but now I am the in-charge of maintenance too."
"Good. So you should be able to tell me about the woman of 9B who died this morning?"
"No sir. I am afraid not much sir. They kept to themselves sir, the women in 9B. I hardly saw them."
"Them? There are other women who live in that apartment?"
 "Oh yes sir. They were two: Aditi ma'am – who died and Bibha ma'am. Once they had a problem with being locked out of the apartment, then they called me so I went to help them. Since then they stopped to say hello if our paths crossed."
"Aditi? So this woman's name was Aditi? Strange that you know her name but the residents I spoke with don't! Who is she? And who is this Bibha?"
"I don't know much sir. Like I said they kept to themselves. But they were so generous. They always gave me Diwali bonus. I can't imagine who could be so cruel to her."
"How long have they been living here? Do you know?"
"Oh yes sir, I remember. They moved in just before Diwali the year before last…"
"… and gave you bonus?" Jha cut in.
Arun gave a small laugh and nodded.
"So that's why you remember huh?" Jha half joked. It was almost two years that these two women had been living here and no one knew anything about them? Something didn't quite sit right. And where was this other woman called Bibha? Why was there no sign of her living in the apartment too? Was she the killer? The mystery was clouding so thick and heavy that it made Jha feel restless. He was heading nowhere. He knew the name of the victim, but no other identification till now. The other woman Bibha, whoever she was, was missing. Jha's net of thoughts was torn open when Arun spoke next.
"I can hardly believe the situation sir. The reality doesn't sink in. First Bibha ma'am moved out and now Aditi ma'am is dead."
"The other woman, Bibha, she moved out? When?" Jha was attentive once again.
"Few days back only sir, I think it was last to last Saturday. I helped the packers to load the truck."
"Truck? Where did she go?"
"The packers said Mumbai sir but beyond that I don't know."
"Which packers?"
"The AlStar packers sir. They are the staple here. Whenever someone moves in or out, it's them I recommend. And there are about 4000 flats here sir. So they do get a lot of orders. See here. If you ask them they will surely have the address of where they delivered Bibha Ma'am's things." Arun fished for few seconds in the drawer of his iron table and handed over a bright pink pamphlet to Jha. Seeing it Jha remembered he did see such pamphlets in the bulletin board by the elevator. He felt a little warmth of hope. At least now he would be able to get to this Bibha – whoever she was. But before he had to poke Arun a little more, he seemed to be the only person willing to talk. Was he just trying to help or did he know more than he was letting out?
"I appreciate your support Arun. I really do. But can you tell me something more about Aditi. Do you have any idea what she did or who she was?"
"No sir. As I said, they always kept to themselves. I only saw them rarely in the evenings coming back, mornings probably they left even before I came."
"Anything else? Any resident you know was close to them? Anyone who could have more details about Aditi?"
"I don't know sir, I am sorry."
"Anyway, thanks Arun for the help. You gave me more information than I could have hoped for." Jha started to leave. But then he remembered something, it wasn't much but no harm checking.
"Tell me Arun, what the residents do when any maintenance or repair is required?"
"Oh! We have maintenance staff sir, residents normally call in them but they are free to choose the help from outside as well."
"Ok. Who normally handles all these requests then?"
"The maintenance staff? That's their office sir." Arun pointed to another small room across from his small office.
Love,

© copyright 2014 – All rights reserved
Riot of Random