I didn't know WHAT to do with this shiny new award I just got from the delightful Cherie over at
Ready. Write. Go.
(Honored I am, indeed!)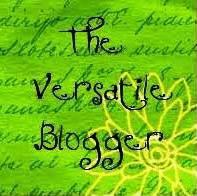 At first I thought this might be some kind of master Ponzi scheme. If I give five people awards, and they give five people awards, and so on, and so on, we'll end up with
really thick and lustrous hair
, or maybe in prison! I wouldn't like prison. Unless I had really shiny, nice hair, which I could sell for contraband so that my fellow inmates could make knock-off Barbie dolls and sell them, to others who would then re-sell them to still other people...oh, I digress.
So I thought the best thing to do with this nice award was to display it to my neighbors, in case they forget to read my blog. So I took my kid to a tattoo artist and had this done. He was upset, but I was proud and pleased.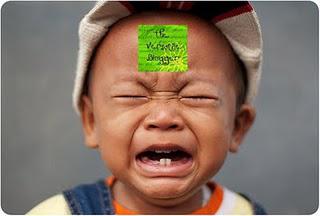 Relax, everyone, this is not really my kid! He doesn't even look like me, man. No, I never saw that kid, I swear. I got this photo off Flickr. He has only TWO teeth and I have lots. Where are you taking me?
Without further adieu, the rules of this blogger award are:
1. Thank and link to the person who nominated me.
2. Share seven random facts about myself.
3. Pass the award along to 5 new-found blogging buddies.
4. Contact those buddies to congratulate them.
SEVEN FACTS
1. I have never tattooed a child. I am Caucasian with a wee bit of Native American tossed in the pot, and that kid is not mine.
2. I was once painted green, and I have updated my profile photo to share that, in honor of my new green award! Green is my favorite color, too. Especially when featured on a Lilly Pulitzer outfit.
3. I lived in Athens, Greece for a year at age 13.
4. I can play guitar but...
5. My singing is frightful. (I'm working on it, though.)
6. I have a costume trunk in the attic that contains wig, fake animal noses, and all manner of marvelous tag sale finds.
7. In elementary school I decided I wanted to be called "Pony," hence the true origin of this blog's name.
And the award-ees! I'm betting that a couple of these peeps have this award already (I searched but could not find it), but if I am first to hand it over, GO ME! (By the way, I feel sort of shy and goofy giving this award. Shucks. I like these people!)
1.
Anita Howard
2.
Angela, aka The Starving Novelist
3.
Bethany, aka Rookie Riter
4.
Mary Frame, aka Marewolf
5. Holly VanDyne