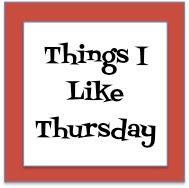 Happy Thursday, wonderful followers!
I hope this day finds you well. I must admit, I am tired, and I am ready for a restful weekend, though that will likely not come, as relatives are in town and I am kicked out of my room and must sleep with my little sister who kicks like a madwoman. Oy. I will likely end up with numerous bumps and bruises by the end of the weekend.
So, anyway, let's start off this weekend of Things I Like Thursday with some exciting news. I am officially published elsewhere! I'm now a contributing writer for the wondemous blog that all 20-somethings should read called Twenties Hacker and my first post went up yesterday. It won't apply to the large majority of you, since my first few posts are a series called Offic(e)ally Romantic where I give some tips on navigating office relationships. But don't worry...I'll be writing about other stuff here and there. You find my first post here and you'll be able to find all of my posts from here on out here (in the future you'll be able to find this link on my "Read Me Elsewhere" page).
So now that that's done...we'll move on to this adorable video that Office Boy showed me earlier this week. You've likely heard of Call Me Maybe (and if you haven't then you've been living under a rock), and everyone and their mother has done a cover of it, but I think this is probably the best (definitely the cutest) cover of the lot:

Next we've got this super spiffy database that the lovely Emma Harr showed me the other day. It's called Skin Deep and it's a database that shows you the toxicity of all the health and beauty products you use -- makeup, lotions, shampoos, sunscreen, etc. And let us just say...after looking up some of the products I use on a regular basis, I will be replacing a lot of them. ((sigh)) There goes my paycheck.
Finally, the amazingness that is Novel Poster. It's a website that takes entire texts of novels and uses negative space to create pictures that represent the novels. It's freaking brilliant and I am totally buying the Pride & Prejudice one for my room in my new apartment. Oh yea...there's news on that whole apartment hunt and finding a roommate, but we'll get to that at another time. :)
I must admit, I'm a tad bit irritated with myself because I fully remember having way more awesome things that I wanted to share with you this week, to the point that I was genuinely sad when I thought that there might not be a link-up today...and then, of course, the time comes for me to put my post together and POOF. All (well, not all, but most) of the things that I wanted to share went right out of my head.
So just a fair warning, it's possible this post may get edited a lot because I might do the "OHMYGOSHTHATWASIT" several times and repeatedly add things to this post.
In the meantime, enjoy.
Also...the Saga of Office Boy Q&A that was supposed to come tomorrow will, unfortunately, not be coming as promised, simply because we haven't been able to spend much time together this week, so we haven't gotten a chance to answer questions. But hopefully we can get to it this weekend and will have those lovely answers for you on Tuesday. But feel free to send more my way (via tweet, facebook, email, or comment)!
And be sure to head over to Gina's blog and share your link, too!
--Sarah.