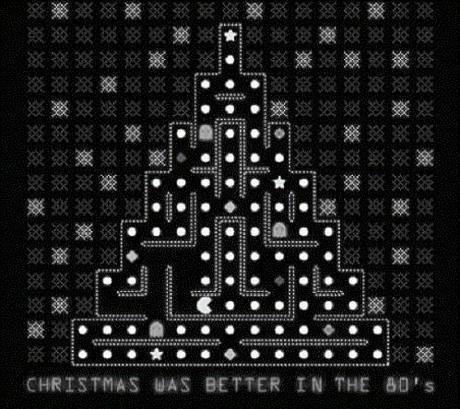 I'm having a Christmas renaissance this year. After losing interest over the past decade or so I've had some Scrooge-like rehabilitation thanks in part to real ale (see last post), but predominately because my daughter is of an age where Christmas, like the song says, becomes the most wonderful time of the year. I've done the nativity play, been to Santa's grotto, helped write the Christmas list and generally reveled in the glow of a child's excitement at Christmas time. It's been great and I'm looking forward to Christmas more than I have done in a very long time. And yet…and yet there's no escaping the fact that Christmas was simply much better in the 80s and it's unlikely that things will ever reach such giddy heights again.
TV
Christmas was the only time of the year when the Radio Times and TV Times made its way into our household. I'd tear away at these bumper double issues, armed with a fluorescent marker pen, studying each daily listing meticulously for any sign of a TV film premiere. (To be fair there were only four channels to look through and they all ended around midnight so it wasn't like scanning through the 786 channels that are readily available now). TV film premieres were infrequent events back in the 80s, but Christmas seemed to throw up a high quota. The transition from big screen to TV was not an overnight process back then either; The Empire Strikes Back for example took seven years to make its way on to UK telly screens, something that gave it almost mythical status in my primary school as no one had actually seen it at a cinema when it was first screened in 1980. It seems quite quaint now to think that you had to wait around five years to catch a Hollywood blockbuster such as Ghostbusters or Back to the Future, in your front room other than from the video rental shop. Today there's a way to watch new releases – legally or not – almost as soon as they hit the cinema (sometimes even before) in any location you please. As much as I find that a good thing, it also destroys any sense of excitement that the film premiere used to generate at Christmas. Some would argue that entire families sitting motionless (unless it was on ITV in which case you could move during the ad break) for two hours is never a good thing, but these were shared moments when family and friends laughed, cried, and farted together in one room and that rarely, if ever, happens anymore.
Besides the films there were of course the Christmas specials and the 80s threw up some genuinely golden TV moments. It's difficult to imagine now, but there was a time when the BBC and ITV didn't base their whole Christmas (and Autumn. And parts of Summer) schedule around inane shows such as Strictly Come Dancing and X Factor. In the 80s we could watch Christmas specials from The Two Ronnies, Morecambe & Wise, Only Fools and Horses whereas today these very same shows, in the absence of anything original and even remotely within touching distance of quality, are repeated ad infinitum. There's not a single programme scheduled for this Christmas Day that would make me want to switch the telly on, whereas in the 80s it only ever came off for dinner.
Music
Just as today's Christmas TV is forever stuck down memory lane then the same is equally true when it comes to the music we hear during the Yuletide festivities. The Christmas song peaked in the 80s just as The Pogues partnered up with the late and much-missed Kirsty MacColl to produce the definitive Christmas song; one that has been known to make grown men cry into their tenth pint of Guinness. Fairytale of New York led the way in the 80s but Band Aid, Wham, Frankie Goes To Hollywood, Jona Lewie and The Pretenders all served up songs that are essential for any self-respecting Christmas mix compilation.
Since the 80s we've been starved of classic Christmas tunes. Personally, I blame the detestable Simon Cowell. That man has ruined the good old Christmas song, replacing it with a series of bland, production-line 'artists', the majority of whom have stolen No1 spot at Christmas and then gone on to achieve the square route of sod all. If ever you needed a reason, beyond the five thousand that instantly spring to mind, to dislike Cowell then it's the thought that if he had ever had some input into the release of Fairytale of New York he would have replaced the Shane McGowan parts because he can't sing in tune.
Anticipation
I've never had much time for the belief that good things come to those who wait, but I'll make an exception for Christmas. While I don't doubt that kids of today build themselves up into a frenzy of maniacal hysteria at the thought of what Santa has left in their stocking can it really be with as much intensity as those of us who were children in the 80s? Taking me as the only example with which to base my theory I can vividly recall that with about five days to go to the big day I seriously feared my head might explode from all the excitement building up inside of me. I'm sensing the anticipation in today's kids but I'm not seeing it in their eyes, probably because they aren't playing by the same rules as those I had to adhere to.
My Christmas list started to develop around about May 30th because once my birthday was over anything else toy-related that I craved would always be met with a "you'll have to wait until Christmas for that now." These terms and conditions were ruthlessly enforced with only the odd Star Wars figure slipping through the net. Patience wasn't so much a virtue as a pain in the arse, but it certainly made waking up on Christmas morning that much more special when you had been starved of treats for six months prior. It would be a sweeping generalisation – something I'm rather good at – to suggest that kids today are showered with presents all year round, but I'd wager they never count the days down quite as much as an 80s child, purely because the 'must-have-now' culture that pervades today makes it less likely so. I'm grateful for having to endure the waiting game, it was actually an essential part of what made (makes?) Christmas great.
If I were musically talented I would have made a song about it just to back up my argument. Fortunately somebody already has watch?v=SHNpS-pnH-M
Merry Christmas Everyone!