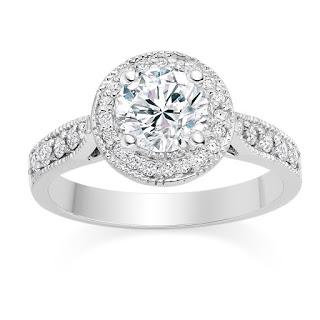 Image Credit: Vashi


Wedding season is almost upon us, and with so much love in the air it's no surprise that Summer time is one of the most popular times of the year for popping the question.
Shopping for engagement rings can be a daunting experience, it's possibly one of the most important items you will ever purchase and choosing the "right" one can seem a daunting prospect, so here are a few things to consider to help you find the right one for you.
Style Spy!
Choosing such an important piece of jewelry for someone else can be daunting, but to help you get it right it's worth taking a look at any jewelry they already own to get an idea of the style they most admire. Does your partner own more yellow gold or silver jewellery? Do they gravitate toward simple, classic styles or perhaps more of a vintage feel? Try to spot any patterns amongst the jewelry they already own to help you decide on what might suit them best.
Metal Matters
There are so many options these days when it comes to the metal used for the band - platinum is a popular choice as it's hypo-allergenic and extremely durable, but many people prefer to go with gold and there are many different colours of gold to choose from - white gold, yellow gold or the more on-trend rose gold. It might help to decide which metal you're looking for before going shopping to narrow down the choices and avoid being overwhelmed.
Choose The Cut
Next you'll want to decide on the cut  - there are numerous options which can make things quite confusing, take a look at the chart below to get an idea of the most popular cuts and decide on which you think best for your beloved.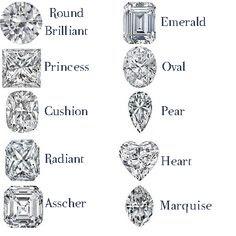 Plan Your Budget
We've all heard the traditional "rule" that an engagement ring should be worth two months salary, but let's get with the times - putting yourself into debt for an engagement ring is hardly the most sensible move when you're (hopefully!) about to start your lives together - spend only what you can afford and don't be blindsided when the bling is in front of you - have a budget and stick to it.
Give Yourself Time
An engagement ring can take up to 6 weeks to be ordered in, sometimes longer if you're going with a custom ring so give yourself plenty of time to get the goods before planning any romantic proposals! 
Whatever ring you choose, the most important thing will always be the romance of the moment - whether its a spur of the minute thing or an elaborate under-the-eiffel-tower type thing, it's all in HOW you pop the question - your proposal is something you'll be telling your grandchildren about in years to come, so why not make the story a good one?! 
However you decide to do it, just enjoy the moment - and I hope they say yes! 
If you enjoy my blog, please consider following me on Bloglovin'