Oh, friends. What a summer it has been. I mentioned in my Flywheel Challenge post this spring that I was ready to summer - hard. And we did it! We have so many amazing memories and moments from this summer that really bonded us as a family. I am still squeezing the juice, but instead of thinking my favorite months of the year were a blur, I am just relishing them every day. Toddler time is a great age for us in many ways. 
Full disclosure though: It is not great for air travel. And before I share some of my all time favorite pictures of our family's happiest place on Earth, I must admit: My daughter is a terror. Thanks to a very epic airplane meltdown, we ended this trip unexpectedly driving home in a rented Mitsubishi Mirage 3 cylinder sub compact. But how can you stay mad at this face? 
Sure enough, I was even starting to make eye contact with her about 48 hours after we decided to remove her from our flight.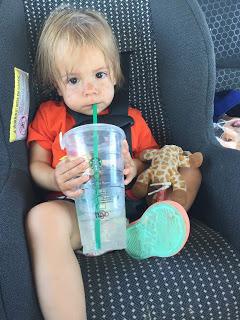 So bad but so cute! But bad...very bad.
Ok, on to the happy babies and memories of Telluride, Colorado, for they were much more plentiful and memorable! 
We first landed on Telluride as a family trip when Markus' mother was coming in town from Germany. I love hosting visitors in Dallas, but it gets hot for the non-locals! Markus' brother lives in Tyler, so we kind of ping pong around when Oma is in town. I thought it could be a new experience to all pack up and head to a place with all types of activities, cooler weather and gorgeous views. Everyone is talking about Telluride, and it was the perfect fit! 
Getting there:
So, um, obviously when traveling with small children or if you have time, I recommend driving. The drive is actually beautiful and from Dallas, there are great spots in New Mexico and Amarillo to host you. 
However, the inbound flight was great as well. American Airlines flies direct from DFW to Montrose airport, just about 90 minutes from Telluride. The airport is super tiny and adorable, reminding me of one of the most underrated sitcoms, Wings. 
With the gondolas and easy walking, you really don't need a car in Telluride at all. We used
Mountain Limo
for our airport transfers, and they were great with Heidi, safe and super friendly drivers. You can also use
Telluride Express
, which we didn't book due to a slightly higher cost but seems to have better customer reviews online overall.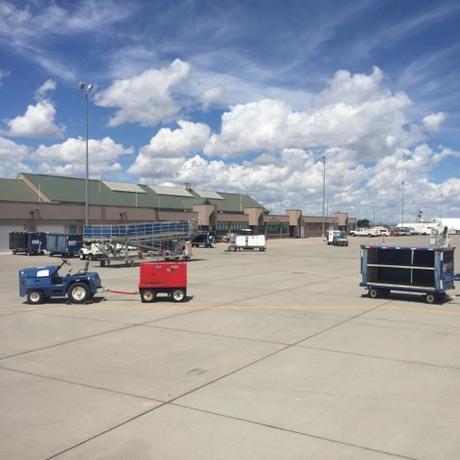 Where to stay: 
Since we were traveling with two other families, I was looking for a three bedroom condo, knowing we would all do different things during the day and could use a communal kitchen and living space to maximize time together and let the two babies under 18 months crawl and play. Our
See Forever cabin
with
The Peaks Resort
was one of my favorite things about the trip. It was so comfortable, roomy, accommodating to the little ones and all of the best parts of a hotel included with the privacy and space of a condo. 
And the view off our porch was like a storybook (my Heidi book growing up, to be specific):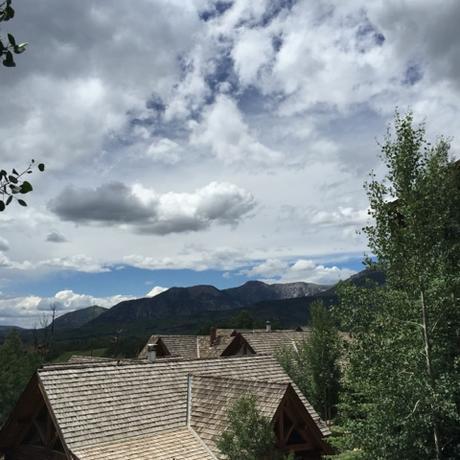 It was really helpful to have large bathrooms for all of the bedrooms, housekeeping, a full kitchen and grill for making dinner as a family every night and the incredible spa, fitness center and indoor/outdoor pool (with waterslide!) at The Peaks Resort. We would hike all day and I tended to sneak off while the family was playing or making dinner to catch a little solo time in the huge Roman bath, steam room and sauna at The Peaks.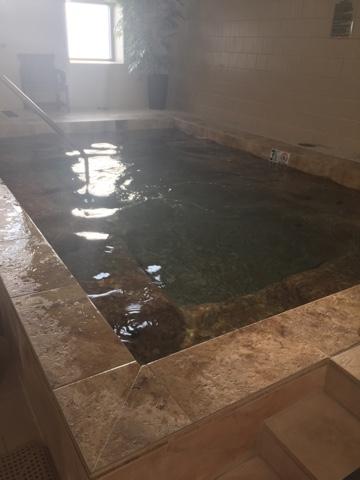 What to do:
The best part of going to Telluride with a group, is there is SO much to do in the summer! Markus' brother and his family rented bikes and went all over the town and mountains (they even had an adorable trailer for the baby). Markus' mom and husband liked to just ride the gondola and walk around town.
I had found a Chicco hiking backpack for Heidi on a Facebook yard sale a while back, and we brought it with us to Telluride. We tried a different trail every day and had the best time! This was a great age for family hikes since Heidi isn't too heavy to carry or wanting to walk herself and then get tired.
I loved the Ridge trail for our first day. It's a quick, 2 mile trail from the Mountain Village gondolas to the top of the mountain. You can then take the gondola or the Telluride Trail (long, steady descent) into the Telluride town square.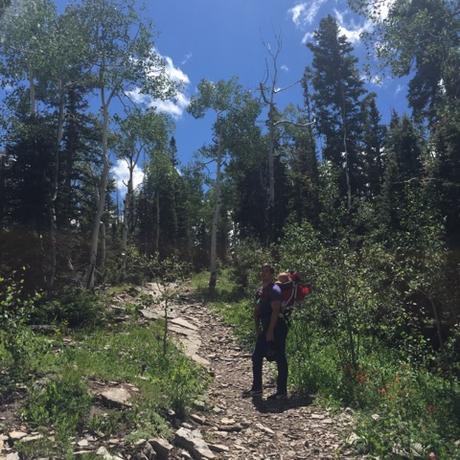 Markus and Heidi on the Ridge Trail
Here's Heidi and I at the top of Ridge Trail about to take Telluride Trail down into town - for grub!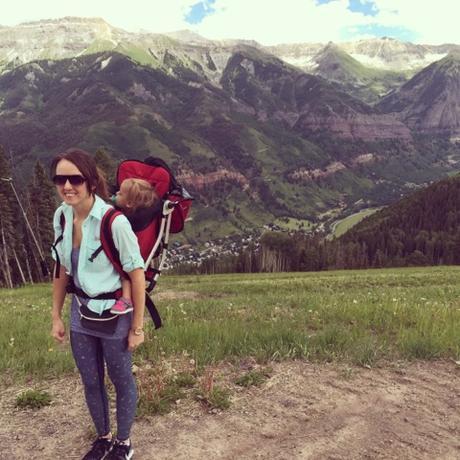 The backpack made getting on and off the gondola really easy. I also loved the gondolas for knowing you can go all out on a hike and not fear having to hoof it back! They are completely free and run almost all day (early morning until Midnight).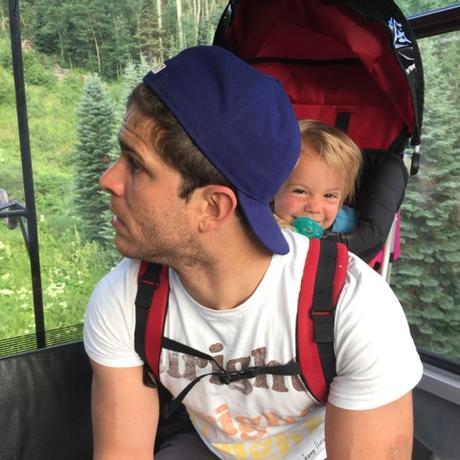 I loved just walking around the town. Everything is a picture. I texted my sister that these were our new houses. Then I read they were whore houses back during the gold rush and figured that made sense too.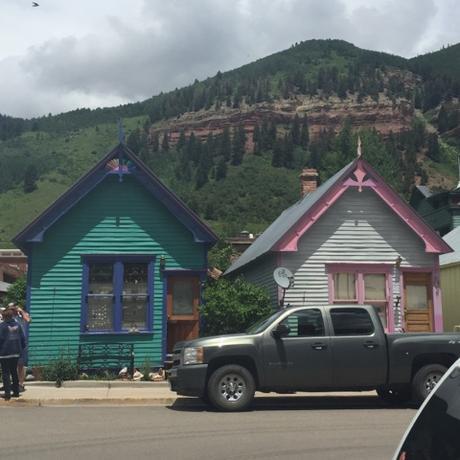 Heidi really loves her personal space (hence her hatred of airplane lap riding), so I was a little worried on how we would do with keeping her in a hiking backpack for long stretches. I had some baby wearing contraptions back in the dark days, but she never took to them. She *loved* the hiking backpack, and would trying to climb in it when we were at the condo! We loved that it popped out to a tripod so we could take the occasional break on our way up the mountains without worrying that she could run off.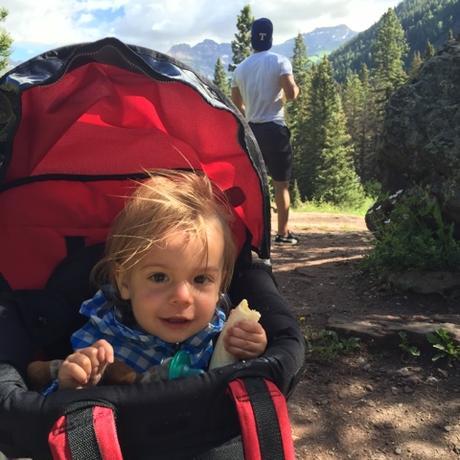 Banana break on Bear Creek Falls!
My absolute favorite hike was Bear Creek Falls - mostly easy, a little hard and THAT VIEW! It was something to remember for a long time and I am ready to get back on that trail!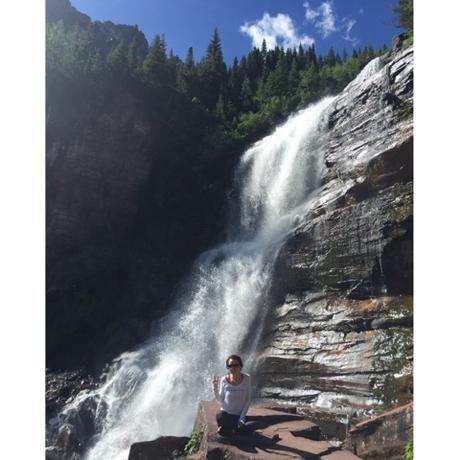 Feeling proud at the top of Bear Creek Falls!
Another, shorter, trail with guaranteed waterfall is Cornet Falls trail. This one could be great for little ones who want to hike on their own, as there is plenty to see from the start. We got a good ways up, but it had the most loose rocks of any of the trails which was a little more nerve wracking to navigate feeling top heavy with the backpack on.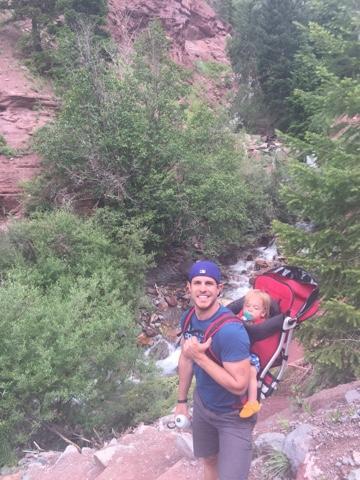 The waterfall on Cornet Falls Trail. 
Besides hiking, we loved jumping in on all of the cool summer festivals Telluride hosts in the summer! I took some really fun community classes through
Telluride Yoga Festival
, and Markus and I scored wristbands to Widespread Panic at
The Ride Festival
. This concert will be remembered as one of the coolest things we have ever done. There's a different reason to get together almost every summer weekend in Telluride, so take a peak before you book your trip!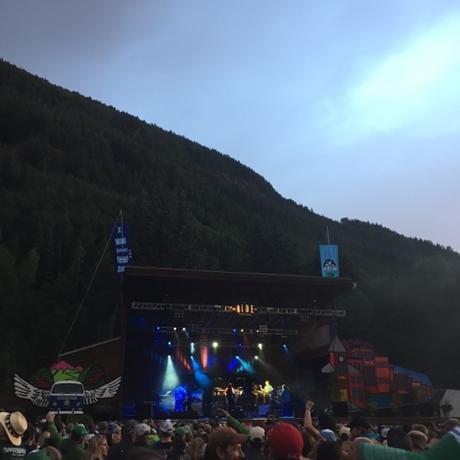 The sun going down on Widespread Panic at Ride Fest! 
What to eat: 
No surprise now, my favorite thing to do on vacation is eat my way through the township. Telluride did not disappoint on the gluten-free dining options. Since we were enjoying an active vacation, there was no reason not to try them all!
Steamies Burger Bar
was a big favorite for the fam! Good gluten free buns, delish burgers with a huge condiment selection (Markus lives for condiments!) and great seating for the little ones. Mexican coke on the fountain, which is a guilty pleasure for me. It's no fancy like some of the places we have in Dallas, but it continued to hit the spot!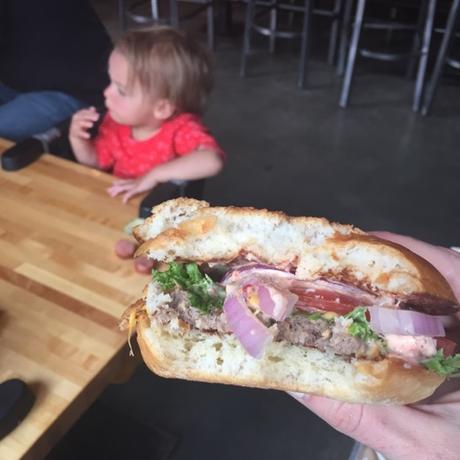 Another delish burger from Steamies!
Another non-fancy, but always so happy to see spot was Tracks Cafe in Mountain Village. Dreyer's ice cream, bowls of chili and mega sandwiches with fresh deli meat and Udi's bread - this is what I want to see at the finish line of a long day outside. Heidi was happy to hang out on their patio, and we always popped in for a sundae after our final ride on the gondola up to Mountain Village for the night.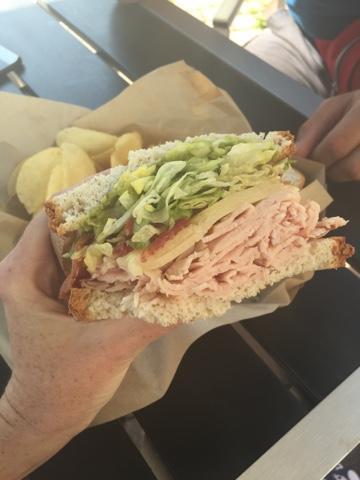 Mountain girl sandwich from Tracks Cafe in Telluride.
Our fave fave was probably
Brown Dog Pizza
in Telluride town square. Check out that gluten free Detroit style pizza - I die! Then I rise from the dead and finish the rest of this 'za, bro. We dined in one night, but you better come early for a table. We also ordered take out from here and would picnic in the park or take it up the gondola home.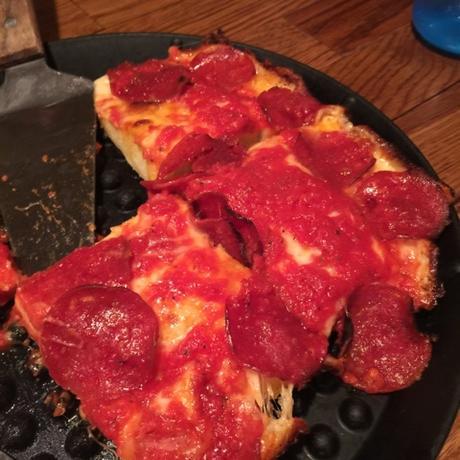 Another very fun and memorable crowd favorite was
The Grilled Cheese Cart
. Actually, before we landed in Telluride plenty of friends had already told us to look out for the cart! It was always nice with a little one to know a snack or quick lunch was close and fast over at the cart. The woman owner also happens to be completely hilarious. Who doesn't love an alfresco meal with a show?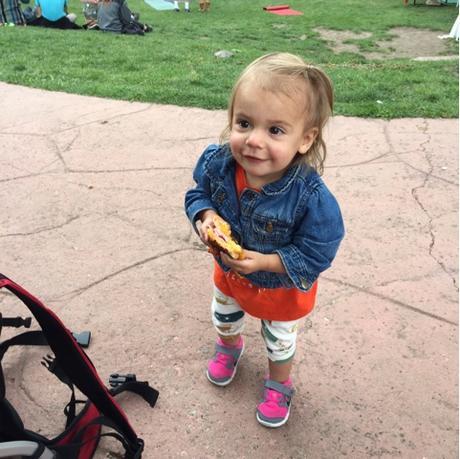 When we first walked around Telluride, Markus said he wanted to come back every summer. I told him I liked it, but what about seeing the world? By the time I left, I thought, "Forget the rest of the world. The best part of everything is in Telluride." We're already planning for next summer!
It was a wonderful experience to take Heidi to the mountains. I cried a little (lot) as I read this favorite passage from her namesake book:
"It was so lovely, Heidi stood with tears pouring down her cheeks, and thanked God for letting her come home to the mountains. She could find no words to express her feelings, but lingered until the light began to fade and ran on."