It's almost time…time for Halloween 2014! Surely by now the invites to all of the parties are starting to pour in. Of course you're probably most looking forward to a fun, adult party at a nightclub or a bar. However, for mothers or even just older women with nieces, nephews, or friends with children, you will undoubtedly be invited to at least one family oriented party where younger children may be present. When it comes to dressing up for these types of Halloween parties you will need a while different mindset. Think twice before you put on that sexy little playboy bunny costume around the kids. You may also want to tone down your horror costume so you don't make the babies cry. However, that doesn't mean you can't still have fun and look your best at the family Halloween party. Here are the top three
Halloween costumes for women to wear at the family Halloween party.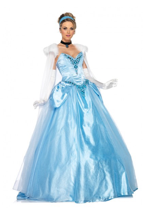 Disney Inspired Costumes – Everyone loves Disney Halloween costumes --- especially little girls! A Disney costume such as one of the Disney princesses is perfect to wear at a family Halloween party. If you're attending or hosting a party with young kids, you can even do a whole family Halloween costume theme using this idea with one person playing the prince, another the princess, a third the villain, and so forth. The key to making the Disney inspired costume work at a family party is to be sure it is a conservative version of the costume. Sexy Snow White might be great for a night out with your gal pals, but keep it PG for the kiddies.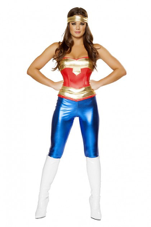 2. 
Superhero Costumes –
If your kids (or the kids who will be at the party) aren't a very big fan of Disney princesses and villains, perhaps you'll have more luck with superhero costumes. While some of these superhero costumes are known for being extremely revealing and sexy, you CAN find some that are more conservative and kid-friendly. Ditch the shirt skirts (and especially leotards) for a costume that has pants and will therefore provide you with more coverage. When in doubt, you can always just buy a superhero T-shirt and throw on a cape. Not only will this option be safe, but it will save you money, too!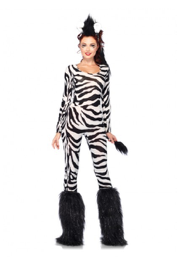 3
. 
Animal costumes –
You definitely don't want to show up to a family oriented Halloween party as a sex kitten, or a Playboy Bunny. However, that doesn't mean that all animal costumes are off limits. Some can actually be cute and appropriate to wear even around the youngest of children. Avoid leotards, leather, and short or tight-fitting costumes. Plush is usually a safe option as are one-piece jumpsuits. Remember, the party will have a lot of kids who will take delight in seeing you look a bit silly. Save your animal-ears, scantily clad costume for another night out at the club. This costume idea can be especially cute if you have an infant to dress up in a matching outfit.
Are you planning to attend or host a family-oriented Halloween party this year? What do you plan to wear? 

Never miss a post:  Follow via 
Bloglovin 
|
Subscribe to Bump To Baby by Email
Get Social:  | 
Facebook
  | Twitter | Instagram 
*pr collaboration - you can read my blogs disclosure policy 
here