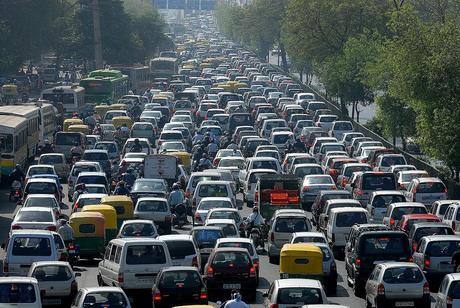 Delhi Traffic
The only thing that's driving me nuts these days is travelling, travelling and endless travelling!
I had mentioned in my earlier posts that travelling is something which I have begun to hate. There was a time when i never wasted an opportunity to march out of my home and go on a visit to the prominent monuments of our capital. Well, apart from them there isn't much beauty left, except if you an admirer of the latest mean machines on the road.
How much time do you spend travelling, a day? 2, 3 or 4? I spend a total of 6 hours a day travelling to and fro my college. Yes, that's the amount of time i waste watching my co-passengers and day-dreaming in buses and METRO trains. I take a bus from my home then a metro and then a bus to reach my college. It consumes a lot of my energy and leaves me almost gasping for breath. The three hours in the morning are easier to spend if i leave my home early and since i would be energetic and looking forward to my day, i usually don't find it troublesome. The excitement to reach my college and meet my friends does the trick here.
But it's the time i spend returning to my home that makes me go crazy. Everyone on earth seems to be on road at that particular point of time. The traffic takes the hell out of me even if i am comfortably sitting or standing in a bus. I shudder to think of those who drive their cars and bikes in such traffic at that time. Everyone is eager to occupy the smallest space on road which would make them move a bit further, and by bit i mean it in the tiniest sense. Not an inch is granted mercy, which results into a big chaotic traffic-jam. You feel breathless and trapped in it. You are surrounded by a sea of vehicles roaring, barking and honking, though the honking part makes no difference apart from raising a few tempers. It takes forever to reach your home. But nothing can kill your joy when you realise that you have rescued yourself out of that jam.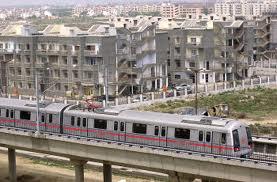 Well, the time that i spend on METRO trains makes up for the pain of  being in a traffic jam. It's a lovely sight to watch these trains move briskly one after the other just a few feet above the roads. No wonder that people prefer them when possible. It's a happy news that the Delhi metro is spanning itself all over the capital and reaching out towards its outskirts. The upcoming phases, routes and projects of the DMRC (Delhi Metro Rail Corporation) will ensure that the traffic on road gets reduced and the ridership of the Metro increases.
But still, 6 hours a day on travelling! Isn't that a bit too much for a human? Tell me your super-human traffic story!