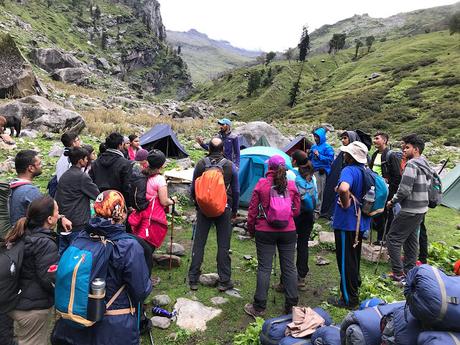 When you go on treks quite often, you tend to take the mountains, the fresh air, the greenery and the views for granted. No, it is not that you ignore them WHILE you are trekking, you are there for it all after all, but when you are back and sit to write about it, these seem usual and you hunt around for the unusual to highlight.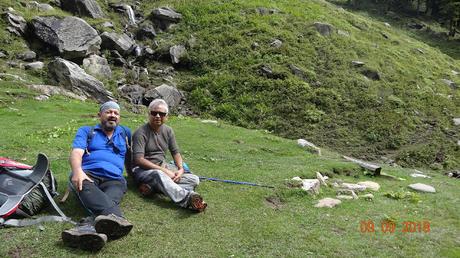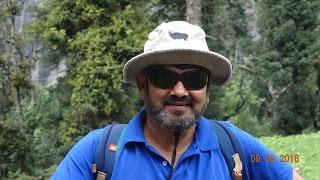 The unusual, for quite a few past treks, has been untoward happenings for me. Either natural disasters, where I was stuck in the middle, or man-made issues, like the riots that struck Kashmir post the killing of Burhan Wani. This time I came back, happy to write about having broken the jinx but, just I sat to write, there was news on 45 trekkers in trouble on this self-same trek due to heavy rains(They are safe now, I believe). That put me off my stride which accounts for why this post is so delayed.
Not that I escaped totally unscathed either. Rain was a constant companion on this trek. As for the other companions, I was trekking with a school friend this time - Devashis Ghosh - who, as is the case with anyone who partners me, had the unenviable role of putting up with my musical performances every night. (Ah! No, I do not mean only the ones that I perform while awake.) There were seven boys and five girls from Gujarat - all first year medical students - who added much to the color and vibrancy of the group. There were a group of ladies from Jaipur, including Archana who, despite having recovered from 18 fractures in her lower limbs and with plates screwed on, was there to brave the Himalayas. There was another duo of school-friends, just short of my age, Rathi and Bunty Sethi. There was the lone ranger from Bangladesh - Mudassar.
The first day's trek was to Chikha and was reputed to be a walk in the park. In the past, the guide says this and then sets off on what seems like an interminable 45 degree incline up, leaving you huffing and puffing in his wake, too winded to breathe curses on his deceitful head. Not so this time. It WAS easy and, like with all easy days of trekking, we ended up lazing around for a long time, in between, on a grassy incline, soaking in the atmosphere, to give time to the trek organisers to get ahead and erect the next campsite before we reached. There was even a convenient tea shop offering some snacks as well. (Someone will have to explain why Maggi seems such a gourmet food in the mountains. I mean, mention that Maggi is available, as it was in this shop, and there are wails of 'Oooh! Maggi!' as though it was the Holy Grail, with people dashing to the shop.)
We had barely arrived at the next campsite, with rain pattering on us for the last part of the day's trek, when there was a noise of a cannonade. We looked up to see a huge boulder rolling and bouncing down the mountain on the other side of the stream, on whose banks we had our camp. Just a warning from Nature not to take things too easy I suppose.
The next day was a tough day of trekking. Six hours of ascent, with rains coming down intermittently to ensure that the trail got slippery enough not to get too easy for us. Not that it was very easy terrain, anyway, boulder-ridden trails seldom are, but easier certainly than slippery boulders slick with rain. Devashis had not trekked before on rough terrain, his one previous trek having been in Valley of Flowers and Hemkund Sahib, so I was a bit apprehensive. But then not everyone is like me, so ill-equipped with a sense of balance that he has to learn it over the years by repeated falling. Devashis was pretty good at managing his way, slowly but surely.
And I...given to normally huffing and puffing was this time handicapped by an ill-timed attack of Nasal Pharyngitis, causing me to breathe exclusively through my mouth. Even in the normal course, I am known for my imitation of a steam engine but this time...this time, with the whistling noises I was making, about the only thing I had to do was hold my hand in front of my mouth and Devashis would have taken it for my reverting to childhood, playing 'Koo! Chicku-bucku'. (Which, to explain to the kids of today, was one of those archaic means by which we twentieth century kids used to entertain ourselves, playing at trains, the other one being rolling a tire along screaming 'Drrrrrr' in imitation of a bike.)
Midway, we had to cross an icy stream holding hands to ensure that we did not lose our balance and get carried away by the current. A sunny day, and I would have found it fun, but with these brooding clouds and wind, the last thing one wanted was frozen feet. But, then, what you want and what you get always happen to be two different things on a trek. Like, you would want long rests en route when you are to ascend for 6 hours and are OK with short rests when it is a mere 2.5 hours but what do you get? Yeah! You guessed it!
Still, it was quite a decent day, not absolutely tiring but Bhalu-ka-Gheera was a much colder campsite. And the rains were not helping Devashis either, for he was feeling the cold rather badly. I...yeah, by now you know that cold is not one of the things that bother me too much.
Still, every cloud has a silver lining they say. AND this one had a...rainbow.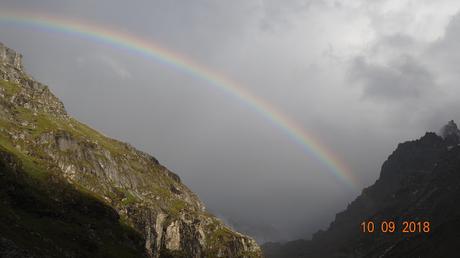 The next day was going to be the toughest day, an ascent of about 5-6 hours to Hampta Pass followed by a descent of about 3 hours before we reached the next campsite at Shea Gahru. But, meanwhile, we had the rainbow to enjoy.
AND, hopefully, a good night's sleep!
Part-II Part-III
Photo Credits: Devashis and other co-trekkers.