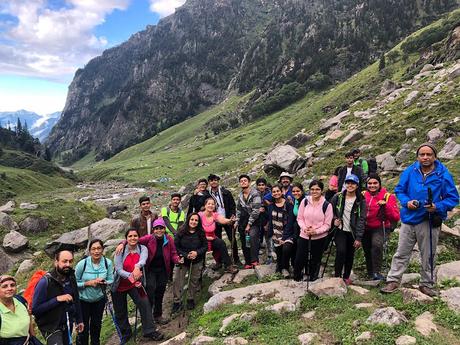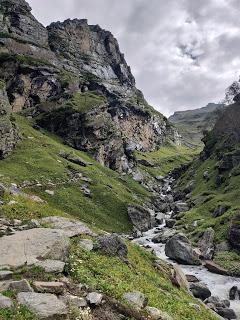 I have always been a strange character. (I know, I know, you think 'crazy idiot' suits better than 'strange character'. You can keep your opinions to yourself, thank you.) I mean, I have thought of any goals in life merely as a direction-setter to map out my journey. Once having embarked on a journey, it is the scenery, the people I meet and the relationships, the way I change that are of interest to me. It is more the journey itself, and how I conduct myself on the journey that gives me joy. The goal itself? Once achieved, all it would mean is that I would have the trouble of finding myself a new goal to chart a fresh journey or keep stagnating! All the important goals are what happens inside me, not where I arrive in the external world.
So, trekking very seldom disappoints me. A lot of times, what seems like the point of the trek (as, in this case, the Hampta Pass) is not, of itself, something that you can snap a pic of and have people go 'Ooooh!' on Facebook. Beauty lies strewn all over the trail and, perhaps, the apparent goal of the trek is probably not its most beautiful point. Or, sometimes, it could well be the weather that plays spoilsport and denies you what could have been a wonderful visual experience. After having toiled up a wearisome six hours, if you expect a climactic experience, you may find it...or you may not. There could well be a pot of gold at the end of the rainbow but, if you fixate on it, you may well end up losing on enjoying the beauty of the rainbow.
All of which is to say that a six hours wearisome climb ended up at Hampta Pass, which looked no more or no less than any stretch of the path we had taken up to there. Maybe the view into the valley would have been breathtaking but a mist lay all over it and it may as well have covered up the concrete monstrosities, that Delhi's winter mist covers, for all we could see of it.
My pleasure in the trek was no less for it, because the point of trekking for me is to BE there. To be conscious of my body, of the terrain, to breathe in the fresh air, hear the gurgle of the river as I walk or as I go to sleep, to look on the majesty of the mountains, to see beauty where I find it rather than search for it as a goal (much like they say about happiness in life), to feel for the time a serenity that bypasses me in the city. To meet new people, help them or be helped by them with no thought of future recompense (NO networking nonsense, in effect) sometimes to bond for a lifetime, sometimes to pass by each other waving a hello and a goodbye.
But, yes, I could understand Archana and, later, Devashis when they expressed a sense of disappointment, for that is how we are geared. If you have put in great effort, you expect to be rewarded at the end of it. Hampta Pass, of itself and at that time, probably did not seem a sufficiently rewarding experience.
Beyond Hampta Pass, we descended into terrain which was much more desertified. Not so much greenery in the Lahual Valley and the terrain reminded me of my trek in Ladakh in the rain-shadow region.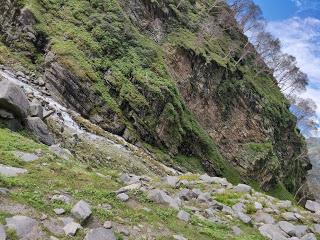 The rains had started all over again and descending was made a shade more challenging than it should have been. I stuck around to see Devashis managing the descent like a veteran and then went on ahead. The day's camp was at Shea Gahru, which we reached as scheduled.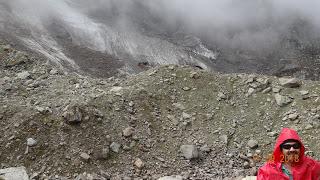 The next day was to be a very easy 3-4 hour descent to Chatru from where we would drive down to Chandratal to see that lovely Himalayan lake and then drive back to Chatru to camp for the night. Easy-peasy? Well, just to give one nightmares, we were informed that the start of the trek would be to cross the river by the side of which we were camped.
Ye Gods!
Part-I Part-III
Photo Credits: Devashis and other co-trekkers.