There are those who feel that it is not a trek unless they crawl into a tent every night, stuff themselves into a sleeping bag and try to sleep on a sleeping mat carefully avoiding those couple of pebbles which lurk around on the ground waiting to give you an acupressure treatment when you least expect or want it. There are even those who believe that it is namby-pamby of you if you do not lug all your luggage yourself and erect your tent yourself before doing all that crawling in and stuffing yourself etc. However did you guess? I am not one of them.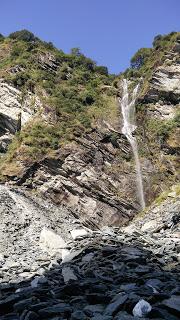 So, when the offer suddenly came to go to Dharamshala, stay at Club Mahindra there and do day treks, I jumped at it. Walk up mountains, take in the Himalayan views and end the day with a hot water bath, a couple of bottles of beer and sleep in a comfortable bed?  And with good companions? Best of both worlds!
Well, as it turned out, it was more tourism than trek. It started out all right, bar the minor hiccup of a delayed flight from Delhi to Dharamshala. The first day we booked in for one mini-trek in the morning and one in the afternoon.
The trek in the morning was what Club Mahindra called the 'Waterfall Trek'. Buffalo that I am, when it comes to wallowing in running water, I was all enthusiasm to hit the waterfall. We duly motored down to the starting point and started the climb towards the waterfall. The entire path was full of rubble, slate is what the rock was called I think, but, barring that, it was practically a walk in the park. At the end though was this minor trickle of water falling down the mountain, with half a dozen people industriously chipping stone and shaping them in rectangular pieces. I do love plunging into water but...suffice to say that my idea of frolicking in water in not to lie around in water in a place that seemed more like a stone quarry.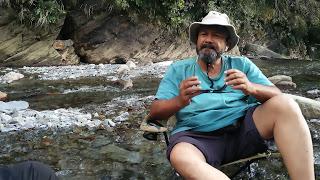 The 'Himalayan Safari' of the afternoon was not something to write home about. Unless, of course, food bloggers consider Maggi and tea to be gourmet meals worthy of covering in loving detail.
We motored down (yes, again! If motoring down for a trek did not cause you to complain, what's your problem with motoring down on what is billed as a 'Safari'?) to pretty close to the stream which was to be the site of that Bacchanalian orgy (Remember? Maggi and Tea? That one). From thereon the guide took us on what was supposedly an optional trek. The others, rather wisely, decided that opting out was one way of exercising that option. Rammohan and I went ahead on the trek.
Somewhere around half-way, the guide pointed out a tree, halfway up the mountain, and said that THAT was the destination. Of course, I had to ask him what could be seen from there...you know, treks end up at some viewpoint. The guide said that you could see the tree from up close there. Naturally, we felt that we had seen the tree anyway from here and felt no pressing need to improve upon the acquaintance. Back we went. Well, Maggi and tea sitting on chairs in the middle of the stream was fun...though we could not really make up our mind about whether we thought it worth driving up and down for the pleasure.
The next day our program was primarily touristy. What with the Tibetan monasteries(Norbunligka and Namgyal), quite a few Shaktipeets and Siddhapeets (Kunal Pathri, Naina devi, Chintpurni, Bhaglamukhi, Chamundi, Jwaladevi),  and Shiva temples - one where Arjuna was supposed to have received the Pashupatastra from Shiva (Aghanjar Mahadev temple) and another which was supposed to have been built by Ravana(Baijyanath), there was no dearth of touristy things to do. Not to mention the Kangra fort and the highest Cricket ground. Anyway, those formed the program, not only of day 2 but day 4 and 5 as well.
(Lest I forget, there is an option to do some paragliding at Bhir-Billing. We had planned it for Day 4/5 but there was some doubt about whether people weighing over 80Kg were allowed to do it or not. Considering that all of us comfortably exceeded it and considering that we had a quaint aversion to plummeting down rather than gliding down, we decided not to put ourselves through a 150 Km drive on such a chancy proposition.)
The one real day of trekking was the third day. Which we shall see in the next post.