When we left for Dharamshala, what we checked on the Net indicated the possibility of some three to four day treks. As it turned out, though, Triund Peak was expected to be a 4 hour trek from Gallu Mandir, up to where we could motor down. Lahesh Caves, another option was a 4 hour trek from Triund and beyond lay Indrahar Pass. Which essentially meant that we either trekked only to Triund or we gave up on returning each day to Club Mahindra. It is one thing to start off knowing you are going to rough it out. Quite another to find yourself having to abandon the idea of comfort on the fly, as it where. Vinod would have drooled at the thought - being the sort of weirdo whose ideas of enjoyment are totally warped; we frothed. And decided to do just Triund.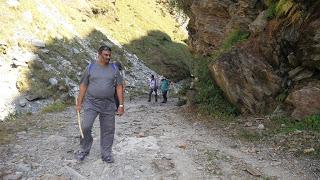 It was one of those early morning starts, when I perforce verify for myself that 6 AM really exists and is not merely a figment of other people's imaginations. That is one of the things that I could not avoid despite this being the most deluxe of deluxe treks. With four hours up and four hours down to do, one really did not want the Sun beating down on you while you are huffing and puffing up a mountain.
After breaking fast en route, we reached the Gallu Mandir, which was the starting point of the trek. (Yup, motored down, so?) And, as you all know, I did my celebrated imitation of a steam engine, gasping all the way as we started climbing. I had competition, though, since this time my companions were not really of the caliber of Vinod the mountain goat.
Nearly halfway up, by distance only, was a teashop where we sat down for a cup of tea. And the view.
This halfway mark on treks is a bloody tease, I tell you. I mean, it is all OK to say that you have covered half the distance but what these guides forget conveniently is that you have not climbed half the total height you are expected to climb. Not to mention the fact that if it is really half the distance and only a third of the height, you are in for increasingly steep slopes from there on.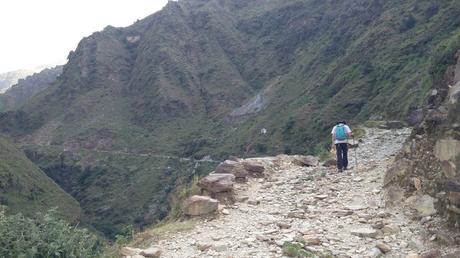 It did not start out that way. For a distance, it was almost a ridge walk and one sort of started dreaming of casually sauntering up to Triund Peak and emitting a 'Yippee'. And, this time, with the companions I had, I sort of assumed that I could well be the first past the post.
Yeah, right, it did not turn out that way. After what seemed like a short distance, the trail turned out to be one of those which relentlessly climbed up. AND, Rammohan, blast him, was running up the slopes with me holding on to my sides, every now and then, and blowing like a bellows, with the blood thundering in my ears. (

'
Let me have about me men that are fat; Sleek-headed men as of waddle up mountains; yon Rammohan has a lean and hungry look; he runs too much; such men are dangerous'
was the refrain running in my mind, with due apologies to Billy the Bard.) Chandru and Bala spared me my blushes, yes, but come on, they always do, so it does not say much now, does it?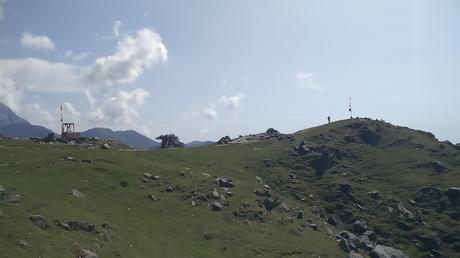 Eventually, I did hit the peak to see Rammohan running about like a gazelle, clicking pics. (All the pics in these posts were sent by him, by the way.) Taxed with his abnormal speed, he gives a specious reason that his head was pounding and, so, he was running as fast as he could to get it over with. Sounded reasonable but for the direction. When my head pounds, I too run as fast as possible to get it over with but, damn it, I run downhill, not up. The headache must have addled his brains!
Bala and Chandru landed up leisurely and we lolled about, eating the ubiquitous Maggi and drinking tea, at the small shop there. And, then, the descent.
One generally tends to feel that, having hit the peak, the exertion of the day is done and all the rest is a cake-walk. Even after so many years of trekking, that subconscious feeling does not go. Which is why, every time, the descent seems so painful. (Sort of like you have written your school exams, think your job is done, and then get socked with qualifying exams for various courses? Yeah!) Age and creaking knees make it all the worse. The only entertainment is people on the way up asking you 'How much further?' and your smug feeling that THEY have to do the uphill part still AND then the descent. (The most interesting was the girl who, sitting on a rock, asked us this question and we said, 'One more hour'. Whereupon, she complained that she kept hearing that for the past hour from everyone. Well, if she had been sitting there for the past hour asking this question of various people, exactly what did she expect?)
Eventually, as it must happen, the descent was done and we, yes, motored back to Club Mahindra. A nice hot water bath and a couple of beers - now THAT was the sort of end to a trek that I really did enjoy, especially since it does not happen all that often!