I feel very honored to inform you that Something More has been nominated for two blogging awards, The Beautiful Blogger Award, and the Inspiring Blogger Award.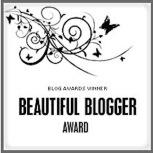 I'm not only grateful, but surprised, considering how short of a time period Something More has been publishing. I have received a lot of great feedback from everybody and always look forward to hearing from you all, but this definitely takes the cake. I have really enjoyed working on these posts, and have so many ideas built up. I'm excited to continue writing and to see how this blog grows and evolves, and these awards are definitely inspiring. I'd like to give a big thank you to From Where I Sit… for the nominations!
As per the rules, I am to;
Display the award image(s) on my blog.

Link back to the person who nominated me.
State seven things about myself.
Nominate other bloggers and link to their sites.
Notify the other bloggers of their nominations and link to the post.
Well, let me start with seven facts about me.
1. I have a serious brain-mouth filter issue. It's why I'm a much better writer than speaker.
2. I'm a hopeless romantic.
3. I rarely take myself seriously enough.
4. I perceive life as an experience, something to revel in and study. The good and the bad.
5. I used to be a huge game nerd, but have recently shied away from them to focus on my writing.
6. I love a crowd, but enjoy my solitude.
7. I eat like it's going out of style, and have no clue where it all goes.
Here are my nominees (in no particular order);
1. 4GWAR
2. Live To Write – Write To Live
4. Why? Because Science
7. Great River Fitness
9. Making Sense Out Of The Chaos