I'm Going with Mid Century Modern . . .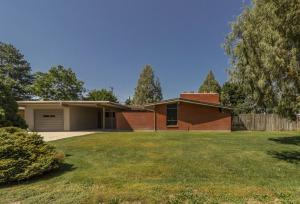 Some of you know I recently sold my farm cottage along a beautiful Oregon river. Almost FORTY years there meant this was no easy task! I had collected tons of cottage antiques and treasures. Seriously, every daily walk I returned with brimming pockets. Even my very last walk I found a large dried tree root pockmarked with smooth indentations where the root grew around stones that pinned it to the floor of the river for eons. I hauled it along with me and plan to suspend it from a rafter with tiny led lights in chandelier fashion.
And fifty years of gathering my furnishings they provide a very eclectic mix of antiques and art that filled the river cottage and completely overflowed the massive UPACK trailer I rented. OH what is a gal to do???
In the last month I have easily looked at 300+ houses on-line, culminating in at least 35 drive-bys and about 15 walk thru's! I dismissed one ugly ranch home repeatedly but somehow it got printed out 3 times! The photos on-line were some of the poorest real estate photography I have ever seen. The realtor even posted 2 identical closet interior photos (and nothing of the kitchen). I had to really study the 2 pictures before I realized it was the inside of a closet! And the front of the home appeared to have a large "black hole" for the exterior's "money-shot" main photo (as seen next). No wonder I was never intrigued enough to even plan a drive-by.

After several weeks of frustrating long drives to homes that appeared wonderful on-line and finding only really scary joints, eventually I reduced the amount of land I wanted and upped my price range. It only resulted in adding 7 or so homes to be viewed. : (
Next I printed out each home and started doing drive-bys before even bothering my realtor. I had already drug her out to a great home but it was next door to a gravel pit. One was near the sanitation land fill. And I can't tell you how many were near massive corporate dairies with stench beyond belief!!! Finally found 2 with locations that were okay as long as city graveyards or contaminated community wells don't freak you out . . . but why did I have all these print outs of the ugly ranch with the black hole in my stack of possibilities?
Eventually I found myself just off Easy Street where the ugly ranch sits. Mind you I never planned to live inside city limits, but since I was right there and the printout was in my hand I drove on up Easy Street. Here's what I found! So far it is the cleanest home in my price range and the yard/lot is a third acre so the big dogs will approve of the huge fenced backyard! I made an offer and inspections begin in a few days. I'll post interior photos later in the week but it does have an open floor plan for the living/dining/kitchen. It will be fun to remodel but will mean ALL MY VINTAGE COTTAGE FURNISHINGS will be homeless while I'm here. I haven't given up on returning to land and room to roam but this will be a warm happy home to carry us thru the winter . . . and I will either start over house hunting in early spring or embrace this new way of living and carry on up on Easy Street!
Here's the "black hole":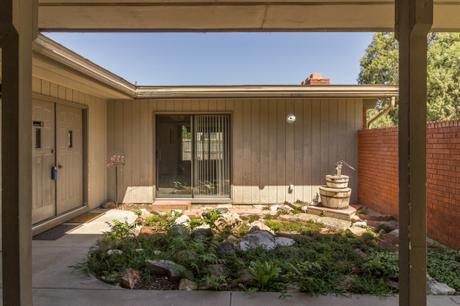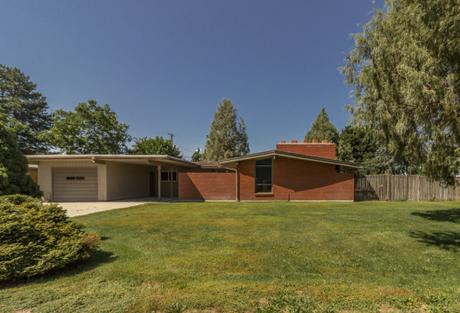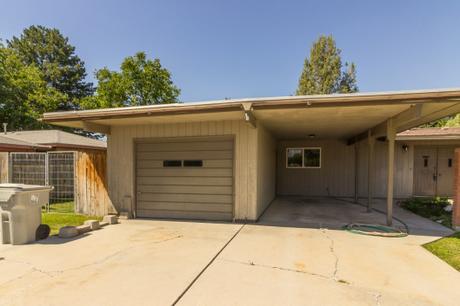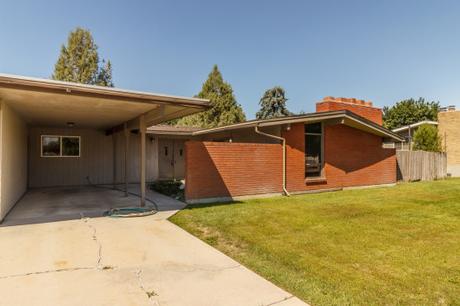 I love the courtyard and can't wait to overhaul it!
The deck needs some work but will be a great outdoor space when I finish.

Keep your fingers crossed that the inspections go well!