How about this for a twist on a surf and turf!
Canterbury used to have an amazing little Vietnamese restaurant that sadly closed a few years ago. I loved the food there, and recently picked up a Vietnamese cooking book by Charles Phan to try and recreate some of those dishes at home. They are light, healthy and big on flavour!
Like Burmese food, Vietnamese is heavy on the shallots, shrimp paste, fish sauce and soy and also has a strong reliance on herbs.  This dish is no exception.  The original recipe calls for the pork to be cooked in a cast iron pan that has been placed directly on charcoal coals.  I live in a townhouse and don't have much call for a charcoal grill, but a regular gas or electric hob will do the job!  Add a couple of drops of liquid smoke to the stock if you really want the smoke flavours in the pork.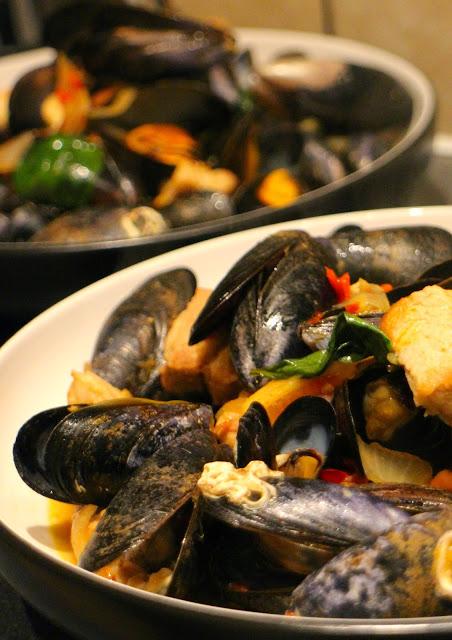 You can substitute the chile paste for the stuff you can buy in a supermarket if you wish, but it is just as easy to make your own and will make a huge difference to your finished dish.  See below for the recipe for the paste.
250ml chicken stock
1 tablespoon fish sauce
2 teaspoons sugar
500g skin off belly pork, sliced 1/4 inch thick
60g thinly sliced shallots
2 red chillies, stemmed and minced
2 jalapeno chillies, stemmed, seeded and julienned
2 teaspoons minced garlic
2 teaspoons roasted chile paste (see below)
1 kg cleaned and de-bearded mussels (discard any that don't close when you tap them)
60ml rice wine
60g fresh Thai basil leaves
In a measuring cup or small bowl, stir together the stock, fish sauce and sugar until the sugar has dissolved.  Set aside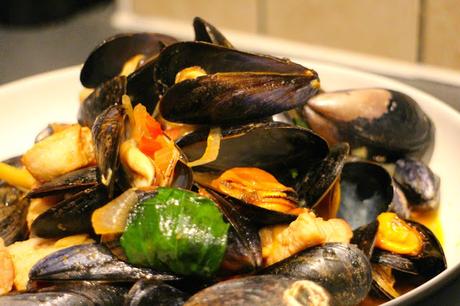 Heat a griddle pan until very hot.  Add the pork belly slices in a single layer to the hot pan and cook, turning occassionally for about 8 minutes until some of the fat has rendered and the meat is golden brown. 
Pour off all but about 3 tablespoons of the accumulted fat from the pan (keeping the pork in the pan) and return to the heat. 
Add the shallots, chillies and ginger to the pan and cook, stirring occassionally for one minute.  Add the garlic and chile paste and cook for 30 seconds more.  Transfer to a large pan.
Add the mussels and rice wine, pour in the stock mixture and add the Thai basil.  Cover the pan with a metal bowl or wok lid and cook, uncovering and stirring occasionally for about 10 minutes until all the mussels have opened.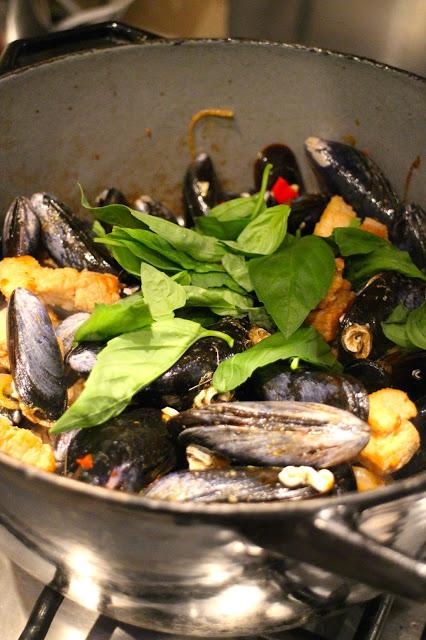 Pour the mussels, pork belly and juices into large bowls (pasta bowls are good), discarding any mussels that have failed to open.
Serve immediately with crusty fresh bread to mop up all those wonderful juices swimming at the bottom of your bowl.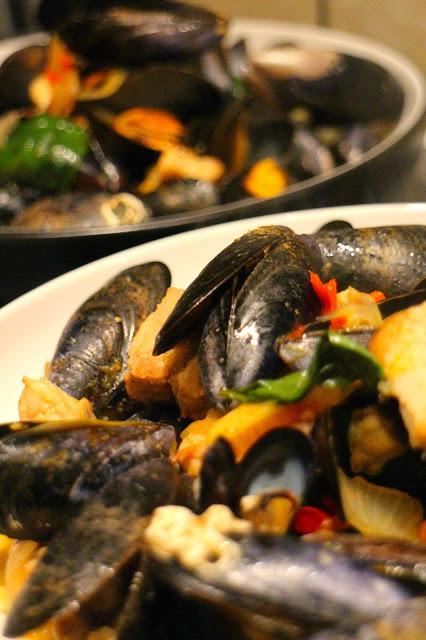 Vietnamese Chile Paste
You could use shop bought chile paste, but nothing beats a homemade version.  The punch and depth of flavor it adds to the dish cannot be replicated, and any extra can be frozen and used in curries, soups and stews to add an extra dimension!  It's also great with nacho's or prawns as a dipping sauce - basically just play with it, you will be amazed at how versatile it can be!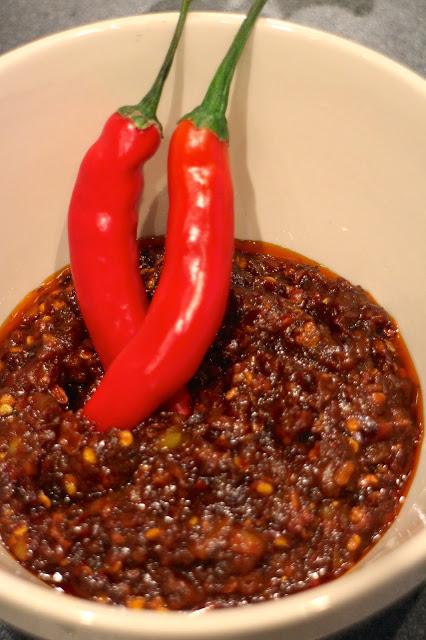 1 tablespoon Sichuan peppercorns
1 tablespoon annatto seeds
60g finely chopped shallots
120ml canola oil
8 crushed garlic cloves
30g chilli flakes
40g ground bean paste
2 tablespoons rice wine
2 tablespoons sugar
2 tablespoons light soy sauce
Bash the peppercorns and annatto seeds in a pestle and mortar until they are coarse
In a small saucepan, combine the shallots and oil over a medium heat and cook, stirring frequently for about 6 minutes until the shallots are light gold
Add the garlic and cook, stirring frequently for about 4 minutes until the garlic and shallots are lightly browned
Stir in the chilli flakes and the peppercorn-annatto seed mixture and mix well.  Add the bean paste, wine, sugar and soy sauce and continue cooking, stirring for 1 minute longer. 
Remove from the heat and let cool completely.  It will store in an airtight container in the refrigerator for up to 3 months, or 6 months in the freezer.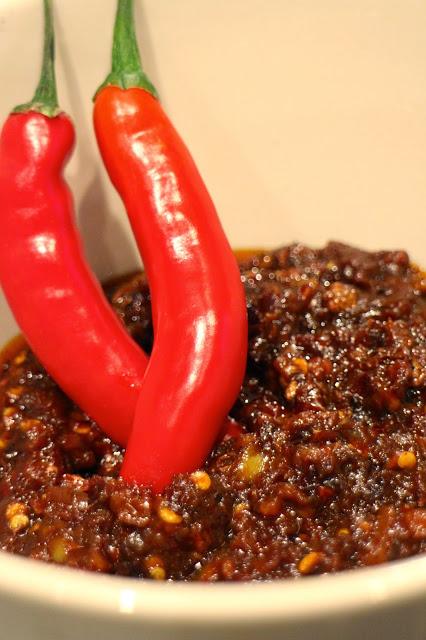 If you like (or hate!) what you have read, please do let me know in the comments below or slap me with a

cheeky follow,

or say Hi to me on my

Facebook

group or

Twitter

or

Instagram

!