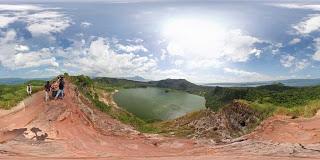 360 Panorama View of Taal Volcano © Peter Watts
The City of Tagaytay is of the most popular places to visit in the Philippines. It is perched on the ridge or the Taal Volcano caldera, making the small city is much less humid and a little cooler than the surrounding lowlands. Nearby are the Tagaytay Highlands, which has some of the most expensive housing to be found and a large, popular park.
On one side, the city has views over the lowlands and Manila. On the other are dramatic views over Taal Volcano and the caldera lake surrounding it. It is this volcano that is the main tourist attraction in the area. That and the casino. On the ridge is the beautiful, 5-star Taal Vista Hotel. Aptly named as it offering some of the best views available over the lake and volcano from its luxurious grounds.
Panorama of City of Tagaytay supplied by Panoramic Earth
And then there the Taal Volcano itself, the main tourist attraction in the area. Visiting the volcano takes at least half a day, starting with a windy, thirty minute drive down the steep caldera cliff to resorts that line the lake edge. This is followed by an outrigger-canoe ride over Taal Volcano Lake and then either a walk or donkey ride up to the edge of the crater.
This volcano is active, and has erupted in recent times causing fatalities in the surrounding villages. The crater lake is boiling in some sections and steam vents can be found on the rim and hillside. On clear days there are great views over the massive caldera, itself formed when the father of Taal Volcano blew up around 100,000 years ago. Those not concerned with polluting the area can pay to drive a golf ball into the lake below.
As with anything in Asia, it is always worth bargaining for better prices, and traveling as a group will get the best deals. Visiting Tagaytay and Taal Volcano make for a very memorable trip.