By Isadora Schappell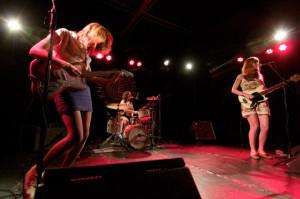 Photos from Brooklyn Vegan
Last Tuesday, Sophie and I went to see the Vivian Girls at the Knitting Factory. Being the giant music nerds that we are, we showed up about an hour before the first band went onstage. We stood awkwardly in the corner, drinking ginger ales and exchanging knowing glances with the other über fans.
Eventually, very Brooklyn-y hipsters started rolling in, sporting short bangs and flannels, and things kicked into full swing. The first band was Amy Klein and the Blue Star Band. Amy Klein, of Titus Andronicus and Hilly Eye, is a true rock star. She has a Patti Smith like magnetism, poetic delivery, and raw power. It is so wonderful to watch someone and truly feel like they are having an incredible time. It was only the band's fourth show, but every song was dark and mystical yet also lovely and soft.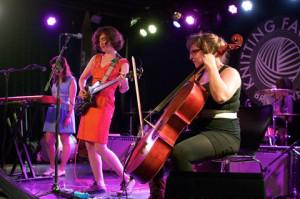 In the past few weeks there has been a lot of hype surrounding Widowspeak, and honestly I was a bit disappointed. Perhaps they are just not my cup of tea, but their fuzzed-out sound just didn't hold my attention. They have beautiful artwork and the crowd seemed to dig it, but personally I was there to hear some ladies tear it up and Widowspeak was a speed bump.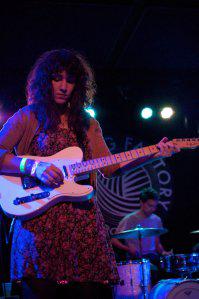 However, the Vivian Girls re-energized the crowd and gave one of the most exciting performances I have ever seen. Fresh from a long tour, all the songs were super-tight. Cassie, Katie, and their new drummer Fiona, sound even better in person than on their albums. They have a D.I.Y. punk aesthetic yet are capable of some seriously beautiful surf-pop harmonies. On their harder edged songs, such as those on their first self-titled album, they seemed to delight in the ever-popular combination of angry shouting and distorted guitar solos. Newer singles from their most recent album, Share the Joy, like "Take it as it Comes" and the "Heard You Say" got everyone dancing. They are unabashedly fierce women, creating kick-ass music and having a fantastic time, what's not to love?