The Blurb Says:
Circa 1969, Uttar Pradesh, India
When Vishnu Vyas Thakur, who belongs to a politician's family from the Shambhala village in UP, insists on marrying Princess Parvati Devi Singh Sahib of Arjungarh, they are both aware that their child will be Kalki - the tenth avatar of Vishnu. What they are not prepared for is the viciousness with which their family will be ripped apart by the Daughters of Mara, as the evil creatures start the descent of humankind towards a kind of evil that can cause the end of the world.
It's not just the supernatural Kalki has to contend with. Both sides of his family want to use Kalki's fame as an Avatar for their own political and personal ends.
But even before he is born, Kalki has protectors – the most powerful of them being Parvati's older daughter, Chandika. And then his twin sister – Kali. She's so powerful that, even as a baby, she becomes a target for humans and immortals alike who are scared of what she's capable of?
As Kalki gets caught in human and superhuman power struggles, Kali must survive. And to do so, like her mother and sister before her, she will have to start making choices that weigh survival against humanity and life against love.
Ritika Kochhar delivers an epic magic-realist series that is equal parts suspense and philosophy, adventure and fantasy, in this unsettling novel set in the near present.
How I Felt About The Book:
The Cover:
The image of the remains of a palace gives little justice to the book and could have been much more creative and expressive.
The Book:
It is an absolute treat for the Hindu mythology lovers. For those who follow Lord Vishnu, it's an icing on cake. It would be unfair to state here that the author clearly states in the very beginning that it's a work of fiction based on her imagination as well as versions of mythology and all characters are fictional. She also clarifies that there are many versions of each mythological story although the overall directions more or less the same. All characters are fictional.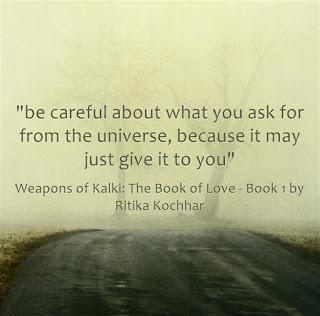 Honestly, I do not like mythological books much and was bit confused as I started with this. To my pleasant surprise, it turned out to be an interesting fictional story engraved with a few stories I have already listened all through my childhood. There were of-course a few pages, I turned over. All off them were the lengthy descriptions of the story of the creator - it reminded me of the "Mein Samay hoon..." saga from the epic Mahabharata all Indians of my age have witnessed on the television. The fictional aspect is the one which kept me glued.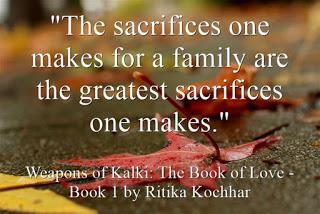 Talking about the plot and story line, I found it gripping enough to immediately head on to the next
 chapter. At the same time, there were
section, it felt little slow. Bu then
, the moment I got bored, there came a twist or a thrill to take the story to other world.
The author takes the reader back and forth to two different time periods which are centuries apart and introduces the characters which are ever debatable. All the characters have their significance in the story and were sketched quite well.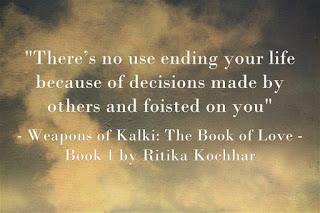 There were times, when I absolutely hated some character and then, felt so sad about some. Have a look at the below ...
"Her own family had sent her away because she was different. And her name had been changed without her consent – she no longer existed."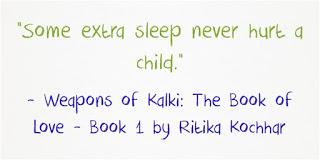 I actually had tears in my eyes on the fate of little girl - "Kali". Whatever the future had in store or the stars predicted, she was just a little girl who longed for nothing but love... :(
Then, below story of Rama reminded me of story my grandma used to tell us when we insisted and she was not in mood:
The story of Ram:
"Once there was a Ram, and there was a Ravana. Ravana stole Ram's wife, so Ram burnt down the village of Ravana"

The story goes:

"Ek tha Raja, ek thi Rani. Dono mar gaye, khatam kahai".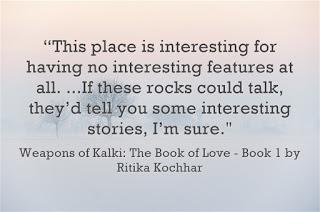 To wind up my thoughts, I liked the book and am a little disappointed as I would have to read the book two whenever it comes out to complete the story. Even still, I can recommend to any lover of mythology books.
Wait, there is more. I am sure you must have noticed the little quotes/one-liners I noted in the book. There are a few more. Here is the link to them -
My Favorite lines from "Weapons of Kalki: The Book of Love - Book 1" byRitika Kochhar
The book can be brought from amazon at following links: