I had a friend ask me about what to wear to the many weddings she has coming up this summer. I was more than happy to provide suggestions, and thought with it being wedding season, why not share with everyone? So, today in lieu of my Thursday 13 post, I am offering up some advice on the wedding extravaganzas that are soon to be overcoming our weekends.  When going to a wedding, I always choose simple and elegant over extravagant. Neutral colors are soft, pretty, and photograph really well when you steal the bride or groom for a picture. I never opt out of patterned pieces, but texture always gives an elegant look without being overpowering.
Here are a few informal evening wedding looks: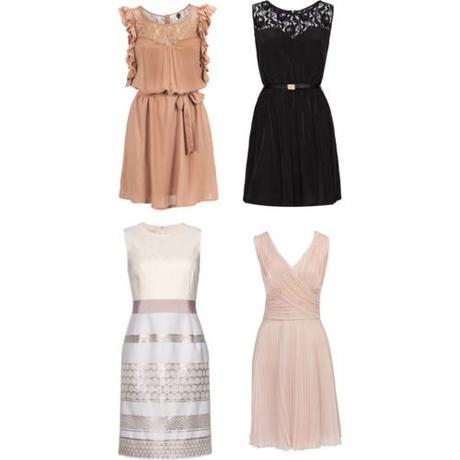 Informal Night Wedding by melbarrett7 featuring a zipper dress
For an outdoor garden wedding, I typically add a splash more of color. Garden weddings are beautiful, wistful, and playful. I tend to steer towards cottons or breathable lace. Warmer temperatures shouldn't prevent you from having a good time! Whether its day or night, these looks will please.  Here are a few outdoor garden wedding looks: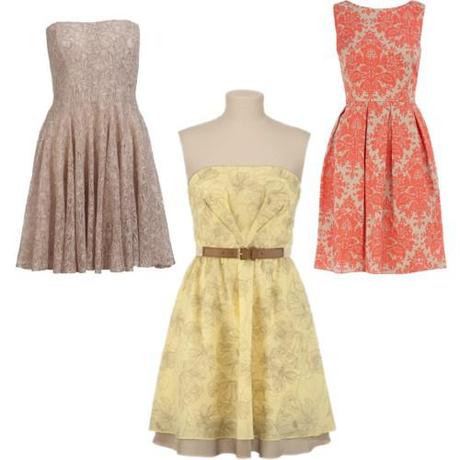 Outdoor Garden Wedding by melbarrett7 featuring print dresses
For the formal wedding, I tend to go with a longer, more elegant look.These looks are perfect for the wedding located in a mansion, ball room, or museum.
Here are a few formal evening looks: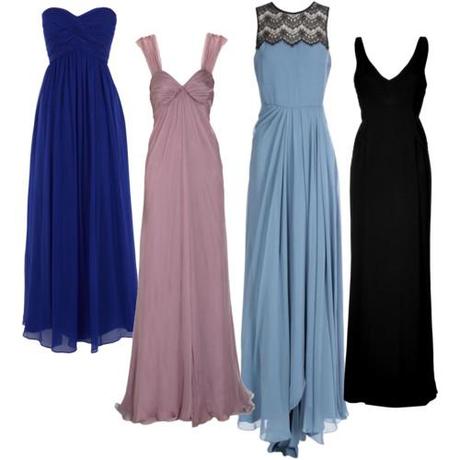 Evening Formal Wedding by melbarrett7 featuring sweetheart neckline dresses
Now, what about accessories? Well, I choose accessories that I can wear to any and every wedding. I do not believe in choosing accessories that only go with one outfit. With accessories, I like to keep them simple, pretty, and elegant. 
Here are a few options: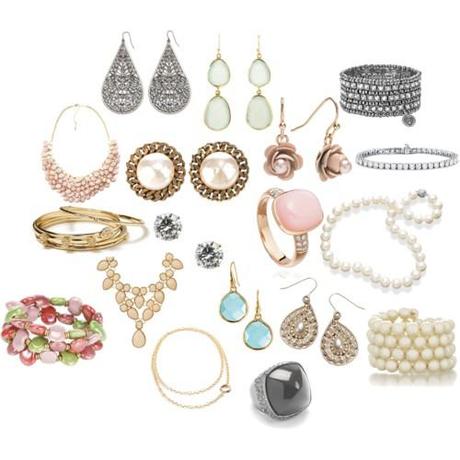 Jewelry: Wedding by melbarrett7 featuring opal rings
Here are a few bag options. I tend to go towards the ever versatile clutch. It's practical and a great way to stay simple, polished, and elegant.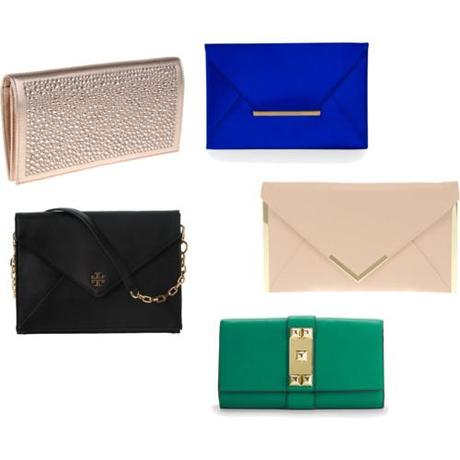 Clutches for Wedding by melbarrett7 featuring an envelope clutch
Keep your footwear simple. A black or neutral pump always works with any formal ensemble. For the less formal wedding, choose a neutral colored wedge or peep toe. Just be sure that you keep it simple and don't be that girl with the 6 inch hot pink stripper shoe, okay? I also bring along a pair of coordinating flats for dancing. They have ones that fold up and fit right in your clutch! How easy is that? 
Have any suggestions or questions? Leave me a comment. Enjoy wedding season ladies!   Happy Thursday!