I already have paparazzi!
Grandma R. said she doesn't believe I'll get a girlfriend.
That's what I wanted with continuing the fake me, didn't I? My last love interest seemed very promising. Waiting for the right time…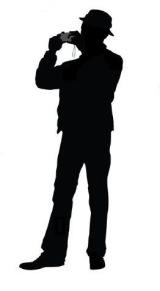 Around 7:30 p.m. I was at grandma D.'s where I was looking from the window and was writing my diary. I saw two males on the upper road, right (or very close) parallel to me, one of which holding a digital camera right towards me. I bent and barely came to myself from laughing. I returned to my previous position acting naturally (just like the actors who don't look at the camera), but saw with my eyes up, that they and the camera are still there. If I looked at them, they were gonna stop, so I put the curtain between the windows and me and looked up, unfortunately they left immediately, before I recognize them.
I have paparazzi. Already a star!!!
In the evening, I received the surprise of the day: Liza wasn't serious when she offered mom I to go on holiday in Greece with her. I wanted to.