- This past weekend was actually a long weekend in BC, with Family Day falling on Monday. And a bonus was that Kyle took his last night shift off, so we got to spend 4 whole days together! He's been working a lot of overtime lately, so it was amazing to have him home for 4 days.
- Even better than Kyle having 4 days off was the fact that his last set was his last one working nightshifts forever! He won a bid on a new crew at work so he no longer has to work nights; now it's just Monday to Thursday, with weekends off. We're both so happy that there's no more nightshifts. They are really hard on both of us, more Kyle than myself, so it's going to be a welcome change. The only thing we joke about is when I'm going to find the time to watch all my garbage TV shows and movies, since I did that a lot while he was on nights, lol. It's probably a good thing for me.
- We've been wanting to repaint our bedroom for a while now and on Saturday we finally decided to get started. It's still only half done, but we're happy with the way it's turning out. At first the paint was looking WAY more mint-coloured than what the swatch looked like, but now that a couple coats have been put on the walls and it has had a chance to dry and cure a bit, we're happy. I do plan on doing a before and after photo, but here's a sneaky peek: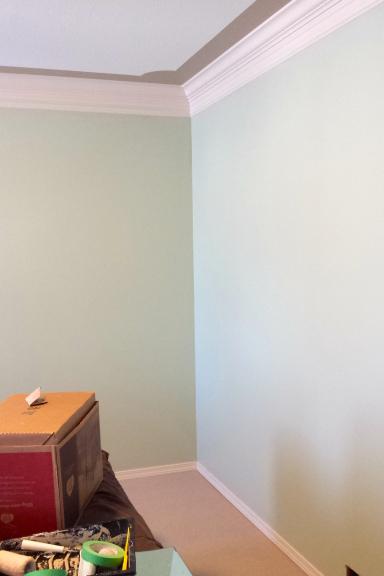 That brown detail on the ceiling is also being painted green.
- On Sunday night Kyle and I had tickets to a comedy show! Brent Butt, an awesome Canadian actor and comedian, was in town doing a show promoting his upcoming movie, and we scored 2nd row seats! Kyle's aunt, uncle and mom also got tickets (although they weren't seated with us), so we all went out for dinner then down to the show. It was SUPER hilarious and I was in stitches more than once during the night. The coolest part was that Brent did a meet & greet after the show and happily signed autographs and took pictures with whoever wanted to! He signed our ticket stubs for us and I got my photo with him. AND – before the show had started I took a photo of our tickets and posted in on Instagram and Twitter, with Brent tagged in it. I guess he saw the photo because when I passed him our tickets to sign he asked, "Are these the ones you posted on Twitter? I thought you looked familiar!" I. Die.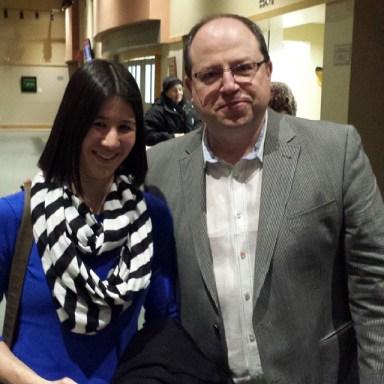 - My mom kindly took Isla for the night of the, so Kyle and I had a kid-free evening to boot! When we came home, we had grand plans of popping popcorn and watching the new episode of The Walking Dead, but we noticed that the power was out in parts of the neighbourhood. Amazingly, the power was on at our house, so we started to make our popcorn and Kyle started saying, "Sucks to be the neighbours, our power is still –," and then CLICK, our power went out. So, we ended up sitting on the couch with candles lit, playing Candy Crush and Flappy Bird on our phones. We're super lame. We eventually just went to bed, and the power came back on just after midnight. Oh well.
- Monday was a lazy day for us since I was feeling like garbage. We went and picked up Isla from my mom's after grocery shopping and just bummed around the house. We've actually been brainstorming a lot about something fun to do in the summer, but are coming up with a lot of "meh" ideas. We've talked about waterslides, renting a cabin (we have NO camping gear), going to Calgary, but nothing just screams "DO IT!" to us. Help?
- On Wednesday last week I got a letter in the mail from the Ministry of Justice, and it told me that I had been summoned for jury duty. How lucky am I?! (NOT.) That was actually the second time I've been summoned — the first time I was still in school and was able to get out of it because of that reason. This time? A bit trickier since really, I didn't have a reason that was on the form's "excuses" list. My only excuse was financial hardship — I don't have anyone to watch my kid. (I don't – everyone works and the $10/day you get paid for jury duty if you're selected doesn't come close to covering childcare costs). So I submitted my response form and hoped for the best. Today I got an email stating that my reason for being excused was accepted! Woo! Really, if that didn't work, I was going to bring Isla with me to the jury selection date and note that I'm a blabbermouth with a journalism degree ;)
- I'll leave you with a photo of Isla with an angel food cake pan over her head. It was sitting on her head like a hat and was super funny, but then her head went through the hole and I panicked a little as I thought it was stuck on her head. It wasn't, and I was happily not going to me THAT parent in the emergency room.