What a Weekend
Yard sale – June is unofficially moving month in the military, at least for the USMC. One good thing about moving often is the opportunity to purge your clutter. I'm not moving, but many people in my neighborhood are, so it happened that about 20 houses our housing area held yard sales today, so I joined in for the chance get rid of some stuff and make cash so I could buy bargains on new-to-me stuff at the other sales.  If you've ever held a yard sale you know it's a lot of work, sometimes it's worth it, sometimes it's not. Today's definitely was but I was tired. Then I had committed to play in the Kick for a Cure Charity Soccer Tournament.
Kick for a Cure Charity Soccer Tournament – Last weekend a good friend said someone I was acquainted with and that she knows well was looking for players for this tournament and asked ME of all people if I'd do it.  She said if I did it, she would too.  May I say, we are both in our mid thirties and neither of us have ever played soccer in our lives.  The only time I set foot on a pitch is to walk to the other side and set up my chairs, popup tent and cooler to spectate my kids' games.  But, it was for a good cause and an opportunity to go do something I've never done before.  Sadly, because I was planning on doing the yard sale, I wasn't able to make it to the first game for Team Micah.  But after I wrapped up the yard sale I was able to head out for the second game.  It was lots of fun and I'm so glad I have this experience.  My horizons are expanding as I type.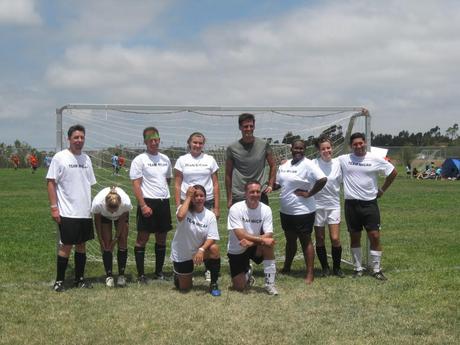 Our motley group of soccer players NOT ready for the 8 different camers shooting us at once
Kick for a Cure is a charity for Duchene Muscular Dystrophy.  Our  team was playing for Micah Hogan, headed up by Micah's dad Christian. They are a great family and I had the honor of playing with Christian and his daughter Erica, Micah's sister.  For a few minutes in my mind I was a soccer beast, though I don't know if that really translated to actual greatness or not.  It was fun having the tables turned, my kids watching ME play. Oh, and kind of cool, Vikings kicker Chris Kluwe was our keeper. Never met an NFL player in person before – feelin' kinda dorky about how excited I am and how cool I think it is.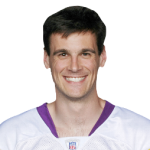 Father's Day – Today is father's day!  Feeling bummed my hubs isn't here so the kids and I we may regale him with gifts and servitude to express our appreciation for what an engaged, caring, attentive, dad he is.  If there is one thing I can say about my husband is he's a great father and loves his kids and expresses it through his involvement in their school and sports activities, enjoying just clowning around with them, listening to them, and counseling.
My own dad is a very good dad.  Growing up he was the person who did everything a mom usually does, helped with homework, drove me to dance class, listened to my endless rambling, chaperoned trips to concerts with my friends, and so much more.  He has always been there for me and I hope he knows how appreciative I am of the fact that I can count on him always.
First couponing attempt – Providing for 2 teens and a preteen is very expensive. If you think babies and toddlers are a hit to the wallet, wait until they wear adult-size shoes, eat adult-size meals and nickel and dime you to death for stuff at school, cash to go to the movies with their friends. Oh yeah, you do not want to see my grocery bill, it'd make you cry.  It's enough to make a mortgage payment.  I've recently been turned on to the awesomeness of sites like Groupon, Living Social, Plum City, Swag Bucks and others.
Even before daily deals, I always shopped clearance racks, sales, and used rewards programs at some stores like Famous Footwear, Dick's Sporting Goods and others.  I don't believe in paying full price for anything if it can be helped.
Inspired by TV shows, blogs, Tweeps, and Facebook friends who're coupon clippers who do it big time, I've decided to delve into the world of (quasi) extreme couponing.  I figure I better start taking advantage of cash back offers, free printable grocery coupons, rewards points, etc. Who knows, I might get overwhelmed and decide it's too time consuming and quit the whole thing. But I'm going to give it a shot starting this week.  Look for some insights into my experience as a rookie couponer!
Thanks to the great info I found at Budget Savvy Diva about couponing 101, overages, stockpiling, and hot daily deals, I've got a jumping off point to some other sites with even more info on how to save money with couponing.  I've signed up for every store rewards card from places like CVS, Walgreen's, Rite Aid, Ralph's, Vons, etc.  Here are the results of my first foray into couponing today –
Target
Dove Damage Therapy Shampoo and/or Conditioner 25.4 oz bottle $5 each, buy 4 get a $5 Target gift card

Used a $1 Dove Target stores coupon

Clif bars box of 6 on sale for $5 (which is a pretty great deal to begin with) and then a $1 Target stores coupon scored me a box of 6 for $4 bucks!
Oreo Cakesters, $2.79 minus $1 Target coupon, makes it $1.79 – nice deal even compared to the military commissary I usually shop at.
So, nothing free yet, but with my $5 Target gift card I'll be going back and using more coupons to get more cheap stuff, and then pay for part of it with the Target card.
I have yet to organize when I'll be hitting the drugstores and grocery stores with their coupons, but it'll probably coincide to when I'm out and about driving kids to practices.
So, what do you think? I had quite a weekend, huh? How about you guys – any yard sale? Did you find a great coupon deal or do something you've never done before, like play soccer?!