Photo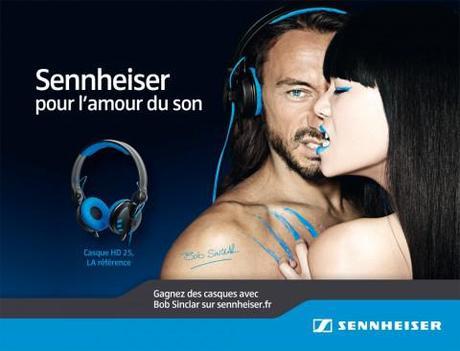 WHAT FASHION DESIGNERS WEAR:  Nostalgia.
Ok so everywhere I go on the Paris Metro, I see this poster. It may seem like nothing but to me it reminds me of a more innocent time in my life, when i had dreams of what my life would be like in my 20s…oh how different it turned out!
This Bob Sinclar for Sennheiser poster draws me in like no other advertising does because of nostalgia… you see when I was 10 years old, I was already into fashion, interested by self image, and obsessed with finding my own identity through clothes.
I imagined that I would look very much like the model in this photo. Blue has always been my favorite colour, and i loved anything related to outer space and the universe. Thats why I fantasied about dying my hair a beautiful colour of electric blue, long and straight (currently i can sit on my hair) with a fringe (something i am pondering). I would wear PVC in blue, silver or black, platform shoes and futuristic make up. Not too unlike todays cyber goths, but Aged 10 i had my own twist my my own individual taste. I was a huge Spice Girls fan, and I loved anything big, bright and crazy in fashion; i was quite individual and revolutionary for a ten year old who grew up away from the big city.
Isnt it funny how things turn out? Ide forgotten about this image i had for myself, until i seen this Bob Sinclar photo.
Since those days when i was a young "wannabe", I have turned to Goth, Punk, 18th century, Lolita, 1950s, Burlesque, glam rock and many other styles to create my identity and i have no intention of settling on one in the near future.
To see some of my inspirations you should check out my wardrobe mood-board blog and some of my video blogs.
xoxo LLM